Lesotho advance in Afcon qualifiers with win over Liberia
Last updated on .From the section Football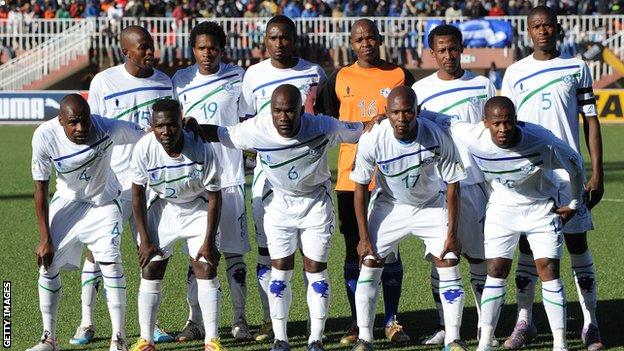 Lesotho recorded one of the most impressive results in their history when beating Liberia 2-0 to qualify for the second round of 2015 Africa Cup of Nations qualifying.
Having lost the first leg 1-0 in Monrovia, the small highland kingdom won through 2-1 on aggregate.
Two first-half goals were enough to comfortably ensure the Crocodiles' first Nations Cup qualifying win in seven years, with their last success coming against Niger in 2007.
Lesotho have never appeared at a Nations Cup final and face Kenya in the next round.
Tanzania, meanwhile, are looking to qualify for their first Nations Cup since 1980 and they ensured they stay in contention for January's finals in Morocco when drawing 2-2 in Zimbabwe on Sunday.
Mart Nooij's side progressed 3-2 on aggregate, and will next meet Mozambique - meaning a return to Maputo for the Dutch coach, who led the Mambas to the 2010 Nations Cup.
Botswana's sole Nations Cup qualification was in 2012 and they maintained hopes of reaching only their second finals when winning 1-0 at home to Burundi - to qualify by the same aggregate scoreline.
Joel Mogorosi, part of the 2012 Nations Cup squad, scored the vital goal just ahead of the hour mark.
Claude LeRoy is a coach who won the Nations Cup as long ago as 1988 and the Frenchman guided his Congo (Brazzaville) side into the next round with a comprehensive 3-0 home defeat of Namibia.
The win took them through 3-1 on aggregate and the Red Devils, who won the Nations Cup in 1972 but who have qualified for just one finals in the last 20 years, will now face Rwanda.
Benin also progress. They were 2-0 winners over Sao Tome at home, winning 4-0 overall. Benin will face Malawi next.
The last team to reach the second round on Sunday were Equatorial Guinea, who won 3-0 at home against Mauritania to qualify 3-1 on aggregate.
For a long time, with the 2012 Nations Cup co-hosts leading 1-0, the match had looked destined to go to penalties until two late goals clinched the tie.
In the next round, the 'National Lightning' will meet Uganda, who - along with Kenya - joined joined Mozambique, Sierra Leone and Rwanda in progressing from qualifiers played on Friday and Saturday.
After the second round of qualifying ends in August, the third and final group stage - which features 28 teams trying to take the 15 places available - will get underway in September before finishing in November.
The 2015 Africa Cup of Nations starts in Morocco on 17 January, with the final taking place on 8 February.