World Cup 2014: Relaxed England strike a balance under Hodgson

By Phil McNulty
Chief football writer
Last updated on .From the section 2014 Fifa World Cup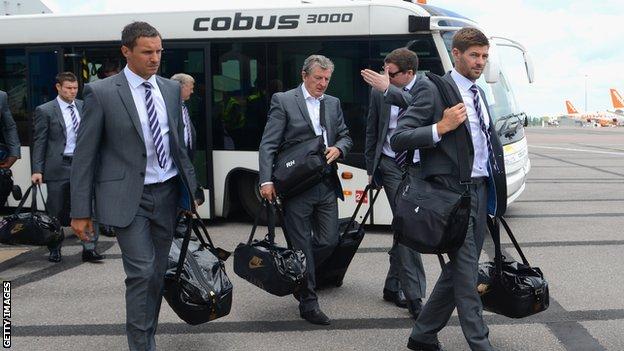 From Miami
As England land in Miami to embark on the next stage of their World Cup preparations, they will find they are able to slip under the radar. The sporting attentions of this city are currently focused elsewhere.
On the journey from the airport into downtown, cars are flying flags and favours from their windows - but in celebration of Miami Heat basketball team reaching the NBA finals once more rather than as a reception for England's World Cup squad.
LeBron James, Dwyane Wade and Chris Bosh (the Carreras to James's Pavarotti and Wade's Domingo according to the Miami Herald) are the names claiming the headlines on local and national news rather than Steven Gerrard, Wayne Rooney and Roy Hodgson.
On arrival from Luton, manager Hodgson, his players and backroom staff will find conditions exactly as they expected and wanted them for the two friendlies here against Ecuador and Honduras before they take another long flight to Rio and to start the serious World Cup business.
It has been hot and intensely humid here with a lot of storm activity - which will be ideal preparation for South America and that journey into the Amazon jungle to face Italy in their World Cup opener on 14 June.
And as Hodgson began what he called "a great adventure", the mood surrounding the squad and what awaits them is in sharp contrast to the chaos and discontent that descended on England during their ill-fated World Cup campaign in South Africa four years ago.
The real judgement can only be made when the games start but - and Hodgson will still be keeping his fingers crossed - it has been a build-up remarkably free of injury and distractions, the odd transfer move apart.
Captain Steven Gerrard summed up the serenity that currently surrounds this set of players when he was asked about the difference between now and four years ago.
"The easiest thing for me to do would be to sit here and make excuses for the reasons we didn't do well in 2010," he said. "The reason we went out when we did in the last 16 against Germany was down to the players and how we performed in the games.
"So I'm not going to point the finger at previous regimes - but this squad is in a very good moment. We're all looking forward to getting started. Preparations are going well but things can be disrupted with injuries or other things.
"Hopefully things will continue as they are."
There is a relaxed air around England's camp, with a comfortable mix of younger players such as Raheem Sterling, Ross Barkley and Luke Shaw blending with Gerrard and other older players like Phil Jagielka and Gary Cahill.
Hodgson will hope this equilibrium remains - certainly the lessons of South Africa appear to have been learned.
After a smooth qualification four years ago, it all turned sour remarkably quickly for coach Fabio Capello and his players.
The notoriously single-minded Italian appeared to lose focus with slip-ups such as news of "The Capello Index", a system of performance assessment backed by an online gaming company.
It would have led to England's players being publicly marked after each game under guidelines set by Capello himself - with inevitable results.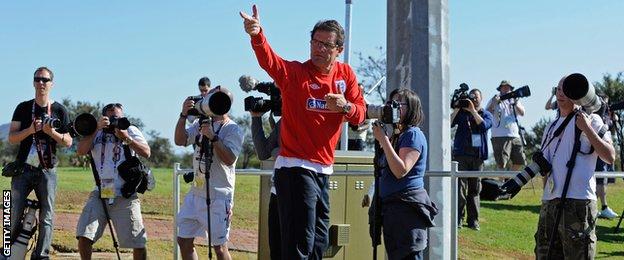 Then came an amended four-year contract signed as Capello was about to leave for South Africa. The deal removed a clause allowing him to leave after the World Cup - and amid huge speculation that he might be poached by Inter Milan.
All this did was leave the Football Association and Capello stuck with each other in a loveless marriage after that dismal campaign, stumbling on until his eventual resignation before Euro 2012.
Admittedly Capello was not helped by the loss of captain Rio Ferdinand to a knee injury in England's first South African training session but there was in any case an atmosphere of unease around the squad - this time it feels fresher, with Hodgson's selections almost universally well-received.
And there will be no repeat of Rustenburg's "Camp Capello", the austere, soulless England training base where the players could have been anywhere in the world and boredom ate away to the extent that John Terry was accused, unfairly, of open insurrection when he suggested as much.
England's base in Rio will be at a hotel near Sao Conrado beach, with Hodgson striking a balance between Capello's boot camp regime and the almost holiday atmosphere - and accompanying WAGs - of Baden-Baden in Germany in 2006.
From "Camp Capello" to "Hodgson's Hotel".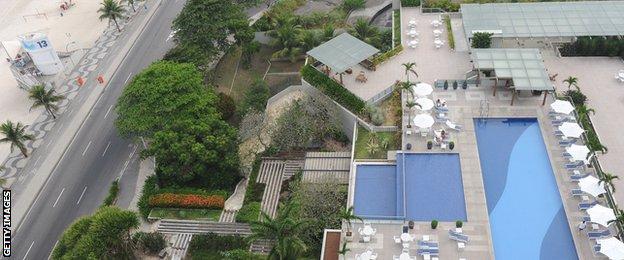 These are all the operational issues that will have been attended to so Hodgson is free to fine tune his plans here in the United States - and he still has plenty of business to take care of as far as his team is concerned.
It comes as no surprise that the man carrying the most baggage as England arrive in Miami is Wayne Rooney. No major tournament is complete without questions of some sort surrounding the Manchester United striker.
The debate has now moved on from his fitness to whether Rooney is actually worth his place in England's starting line-up - a question being seriously posed for the first time in a decade.
It would take a brave manager to decide England are a better team without Rooney than with him, and Hodgson still clearly has great faith in the 28-year-old. He will hope he does enough this week to improve his fitness and silence the critics.
England will also give opportunities to those who did not start against Peru - and Liverpool's Sterling is one player who may give Hodgson something to ponder as he lays his plans for Italy.
The best preparation in the world counts for nothing unless it is backed up by results, but there is no doubt England arrive in Florida in a more sedate and positive frame of mind than they did in the run-up to South Africa in 2010.