Sierra Leone officials deny match-fixing
By Mohamed Fajah Barrie
BBC Sport, Freetown
Last updated on .From the section Football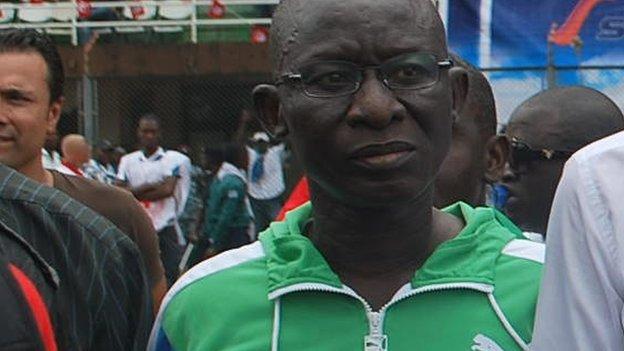 Three football officials in Sierra Leone have denied being involved in match-fixing in 2008 and 2009.
Sierra Leone Football Association executive committee member Morrison Sannoh, national under-20 coach Alimamy Turay and director of sports at the ministry, Alphan Coker, have been accused of fixing matches at an under-20 tournament in Malaysia and a friendly international match against Syria.
The accusations have been presented to the country's parliament by sports minister Paul Kamara (pictured) and SLFA president Isha Johansen, following recent rows between Kamara and the SLFA.
Last month Kamara prevented Sannoh from travelling with the national team to an Africa Cup of Nations qualifier in Swaziland and he then tried to sack Turay as coach of the under-20 side.
Johansen says she provided Kamara with evidence of match-fixing last year ahead of the SLFA elections which she eventually won unopposed.
She told parliament that she is sure some parties have been involved in match-fixing but does not have proof, although "I do have affidavits from players themselves sworn on oath".
Johansen explained she and did not use the players' testimonies because she feared it would ruin them and she is unhappy that Kamara has decided to use them now almost a year later.
"He's going to hurt this country - I did this as a good citizen to raise concerns," she said.
"Match-fixing is a zero tolerance subject for Fifa - nobody is going to come and indict me for this - instead it's going to be Sierra Leone that would be banned, sanctioned and who knows what else.
"For a minister to do this to his country publicly I think it's absolutely a disrespectful act.
"The top name according to the statements from these boys was [under-20] coach Alimamy Turay, who the minister himself appointed. It wasn't our [SLFA] appointment."
Anti-Corruption Commission boss Joseph Kamara says he was provided with evidence of match-fixing last year but he decided not go ahead with any investigation because of legal issues.
"Johansen provided the evidence to us but we contacted Fifa, who was not willing to deal with us because they don't want political interference into the game," Kamara told BBC Sport.
"Indeed Johansen asked us not to investigate the allegations because she said she didn't want to."