Stoke City: Tony Pulis exit suited us and Palace - Peter Coates
Last updated on .From the section Football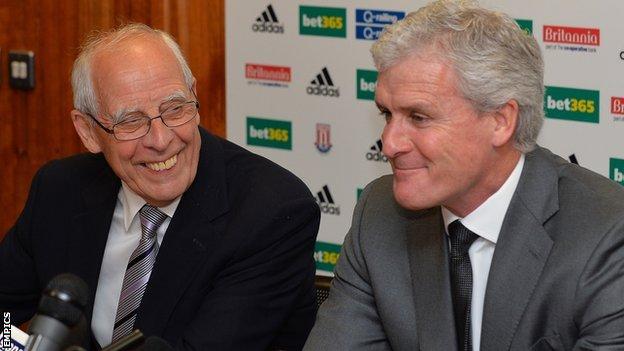 Stoke City chairman Peter Coates says last summer's departure of manager Tony Pulis and Mark Hughes's arrival at the Britannia Stadium proved a case of perfect timing for all concerned.
While the Potters enjoyed their highest Premier League placing under Hughes, Pulis took Crystal Palace from bottom of the league to top-flight safety.
"The outcome could not have been happier," Coates told BBC Radio Stoke.
"We felt it was time for a change. And our season just got better and better."
Stoke's ninth-placed finish was their best in the top flight since 1975 when they were fifth under Tony Waddington.
But, while that was an improvement on their five Premier League seasons under Pulis, the former Potters boss had his own success.
The Welshman took a Palace team in last place when his predecessor Ian Holloway left the club all the way up to 11th, and Pulis was acclaimed as the Premier League's manager of the season.
Palace's late comeback against Liverpool in early May even helped settle the Premier League title race - if not the overall Manager of the Year award, which still went to second-placed Liverpool's Brendan Rodgers.
"Tony would have had my vote for manager of the season," said Coates. "He had an amazing season. I'm really pleased for him.
"To come in and do what he did eclipsed Brendan Rodgers, who had a wonderful season, but failed in the end."
While pleased it all worked out well for Pulis, Coates' main consideration remains keeping Premier League football in the Potteries - and he is delighted at the shape Stoke find themselves in after a year with Hughes at the helm.
"We all know each other now" said Coates. "He now knows all his players, and all the people who make up the club.
"Tony Pulis did a brilliant job. We were delighted with what he had achieved in his seven years at the club. But the time was right.
"Our number one priority is Stoke City. We're always trying to improve, that's the challenge at every club.
"The Premier League is ultra-competitive. You've got to be on the mark all the time to make sure you can keep up and meet the challenge."
Stoke City chairman Peter Coates was talking to BBC Radio Stoke's Matt Sandoz