World Cup 2014: Brazil - is tactical fouling crucial to their chances?
Last updated on .From the section 2014 Fifa World Cup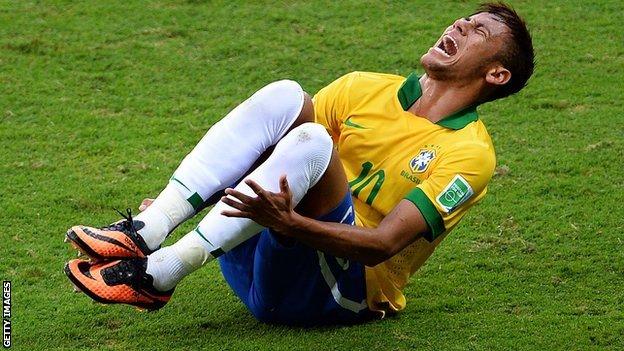 A fascinating piece of data emerged from the Confederations Cup - the player who committed the most fouls in the tournament was Brazil striker Neymar.
The 22-year-old - also the most fouled player - committed 17 infringements during the 2013 competition, closely followed by team-mate Oscar (14).
That Neymar was the most fouled player will come as no surprise, for two reasons. Neymar, who joined Barcelona from Santos last summer for £48.6m, is a wonderfully talented dribbler, superbly balanced and capable of changing direction at pace. On form, he is a defender's nightmare.
His relatively frail build means he can be knocked over, and his delivery from free-kicks gives him a strong incentive to go to ground when in striking distance of goal. Sometimes kicking him seems to be the only way to stop him, and sometimes he is only too happy to draw the foul.
The first statistic, however, might raise a few eyebrows. Few would expect two of Brazil's attacking talents to be at the top of this list.
On reflection, though, it is not hard to understand - and the explanation goes right to the heart of Brazil's challenge to win the 2014 World Cup.
Changes in both personnel and style of play since the last finals mean that the Brazilian side appear to be adopting a return to tactical fouling, infringements which break down an attack by a team's opponents, and it is forwards like Neymar who are the first line of defence.
After their quarter-final elimination by the Netherlands in South Africa four years ago, Dunga was sacked as national team coach and replaced by Mano Menezes. Relatively inexperienced, Menezes had to preside over two important changes.
Firstly, he had to rebuild the side. Brazil had taken an ageing squad to South Africa and Menezes had to identity and nurture the likes of Neymar and Oscar.
He also had to oversee a change of style. The problem was confronted in his very first news conference. Brazil had become over-dependent on the counter-attack.
They did not know how to play against opponents who sat back and denied them the space to launch their favourite weapon.
Concern at this defect was all the greater because Brazil would be playing the next World Cup at home, where they were bound to meet cautious opponents.
In many of his training sessions, Menezes worked at getting the team to press high in the opponent's half. This has rarely been part of the Brazilian make-up.
The great 1970 side, for example, concentrated on bringing everyone bar centre-forward Tostao behind the line of the ball when they lost possession. One of the reasons that right winger Jairzinho was so successful in that tournament was that this created plenty of space into which he could burst and latch on to the magnificent long-range passing of Gerson.
When Luiz Felipe Scolari was recalled to replace Menezes at the end of 2012, some important changes were made. Straight away, a target man centre-forward was brought back into the team - this soon turned out to be Fred.
And the jigsaw started to fit together when a holding midfielder, Luiz Gustavo, was introduced, protecting the space in front of the centre-backs.
Otherwise, though, there were few changes in personnel. Scolari kept faith with the men Menezes had been blooding.
He also retained the tactic of occasionally pressing high in the opponent's half. But he was worried about it as it meant his team were leaving lots of space behind them.
It is important to stress here that former Chelsea boss Scolari made his name in the 1990s - a time when Brazilian football was dominated by tactical fouling. Some believed that the team that fouled most intelligently would win the game.
A foul, some argued, was covered by the rules, meaning that it was a resource of the game to be used at opportune moments.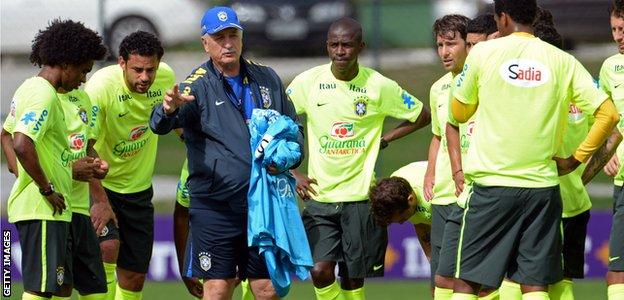 In 1999, Scolari said that "well played, normal football in certain situations obliges a player to commit a foul - a push, some shirt pulling, use of the shoulder, fouls that don't give the opponents the chance to organise an attack".
In the current context, this means that when Brazil lose possession, the likes of Neymar and Oscar (or Willian, who is doing well in training) have to take on the responsibility of being the first line of defence.
Part of their role is to slow down or halt the opposing counter-attack - preferably by winning the ball close to goal. But if their attempts to win possession end in a foul, so be it.
One possible problem is their relative lack of experience in this function. Against Italy in the Confederations Cup, Neymar had to be substituted because he was flirting dangerously with a red card.
And it also means Brazil's World Cup matches are likely to be tough to referee. In a highly charged atmosphere, there will be lots of decisions to make. Brazil's players will be under huge pressure during the World Cup. So will those who officiate their games.
Go to our new World Cup features and video index for more in-depth content and analysis.