Brandywell to stage Manchester United Milk Cup game
Last updated on .From the section Football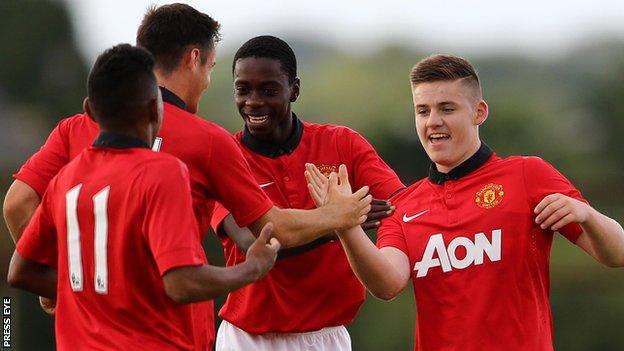 Manchester United's defence of the Premier Section at this year's Milk Cup will include a game at the Brandywell as the competition visits the Derry stadium for this first time.
United face CSKA Moscow at Derry City's home ground on Wednesday 30 June.
Earlier in the day, China's Elite Section game against Canada will also take place at the venue.
The Junior Section game between Rangers and Liverpool will be played at the Ballymena Showgrounds on 29 July.
Manchester United commence the defence of their Premier title against the Gold Coast Academy from Australia at Coleraine Showgrounds on Monday, 28 July.
This will be followed on Tuesday by their game against Co Armagh at Riada Stadium in Ballymoney.
In the Junior Section holders, Everton will play Middlesbrough on Monday at Castlerock, Brazilian side, Corinthians at Anderson Park on Tuesday and finish their qualifying games against Co Fermanagh on Wednesday at Ballymena Showgrounds.
The competition will begin with the traditional parade of competing teams through Coleraine on Sunday, 27 July, concluding with finals night at Ballymena Showgrounds on Friday, 1 August.
Dale Farm Milk Cup fixtures
ELITE
Monday
Northern Ireland v China, Ballymena Showgrounds, 20:00 BST
Canada v Mexico, Riada Stadium, Ballymoney, 20:00
Wednesday
China v Canada, Brandywell Stadium, 13:30
Mexico v Northern Ireland, Coleraine Showgrounds, 20:00
PREMIER
Monday
Chertanovo Academy v Vendee, Broughshane, 15:30
Newcastle Utd vFunabashi HS, Scroggy Road, Limavady, 15;30
RCD Espanyol v OC Blues, Coleraine Showground, 15:30
Co Armagh v Bohemians, The Warren, Portstewart, 15:30
CSKA Moscow v Otago, Rugby Avenue, Coleraine, 15:30
Brentford v Lusaka Academy, Clough, Ballymena, 17:00
Partick Thistle v Craig Bellamy Foundation, Parker Avenue, Portrush, 17:00
Co Londonderry v Cherry Orchard, Roe Mill, Limavady, 17:00
Co Fermanagh v Co Tyrone, Riada Stad., Ballymoney, 18:00
Co Down v Co Antrim, Ballymena Showgrounds, 18:00
Benfica v Club America de Mexico, Seahaven, Portstewart, 19:00
Manchester Utd v Gold Coast Academy, Coleraine Showgrounds, 20:00
Tuesday
Funabashi HS v OC Blues, Broughshane, Ballymena, 15:30
Craig Bellamy Foundation v Vendee, The Warren, Portstewart, 15:30
Gold Coast Academy v Otago, Riada (2), Ballymoney, 17:00
Lusaka Academy v Club America de Mexico, Castlerock, 17:00
Brentford v Co Fermanagh, Parker Avenue, Portrush, 17:00
Partick Thistle v Co Down, Rugby Ave, Coleraine, 17:00
Cherry Orchard v RCD Espanyo, Ballymena Showgrounds, 18:00
Co Antrim v Chertanovo Academy, Scroggy Road, Limavady, 19:00
Bohemians v CSKA Moscow, Seahaven, Portstewart, 19:00
Co Tyrone v Benfica, Riverside Stadium, Londonderry, 19:00
Co Armagh v Manchester Utd, Riada Stadium, Ballymoney, 20:00
Co Londonderry vNewcastle Utd, Showgrounds, Coleraine, 20:00
Wednesday
Club America de Mexico vCo Tyrone, Broughshane, Ballymena, 15:30
Vendeev Co Antrim, Roe Mill, Limavady, 15:30
OC Blues v Cherry Orchard, The Warren, Portstewart, 15:30
Partick Thistle v Chertanovo Academy, Riada Stadium, Ballymoney, 17:00
Gold Coast Academy v Co Armagh, Castlerock, 17:00
Benfica v Brentford, Parker Avenue, Portrush. 17:00
Otago vBohemians, Clough, Ballymena, 17:00
Lusaka Academyv Co Fermanagh, Ballymena Showgrounds, 17:00
Craig Bellamy Foundationv Co Down, Scroggy Road, Limavady, 19:00
Newcastle Utd v RCD Espanyol, Seahaven, Portstewart, 19:00
Funabashi HS v Co Londonderry, Riada Stadium, Ballymoney, 19:00
CSKA Moscow v Manchester Utd, Brandywell Stadium, 19:00
JUNIOR
Monday
Brentford v Watford, Broughshane, Ballymena, 12:00
Global Premier Soccer v Dundalk SL, Riada Stadium (2), Ballymoney, 12:00
Plymouth Argyle v North Dublin SL, Rugby Ave., Coleraine, 12:00
Co Londonderry v Motherwell, Anderson Park, Coleraine, 12:00
Santa Marta de Liray v Co Antrim, The Warren, Portstewart, 12:00
Southampton v Swindon Town, Clough, Ballymena, 13:30
Queen of the South v Co Down, Castlerock, 13:30
Japan v Sydney Utd, Parker Avenue, Portrush, 13:30
O'Higgins FC v Donegal Schools, Roe Mill, Limavady, 13:30
SC Corinthians v Co Fermanagh, Seahaven, Portstewart, 13:30
Chivas Guadalajara v Co Tyrone, Anderson Park, Coleraine, 15:30
Everton v Middlesbrough, Castlerock, 17:00
Liverpool v Sheffield Utd, Scroggy Road, Limavady, 19:00
Co Armagh v Rangers, Riverside Stadium, Londonderry, 19:00
Tuesday
Chivas Guadalajara v Middlesbrough, Broughshane, Ballymena, 12:00
North Dublin SL vSydney Utd, Roe Mill, Limavady, 12:00
Donegal Schools v Co Armagh, The Warren, Portstewart, 12:00
Watfordv Global Premier Soccer, Anderson Park, Coleraine, 12:00
Brentford v Queen of the South, Riada Stad(2), Ballymoney, 12:00
Plymouth Argyle v Japan, Clough, Ballymena, 13:30
Swindon Town v Santa Marta de Liray, Castlerock, 13:30
Dundalk SL v Co Down, Rugby Avenue, Coleraine, 13:30
Motherwell v Southampton, Parker Avenue, Portrush, 13:30
Co Tyrone v Co Fermanagh, Scroggy Road, Limavady, 13:30
Co Antrim v Co Londonderry, Riada Stadium, Ballymoney, 13:30
Everton v SC Corinthians, Anderson Park, Coleraine, 15:30
Sheffield Utd v O'Higgins FC, Clough, Ballymena, 17:00
Rangersv Liverpool, Showgrounds, Ballymena, 20:00
Wednesday
Santa Marta de Liray v Motherwell, Broughshane, Ballymena, 12:00
Watford v Dundalk SL, Roe Mill, Limavady, 12:00
Co Antrim v Swindon Town, Anderson Park, Coleraine, 12:00
Japan v North Dublin SL, The Warren, Portstewart, 12:00
Sydney Utd v Plymouth Argyle, Riada Stadium (2), Ballymoney, 12:00
Global Premier Soccer v Queen of the South, Clough, Ballymena, 13:30
SC Corinthians v Chivas Guadalajara, Rugby Avenue, Coleraine, 13:30
Sheffield Utd v Donegal Schools, Castlerock, 13:30
Middlesbrough vCo Tyrone, Parker Avenue, Portrush, 13:30
Southampton v Co Londonderry, Scroggy Road, Limavady,
Co Down v Brentford, Anderson Park, Coleraine, 15:30
O'Higgins FC v Rangers, Riada Stadium, Ballymoney, 15:30
Liverpool v Co Armagh, Coleraine Showgrounds, 15:30
Co Fermanagh v Everton, Ballymena Showgrounds, 15:30