World Cup 2014: Eriksson backs England's psychiatrist decision
Last updated on .From the section 2014 Fifa World Cup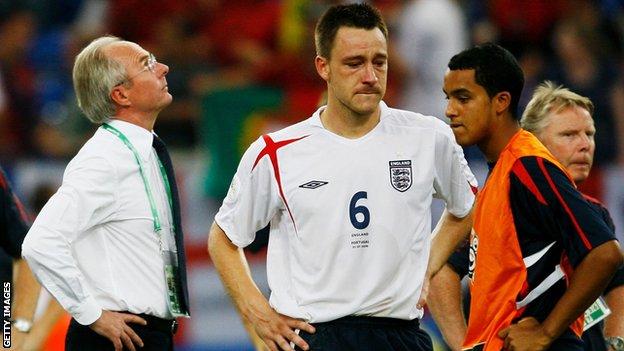 Former England manager Sven-Goran Eriksson has backed Roy Hodgson's decision to take sports psychiatrist Dr Steve Peters to the 2014 World Cup.
Eriksson, 66, was in charge of England when they lost in penalty shoot-outs at both Euro 2004 and the 2006 World Cup.
"I should have taken a mental coach to train the players in penalties," Eriksson told BBC Radio 5 live.
"I think you need a sports psychologist to handle these kind of things. Roy has done the right thing to do that."
Peters worked with the Great Britain cycling team during the 2008 and 2012 Olympics, has helped Ronnie O'Sullivan win the World Snooker Championship in two of the last three years and has also been working with Brendan Rodgers' Liverpool.
England lost to Portugal on penalties in the quarter-finals of both Euro 2004 and the 2006 World Cup and Eriksson described his failure to take a psychologist as "one of the mistakes I made, maybe the biggest".
The Swede added: "Yes, we practiced penalties a lot but it was very difficult to make it realistic.
"I thought we had a very good team, especially at my last World Cup in Germany. We should have gone to the semi-finals - we didn't, but the pressure on the players, on everybody, was very, very high.
"That was one of the reasons why England failed at penalties. The pressure we had every time at a tournament - it was to be in the final, or to win it - nothing less.
"It is difficult for a coach or a manager, you can do a lot with the players but when it comes to feeling that pressure we are not really specialists."
Eriksson, who now manages Chinese Super League side Guangzhou R&F, took England to two World Cups in 2002 and 2006, losing at the quarter-final stage to Brazil and to Portugal.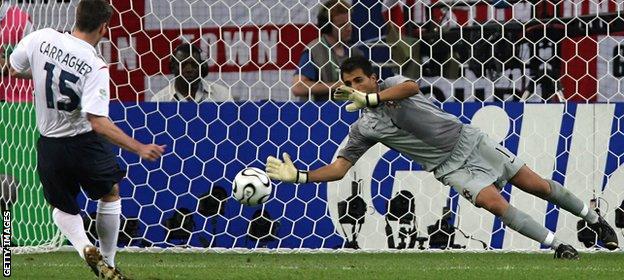 The former Manchester City manager admitted the loss in 2006 was one he would never forget.
"It was a very tough defeat. The toughest of my life," he said. "We lost not far from the World Cup final - the quarter-final once again - and it was finished. It was difficult to go into the dressing room and to know what to tell the players.
"I didn't even want to speak about the match we had just lost. I thanked them for all they had done for England and I wished them the best of luck.
"When you lose on penalties, you feel sick. It is awful, but it is part of the job and life has to go on."
Eriksson was more optimistic about England's hopes in Brazil and said the low expectations around the squad would benefit the players.
He said: "I heard people talking about England not passing to the second stage of the World Cup and I said 'what is going on, it was not like that when I was there?'.
"We went to try to win it. It has changed. I don't know why but it is good for the team.
"They should be optimistic - the semi-finals would be very good. They have a blend of younger players and experienced players - so I am looking forward to seeing them play."
A full interview with Eriksson can be heard in BBC Radio 5 live's programme - The Ultimate Guide to World Cup Penalty Shoot Outs - on Tuesday at 20:00 BST.