Sepp Blatter: Uefa tells members it opposes new presidency bid

By Richard Conway
BBC Radio 5 live sports news correspondent
Last updated on .From the section Football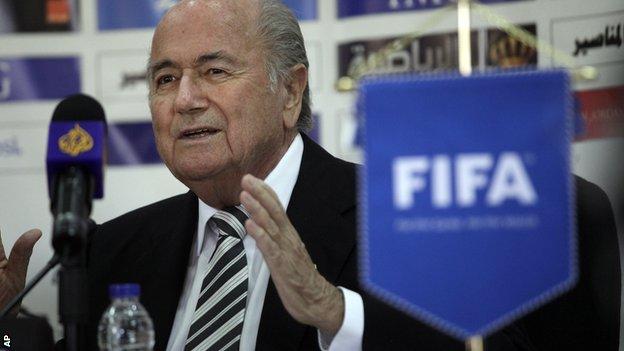 Uefa has made it clear to its member nations that it does not support Sepp Blatter's intention to seek a fifth term as president of Fifa.
The BBC has learned that Uefa does not want them to take part in any standing ovation for Blatter at Fifa's annual congress if he announces that he will stand for re-election.
The 78-year-old Swiss has held the post since first being elected in 1998.
Blatter had recently hinted he could look to stay in the post from 2015.
If Blatter did seek a fifth term of office, it would appear to break a promise he made to Uefa's congress in 2011 that this would be his last period as the head of Fifa.
Fifa's decision to hand the 2022 World Cup to Qatar is being investigated amid fresh claims of corruption over how the gulf state won the vote in December 2010.
It is thought Blatter will address Fifa's annual congress in Sao Paulo next week and will make it clear he is willing to take on another four-year mandate - but only if it is the will of the governing body's member associations.
Up to four football confederation heads may then address the congress and state their support for his candidacy, prompting Blatter to then accept their invitation.
It is understood that European football's governing body does not want representatives from each of its 54 member nations attending the congress - which will include Football Association chairman Greg Dyke - to join in with any acclaim for Blatter if, as expected, his candidacy his announced.
Michel Platini, Uefa's president, is thought to be undecided over whether he wants to seek the Fifa presidency in next year's election, with many observers expecting that he will decide not to run.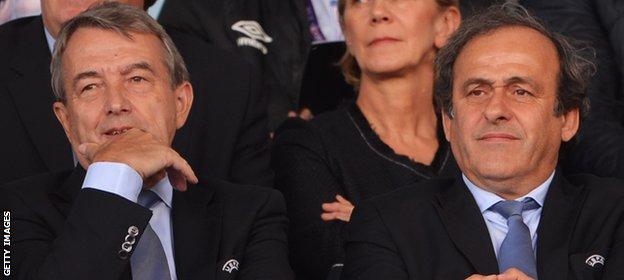 Given his position, and Uefa's determination to oppose Blatter in the ballot, alternate candidates have been sounded out in case Platini decides not to proceed.
BBC Sport also understands that the Dutch FA president Michael van Praag and the German FA president Wolfgang Niersbach are under consideration by Uefa as potential candidates to stand against Blatter in the Fifa presidential election, which will take place next year.
While no formal approach has been made to either man, both Van Praag and Niersbach are believed to fit the profile that Uefa is looking for in potential candidates.
Uefa do not expect Van Praag - who was re-elected head of the Dutch FA last December - or Niersbach - a 62-year-old former sports journalist - to defeat Blatter.
But the hope is that the presence of one of the men on the ballot paper will send a strong message over their dissatisfaction with Blatter's candidacy and Fifa's overall direction.