World Cup 2014: Where should Wayne Rooney play for England?
Last updated on .From the section 2014 Fifa World Cup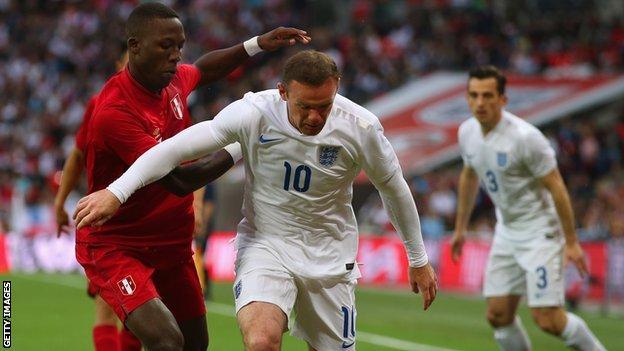 Wayne Rooney's place and role in the England team have been called into question in some quarters ahead of the start of the World Cup.
But national coach Roy Hodgson said: "It is a bit sad that the country is so Wayne Rooney-obsessed."
Rooney's 65 minutes in the 3-0 win over Peru last Friday was his first match after a month out with a groin injury.
Four of BBC Sport's top football pundits have been talking about Rooney's World Cup prospects and suggested how Hodgson should deploy the 28-year-old.
Alan Shearer - former England international
"I had that same problem just before Euro 96; people were questioning whether I should be in the team because I hadn't scored in 12 or 13 hours of football - maybe even more," Shearer told BBC Radio 5 live Breakfast. "The best piece of man-management that I ever had from a manager was from Terry Venables.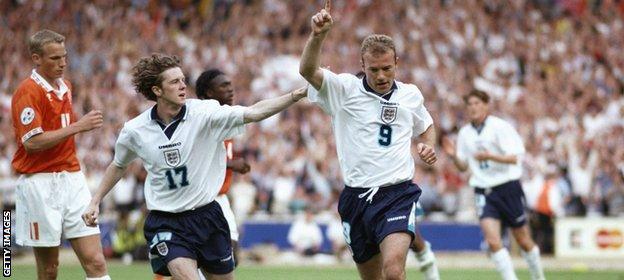 "He pulled me to one side three weeks before the tournament and said: 'Whatever happens, you will start that first game against Switzerland because I believe in you.' That gave me great confidence but then he said the rest was up to me.
"I'm pretty sure and I'd probably guarantee that Wayne Rooney will start and should start against the Italians but then it's up to Wayne. Whether he performs we'll have to wait and see. He has the ability.
"Daniel Sturridge will be the top man - the furthest forward and the guy who we will look to to score us goals. Rooney can play on the right, left or in behind. He didn't have his best game against Peru but, having said that, he hasn't played for five or six weeks so it's quite understandable."
Gabriele Marcotti - Italian football journalist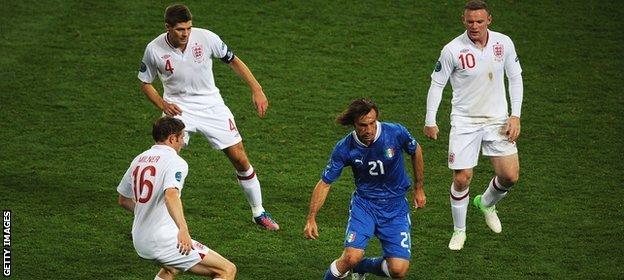 "He's the hub of the wheel and I think in terms of reputation over the last seven or eight years, you have probably been right to be Rooney-obsessed," Marcotti told 5 live's Monday Night Club.
"I don't think he's a number 10 who fits in to what Hodgson's trying to do. He can be an asset to England but in a slightly different way.
"If you believe Rooney can give a high-energy, defensive performance against Andrea Pirlo, you start him. You cannot play him out wide, or up front in place of Daniel Sturridge - that is Roy's conundrum. There's only one place he can play, unless he [Hodgson] is prepared to bench him.
Kevin Kilbane - former Republic of Ireland international
"Since Euro 2004, he has not produced on that big stage," said Kilbane on 5 live's Monday Night Club. "He was 18. That's why the obsession, why the question marks are over him.
"But he [Hodgson] will not go into that first game and not start Wayne Rooney. If he does not start him, as the main man, I think you have lost him.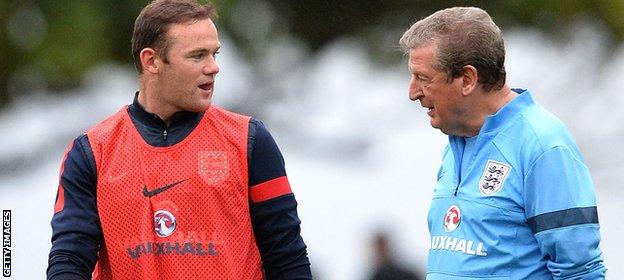 "The best form he has shown was when he played at Manchester United as a lone striker, and I'm going back three or four years. Overall his form has not been the greatest when he has been deployed in that number 10 position."
Pat Nevin - former Scotland international
"You don't pick players purely on form, but over the last six months or so I've been quite surprised how the English press has stuck by Rooney," Nevin told 5 live's Monday Night Club.
"I have looked at him and thought, 'I cannot believe in comparison to your capabilities how poor you have been', because he is a much, much better player than that. The stats and goals per game will tell you something totally different.
"Maybe it comes to everyone with age, but it should not have come to Wayne Rooney at this age. He is at the peak. You don't get excuses at World Cups - you either do it or someone else comes on the scene and does it.
"He scored one goal against the top teams this season, a free-kick against Manchester City in a 4-1 defeat. I just don't know if the spark is there."