World Cup 2014: James Milner could play key role in Brazil

By Phil McNulty
Chief football writer
Last updated on .From the section 2014 Fifa World Cup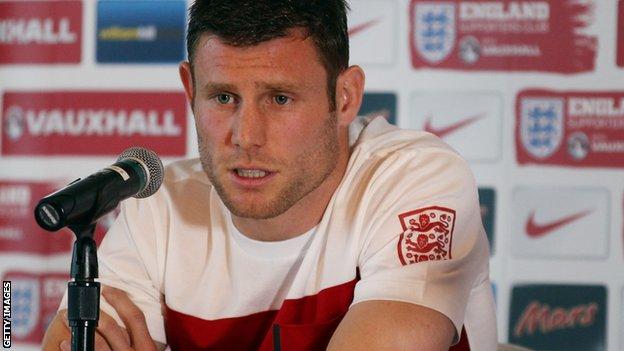 The real James Milner is a far cry from the parody Twitter account persona that is now moving up towards a quarter of a million followers.
The mock Milner - lampooned by tweets via the fictional "Boring James Milner" character - celebrates landmark career moments by cleaning out the back of his fridge or removing old paint tins from his shed.
He also complains Manchester City manager Manuel Pellegrini's demand to get an early night before big games fails to take into account how much ironing he has to do or how messy the cupboard under his stairs is.
Milner's parody also struck up a lengthy Twitter chat with a well-known supermarket chain recently, extolling the virtues of its cheap chocolates and own brand Bolognese sauce.
Far from being precious or sensitive about this unflattering portrayal, Milner is happy to be in on the joke and has even made attempts to uncover whether the imposter is one of his Manchester City colleagues.
The account is a humorous reflection on what is now the footballing public's perception of the 28-year-old who has won 45 caps - safe, reliable and the go-to man when England manager Roy Hodgson wants to lock down a result.
And with a rash of emerging young talent in England's World Cup squad in the shape of Liverpool's Raheem Sterling and Everton's Ross Barkley, Hodgson is likely to be accused of conservatism over ambition once again if Milner gets the nod for England's opener against Italy in Manaus on 14 June.
This would be a harsh verdict on both manager and a player whose prodigious levels of energy and fitness often overshadow the contribution he can make in attacking as well as defensive context.
Milner is a man Hodgson trusts, now perhaps frustrated by his lack of game time in Manchester City's title-winning Premier League season and with arguably even more energy to burn off in the heat and humidity of Brazil, especially Manaus.
And this is why it would not be a surprise to see Milner emerge as key element of England's World Cup strategy, someone Hodgson knows he can count on and not the negative selection many would suggest. Pragmatic perhaps, but not negative.
Milner's fitness has acquired almost legendary status among his peers and will be priceless in the strength-sapping conditions England will experience in South America.
In searing heat against France in Donetsk in Euro 2012, statistics revealed Milner ran 1.4 kilometres more than any other England player.
He said: "I run 12.5 to 13 kilometres in each game on average. I don't know my best but I've probably touched 14. I once did 17 in an under-21 game that went to extra time.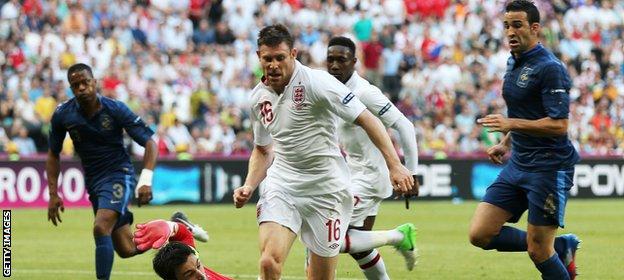 "Everyone has strengths and weaknesses but I can keep going. I did a lot of cross-country when I was younger and my old man was a good runner as well. It comes through that."
Milner is unmoved by the faint praise, saying: "I only do the job the manager wants me to do to the best of my ability and fulfil the role that's been asked of me. The versatility thing can be a blessing or a bad thing.
"Anyone can have an opinion. The manager and team-mates' opinions are the only ones that matter to me. Look at the number of goals I've created in the Premier League in my career and I'm sure I'd be quite high up in that.
"If you can do that, create goals but also do a job for the team defensively as well...if I was lazy but had more energy to go forward, what would the perception be then? I contribute in many different ways to the team.
"You can look at every game, some where I've been a defensive player and others where I have had an attacking impact. I've played a hell of a lot of games in my career and you can stake any argument on statistics."
But is he really Boring James Milner? His reaction to that Twitter account suggests otherwise.
"It's not doing badly, whoever is doing it, with 243,000 followers," said Milner. "My Foundation has 15,000 followers and I'd like it to have as many as the other one.
"It's good fun. I've read a few of them and some of them are very funny. We went through it at the club wondering who it was. There were a few Tweets about Asda so I was asking the masseurs where they shopped.
"I thought I was close to finding out who it was but never got close enough. I don't think it's at the club. Who knows? It's good fun though. People enjoy it. That's the main thing."
Milner is also strictly teetotal, which again allowed his impersonator to poke fun at his supposedly strait-laced approach to life, once claiming "the room has started to spin" after his eighth cup of tea at a party.
There is a more serious side to this as Milner says: "It's not like I'm against alcohol. It's just a decision I've made and if you've never had it you don't miss it. I've been drenched in champagne a few times over my career at Manchester City."
All his current efforts are targeted at England's World Cup campaign. So will that ban on alcohol be tested should England overturn all odds and triumph in Brazil?
"That's one moment where I might," admitted Milner, which would no doubt provide further material for the "boring" alter-ego that provides an amusing sideline to this most professional of footballers.
Go to our new World Cup features and video index for more in-depth content and analysis.