David Beckham hints he may resume career with Miami
Last updated on .From the section Football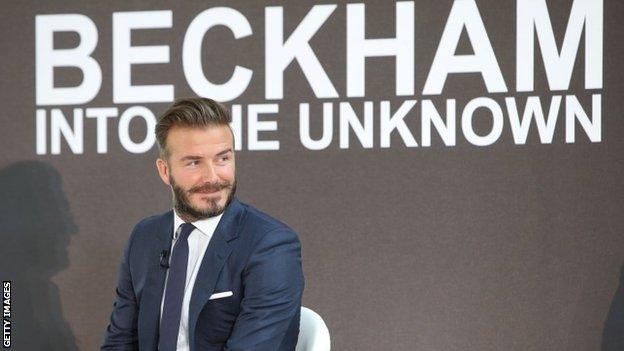 David Beckham has hinted he may resume his career by playing for the Major League Soccer team he is trying to launch in Miami.
The 39-year-old former England captain retired in May 2013 after a 20-year playing career that ended with a short spell at Paris St-Germain.
Appearing on a BBC One documentary, Beckham said: "There's never been a player-owner but maybe?"
David Beckham: Into the Unknown will be shown on Monday, 9 June at 20:30 BST.
The show follows the former Manchester United and Real Madrid midfielder as he travels 800 miles by motorbike, canoe and plane into the Amazon rainforest on a 12-day trip.
Beckham admitted he had "a tough time" after retiring as a player but has gone through "a stage of enjoying the rest" and is tempted to come out of retirement.
He said: "Now I go to watch a basketball game and, when you are watching athletes play at the top of their game, it gives me that itch again and I want to be back in the game and I start thinking to myself 'Could I play again? Could I go back? Could I come out of retirement and start playing again?'"
The former England captain, who earned 115 international caps and major club honours in four countries, has declared he hopes to start an American soccer franchise.
A contract clause as a result of his time with Los Angeles Galaxy allows Beckham to purchase a Major League Soccer expansion team for £25m and he is aiming for the Miami-based team to be playing in 2016 or 2017.