Celtic: Timing could be right for Steve Clarke, says Pat Nevin
Last updated on .From the section Football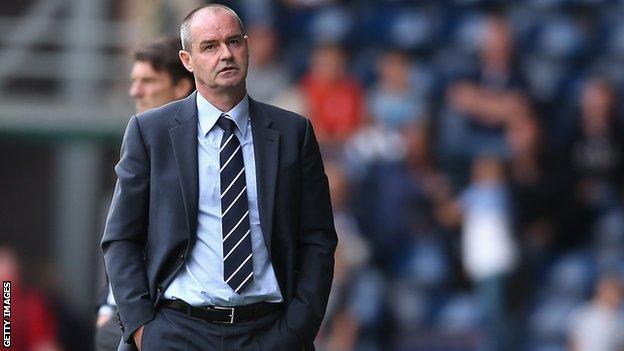 Pat Nevin says Steve Clarke's contacts in the game make him a strong candidate to take over as Celtic manager.
And Nevin reckons Clarke's time as number two to managers such as Jose Mourinho and Kenny Dalglish could be upper-most in Celtic's thinking.
"He worked with those managers and has great links down south," said Nevin.
"When he did well at West Brom he had Romelu Lukaku up front, and he got him because of his links with Chelsea.
"And it may well be that's as important as anything else for Celtic at the moment, to make sure you've got those links, with not only those big names but those big clubs as well. Not just for loan players but buying and selling players as well."
Nevin played beside Clarke with Chelsea and Scotland, and says his former team-mate's reputation as a top coach earned him jobs as assistant at Newcastle, Chelsea, West Ham and Liverpool.
"He's been the number two for a number of very important clubs, but also big name managers as well," added Nevin.
"That doesn't happen by fluke - word gets around in the game if you're a good coach, a good tactical coach, if you're a good man on the training ground as well. And he's very much a training ground coach/manager.
"He's a good technical coach and he understands the game incredibly well. You also need to be a big personality, a strong personality to be the Celtic manager but he is a strong one, if not necessarily open."
While Nevin revealed he would be "delighted' if Clarke landed the Celtic job, he thinks the Scottish Champions should be looking far and wide for the ideal candidate.
"That's not just the ones we're talking about in the press, there will be other ones as well," said Nevin.
"And that's what Celtic should be doing, they should be scouring the planet, and it's not just someone who used to play for Celtic, or said they're a Celtic fan, it's time to go for the best and the biggest name you can get.
"It's a tough job and Gordon Strachan famously says you have to have done that job to understand the pressures of it, but there have been tougher times to be Celtic manager.
"With Rangers not in the top flight there's a great chance you're going to win the league, you have more money to spend than everyone else, but really you'll end up being judged on how well you do in Europe and how well your buys do.
"It's a tough job but there's a chance Stevie Clarke could do very well, as could a lot of guys."
Former Celtic midfielder Murdo MacLeod, who admitted he was "surprised" Keane chose not to pursue the Celtic role, also believes Clarke's track record makes him a strong contender.
"Steve Clarke would be in the running," said MacLeod.
"He has learned his trade beside some of the best managers in world football, never mind British football. He has so much good experience and I'm sure he'll get an interview at some point."