World Cup 2014: Like Bayern or Dortmund? Germany's dilemma
By Patrick Strasser
German football writer
Last updated on .From the section 2014 Fifa World Cup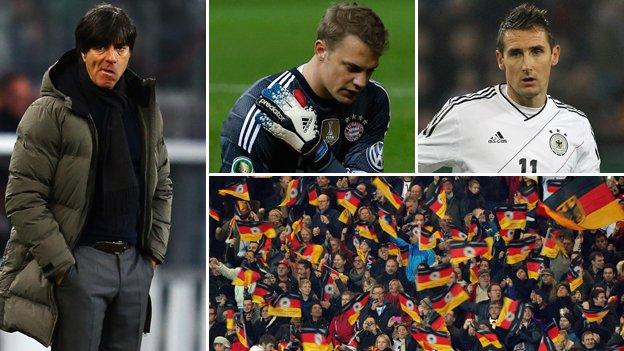 The rest of the world may respect the power and technical strength of Germany's national team, but it is not quite the same in the country itself.
"We are already the chaos champions," ran a recent headline in the tabloid Bild - and more on that later.
The campaign motto of the German FA and its main sponsor is "Bereit wie nie" ("ready as never before"), but highbrow papers such as Suddeutsche Zeitung are among those to question if that is really true.
Even the legendary Franz Beckenbauer was quite understated when he said: "I hope that we will play a good tournament advertising German football, and that we will reach the semi-finals."
Just the semis?
The qualification campaign was excellent, with nine wins and only one draw, 36 goals scored and just 10 conceded - but the present is full of problems.
Central to Germany's World Cup hopes is the question of whether coach Joachim Low can find the right choice of players from the two domestic powers - Bayern Munich and Borussia Dortmund.
There are seven players from champions Bayern and five from Bundesliga rivals Dortmund in the 23-man squad.
The mood in the group is good - much better than at Euro 2012, when there was jealousy and rivalry in the dressing room.
But they are separated by the style of play they know from their clubs.

Pep Guardiola's Bayern play a possession-based tiki-taka style like Barcelona, placing a premium on controlling the ball and pressing the other team deep into their own half.
The style of play at Dortmund under Jurgen Klopp is completely different - they sit back and wait for their opponents to attack, destroying them with counter-attacks.
Low has always been closer to the way Guardiola's Munich play. With the likes of Mesut Ozil, Thomas Muller and rising stars Marco Reus, Mario Gotze and Julian Draxler, he thinks there is no option but to play attacking football.
Previously, such as during their victory at the 1990 World Cup, the Germans relied on a 4-4-2 system. Now they prefer a 4-5-1 that can easily be turned into a more attacking 4-3-3.
"I prefer technically strong, fast and smaller strikers that can play every position up front," said Low. Words as if they were from Pep Guardiola. No wonder the Spiegel newspaper wrote about Low: "A little bit of Pep."
But it is not always so easy.
Low will try to play like Bayern - but has he got the personnel?
He has to integrate players from Dortmund to replace those at Bayern he cannot select. For Dante, read Mats Hummels, Erik Durm for David Alaba, Reus for Franck Ribery. And there is Sami Khedira (for Javi Martinez) and Miroslav Klose (for Mario Mandzukic/Mario Gotze). That makes it difficult.
The climate in Brazil means no team will be able to attack all the time. Will that persuade Low to think about adopting Dortmund's style from time to time? The fact he heavily favours the Bayern system could be a problem. Low, of course, says: "We will handle it."
Then there are the injury problems.
Captain Philipp Lahm (ankle), vice-captain Bastian Schweinsteiger (knee) and goalkeeper Manuel Neuer (shoulder) are three key players, all from Bayern Munich, but all recovering from injury.
As a result, Low has not been the focus of all the media and public attention, even when he left Marcel Schmelzer (Dortmund), Kevin Volland (Hoffenheim) and Shkodran Mustafi (Sampdoria) out of his final squad.
The most important man now is the German team doctor Hans-Wilhelm Muller-Wohlfahrt.
The 71-year-old must get the three go-to men fit again - and that is not to mention Khedira and Klose, also important figures who have their own fitness problems.
Midfielder Khedira won the Champions League with Real Madrid, lasting 59 minutes of the final before he was substituted. He is not ready for 90 minutes, especially at a World Cup.
Striker Klose, who is 36 on Monday, had to be left out of the team that drew 2-2 with Cameroon on Sunday.
The longing in Germany for success is enormous - though not as big as in England - and the pressure on Low is rising.
The World Cup will be the fourth tournament he has been in charge for. After Germany lost to Italy in the semi-final at Euro 2012, there were doubts about him for the first time.
Though he renewed his contract until 2016, this World Cup will be his last tournament if they fail. They must at least reach the last four.
As if the pressure was not enough, their 10-day training camp in South Tyrol, Italy was problematic.
While filming a television advert with some sponsor's cars, Draxler and Benedikt Howedes were involved in an accident.
Both were front-seat passengers, in cars driven by Formula 1 driver Nico Rosberg and Pascal Wehrlein of DTM, and were not hurt, but a tourist and a local were injured.
Their preparations were disturbed, and on top of that came the news Low had to give up his driving licence for six months for exceeding the speed limit several times.
In Brazil, he will get a chauffeur. What Low really needs is inspiration.
In Germany all the talk is about what is the right way to ensure they perform? Copy Klopp or be like Pep?
Go to our new World Cup features and video page for more in-depth content and analysis.