Exeter City have had PFA loans before, says Steve Perryman
By Brent Pilnick
BBC Sport
Last updated on .From the section Football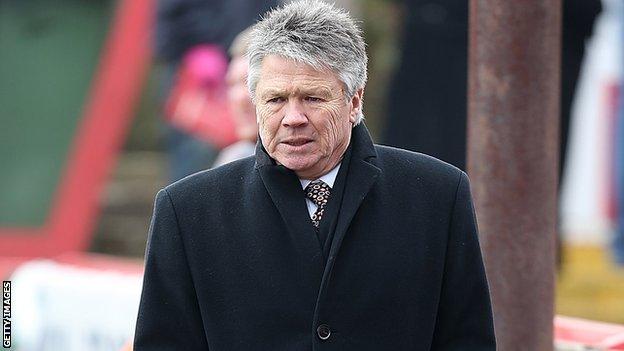 Exeter City have gone to the Professional Footballers' Association for loans before, according to director of football Steve Perryman.
"This has been considered many times since I've been at the club, but not always acted upon," he told BBC Sport.
"I would have thought in my 12 years it's probably the third or fourth time this has been taken out."
The Exeter City Supporters' Trust took over the Grecians in 2003 after financial issues, helping the club stabilise and regain Football League status in 2008.
Perryman says that being owned by the fans, as opposed to one wealthy individual, means that this sort of issue can happen.
"I think this is normal life at Exeter City," he said.
"It's part of being a trust-owned club, which has a lot of advantages and some disadvantages, and one would be that there's no-one to put in the money when the cash flow's a bit vulnerable as it normally is through the summer months.
"I'm quite pleased that it gets publicised because it puts people in reality-land about how it is to be part of Exeter City, which is great, but has its drawbacks.
"With this coming out in the open, as it has done now, it'll give some thought or consideration to the future of the way Exeter City does its business."
Exeter boss Paul Tisdale released seven players last month and saw free agents Matt Gill and Eliot Richards turn down offers from City to join up with Tisdale's former assistant manager Rob Edwards at Tranmere.
"Our business becomes a bit easier when we earn football money, like the famous Manchester United cup run, or selling players to higher division clubs, or the televised game with Liverpool in the League Cup. This takes the place of the moneyed owner," Perryman added.
"At moments like this you have to get some extra funding from somewhere, so well done to the club for finding a solution, but it's the long-term solution that people should be thinking about."