Cristiano Ronaldo in tendinosis injury scare for Portugal
Last updated on .From the section 2014 Fifa World Cup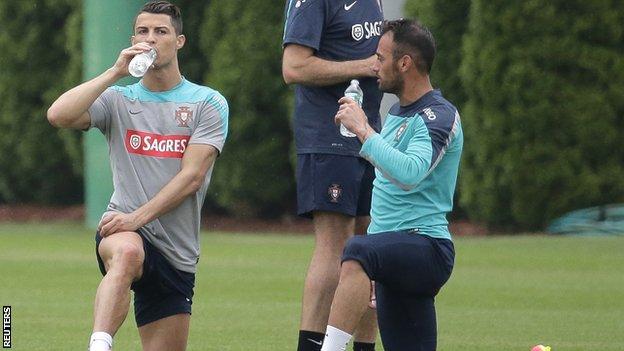 Cristiano Ronaldo is suffering from tendinosis in the region around his left kneecap, the Portuguese Football Federation (FPF) revealed on Wednesday.
The FPF said the 29-year-old forward, who missed last week's 0-0 draw with Greece, underwent "specially adapted, individual" training on Monday.
The World Player of the Year had minor injuries last season but scored in Real Madrid's Champions League final win.
Portugal's opening World Cup match is against Germany in Salvador on 16 June.
BBC Health and Science reporter James Gallagher explained that there were significant differences between tendinosis and the more commonly known tendinitis.
"Tendons attach muscles to bone and are a common source of injury in sport," Gallagher says.
"Tendinosis is caused by long-term wear and tear of the tendon. Low levels of damage build up if there is insufficient recovery time between matches.
"It is not the same as tendinitis, which is the result of overloading the tendon, resulting in inflammation.
"Pain and difficulty moving are common to both injuries and rest is the main treatment.
"Recovery times for tendinosis depend on the scale of the damage, but in the most severe cases could be several months."