World Cup: Ed McIlvenny - the Scot who sank England in 1950
By Russell Stoddart
BBC Sport
Last updated on .From the section 2014 Fifa World Cup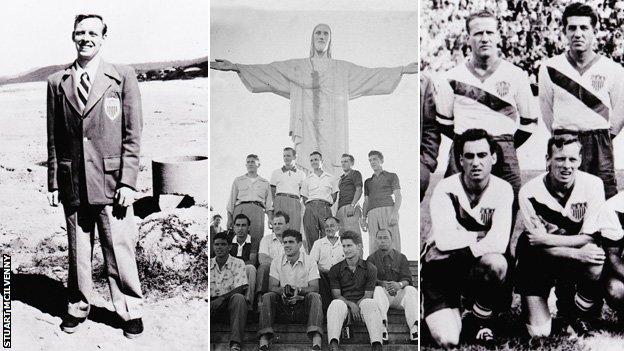 Ed McIlvenny holds a place in World Cup folklore, but you will not find the Scot listed among the greats of the game.
A journeyman footballer, his moment of glory came in a match English football would rather forget.
McIlvenny captained the United States as they produced one of the biggest World Cup shocks in history - beating England 1-0 in Belo Horizonte at the 1950 finals.
Despite arriving in Brazil on a British passport, the 25-year-old midfielder was eligible to represent the US on the pretext he was seeking citizenship there.
Weeks later, with his citizenship papers unsigned, he returned to Britain to sign for Manchester United.
McIlvenny was the only fully-professional player in a US team including a dishwasher, a postman, a truck driver, a schoolteacher, an undertaker and a can factory machinist.
No wonder, then, that when the result was flashed back to the UK by cable, it was thought to be a mistake and England had actually won 10-0.
The spirit of McIlvenny and his team-mates will be remembered as England return to the old mining city 64 years on to face Costa Rica on Tuesday.
England will be wary of ghosts of World Cups past, though the game takes place at the refurbished Mineirao rather than the old Estadio Independencia.
For McIlvenny's son Stuart, there is nothing but "great pride" as he recalls the events of 29 June 1950.
Stuart says his father's allegiance to the United States began when he fell out with his manager at Wrexham.
He adds: "My dad was the youngest of nine and decided to try his luck in the United States, where two of his sisters lived, one in New York and the other in Philadelphia.
"He settled in Philadelphia, where he worked as a plumber's mate and even delivered eggs and milk before joining the Philadelphia Nationals, who had won the US League the previous two seasons.
"Though I recently found his unsigned US citizenship application form in the loft, he did love his time in the States and even tried to join the US Air Force."
US v England 1950 line-ups

US
England

Frank Borghi

Bert Williams

Harry Keough

Alf Ramsey

Joe Maca

John Aston

Walter Bahr

Billy Wright (c)

Ed McIlvenny (c)

Laurie Hughes

Charlie Colombo

Jimmy Dickinson

Frank Wallace

Wilf Mannion

Gino Pariani

Tom Finney

Joe Gaetjens

Jimmy Mullen

John Souza

Stan Mortensen

Ed Souza

Roy Bentley

Manager:

William Jeffrey

Manager:

Walter Winterbottom
It was only when his father died 25 years ago that Stuart discovered the real story behind him captaining the US against England.
He says: "I contacted his old US team-mate Walter Bahr to let him know of my dad's passing.
"Walter told me their Scottish-born coach Bill Jeffrey decided to make my dad captain because he thought it would fire him up a bit and be a feather in his cap."
Bahr, who at 87 is one of three surviving members of that US team, thinks "politics probably paid a part" in the decision.
As North American soccer historian Colin Jose explains: "Harry Keough captained them in the first game against Spain because he spoke Spanish, Ed McIlvenny did so against England because he was British, and Walter Bahr captained them in the final match because he was the real captain."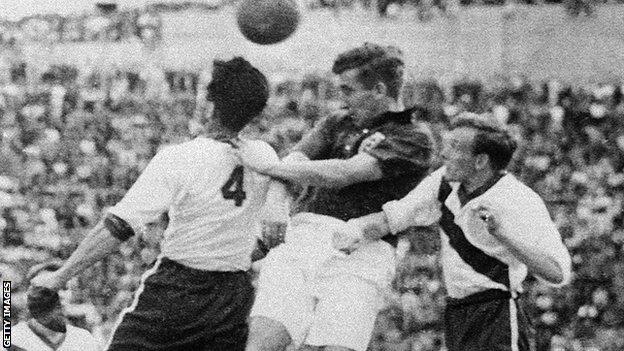 Bahr, though, says it "really wasn't a big deal", adding: "Eddie was a quiet lad, but although he was no cheerleader he would speak his piece. He was a dependable midfielder who always got stuck in."
McIlvenny was one of three non-Americans in the side, along with Belgian Joe Maca and Haitian Joe Gaetjens, who scored the only goal against England before losing his life during the military coup in his country.
McIlvenny's captaincy fell foul of Hollywood's stars and stripes patriotism, with born-and-bred American Bahr replacing him in the film The Game of Their Lives.
Stuart says: "My mother said it was just Tinseltown and they could not take away his moment in the sun."
He compares it to a daring Royal Navy operation in the Second World War to capture an Enigma decoding machine that was portrayed as an American operation in the film U-571, released in 2000.
Stuart adds: "My mother said if they could do it to something as important as that, they can do it to a football match.
"My two aunts in the United States saw The Game of Their Lives, but we didn't bother. It bombed anyway."
England's XI - and their clubs

Bert Williams

Wolverhampton Wanderers

Alf Ramsey

Tottenham Hotspur

John Aston

Manchester United

Billy Wright (c)

Wolverhampton Wanderers

Laurie Hughes

Liverpool

Jimmy Dickinson

Portsmouth

Wilf Mannion

Middlesbrough

Tom Finney

Preston North End

Jimmy Mullen

Wolverhampton Wanderers

Stan Mortensen

Blackpool

Roy Bentley

Chelsea
Contrary to perceived wisdom, England fielded a strong team against the United States, including Tom Finney, Stan Mortensen, Wilf Mannion and Alf Ramsey, with Stanley Matthews the only big name missing through injury.
They were considered potential world beaters, having beaten Italy 4-0 and Portugal 10-0 in the build-up to the tournament.
Preston winger Finney, who died in February, said he was haunted by the US result for years afterwards.
He recalled: "We thought they were there to make up the numbers and it would be a formality.
"We had beaten Chile in our first game and they were a stronger team on paper than the US.
"There was a jinx on their goal. We hit the woodwork on five or six occasions and had numerous chances to score."
England were left stunned - and were still rattled when they lost to Spain in the final group match.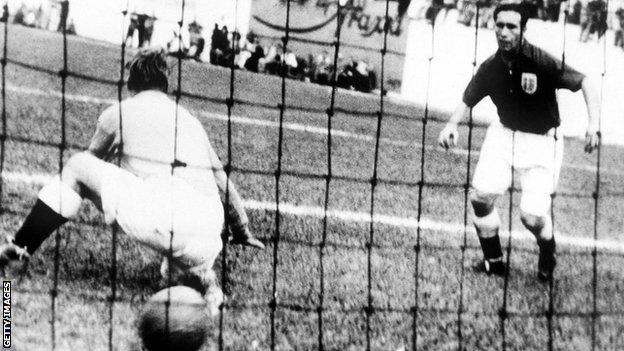 Bahr adds: "Our preparation for the World Cup was one warm-up match in New York against an English select side, which we lost, then a knockabout with a local team at our military camp HQ on Sugar Loaf Mountain.
"We had gone into the England game not thinking about winning, but hoping not to get embarrassed. We were 500-1 to win any of our World Cup games.
"The longer the game went on after we went in front, the more support we got from the locals because England were expected to reach the final. Some of us were carried shoulder high off the pitch at the end."
The next day, the front page of Brazil's biggest-circulation newspaper carried the headline "1-0 - The King Dead!" in reference to England's tag as the "Football Kings".
The reaction in the United States was more indifference than disbelief.
Jose says: "Not one US newspaper or news outlet sent a reporter. The New York Times contained a story about two inches long that had the wrong player named as the goalscorer."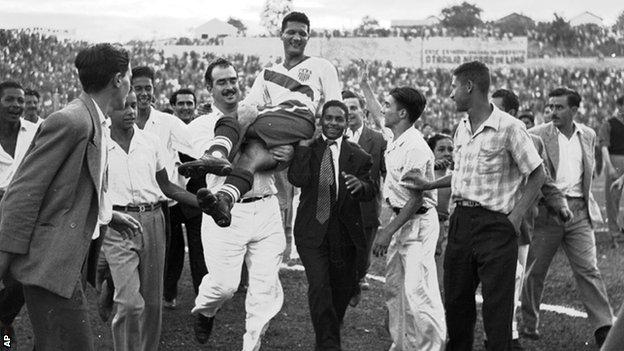 Recalling his return to New York, Bahr says: "I was on my own and my wife was the only one waiting for me. There was no fanfare or fuss."
The England match was to prove the highlight of Ed McIlvenny's career, despite his impending move to Manchester United.
His son says: "United's manager, Matt Busby, had seen my dad during a tour of the States and signed him up, but after joining United he fell out of favour and only played a couple of times in his three seasons there."
Having failed to make his mark at Old Trafford, McIlvenny moved to Eastbourne and worked in the council's treasurer's office until he retired.
Stuart adds: "The family don't regard his time in Manchester as a failure because he met my mum, so there was a happy ending of sorts.
"Mum passed earlier this year but, come the day of the Costa Rica game, the family will remember with great pride what dad achieved in that famous match in Belo Horizonte."