Exeter City: No new signings until August after club gets PFA loan
By Brent Pilnick
BBC Sport
Last updated on .From the section Football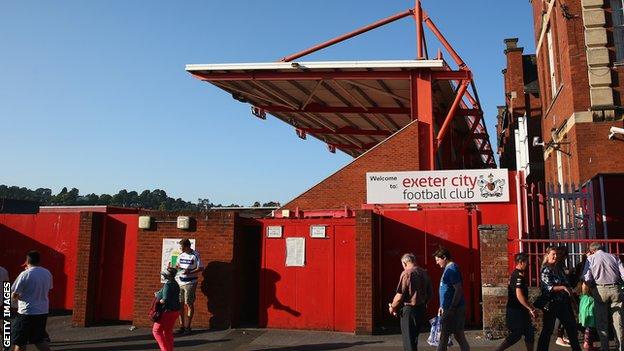 Exeter City will be unable to sign any new players until the start of August after the club
The club is under a transfer embargo until it pays the £100,000 loan back.
"The intention is for it to be repaid at the start of August," Exeter chief executive Guy Wolfenden said.
"Paul (Tisdale) is a very respected manager, we know the potential positions we're looking for and we've got to work within those limitations."
Wolfenden says that the postponed match with Wycombe on New Year's Day, which was re-arranged for Tuesday, 25 February, was a main contributory factor to the club needing the loan, which covers the day-to-day overheads of the club.
"That cost us between £40,000 and £50,000 in terms of the size of the crowd that didn't come to that match," he told BBC Sport.
"We also had a game with Morecambe moved to a Tuesday night in February and again the crowd was less than we would have expected for that.
"The season ticket campaign hasn't got us to the level we were hoping for, so it's a culmination of elements which mean that the cash flow at this time of the year is harder than it has been before."
The club's playing budget has also been cut with boss Paul Tisdale releasing seven players last month and seeing free agents Matt Gill and Eliot Richards turn down offers from City to join up with Tisdale's former assistant manager Rob Edwards at Tranmere.