Celtic: Ronny Deila is a good fit for the Glasgow club's strategy

By Richard Wilson
BBC Scotland
Last updated on .From the section Football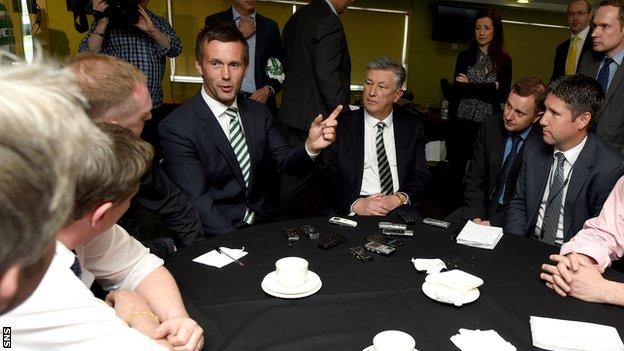 By stealth, the new Celtic manager, Ronny Deila, has found a route to prominence.
There is no sense in Norway of him having maintained a low profile while in charge of Stromsgodset, but other contenders for the Scottish champions' managerial vacancy had carried greater renown and recognition in the UK.
Moving from Roy Keane, who has played for Manchester United and managed in the Premier League, to a 38-year-old who has never worked outside of Norway seemed a lurch. Celtic, though, assessed a number of candidates after Neil Lennon departed and there was logic to considering different managerial styles, at least in the club's current circumstances.
A figure such as Keane, or Henrik Larsson - who also held talks with Celtic - would have brought box-office appeal at a time when an uplift in ticket sales would be welcomed. The likes of Malky Mackay, Owen Coyle and Steve Clarke were linked with the job, but none carry the status with the Celtic support or wider fascination of Larsson and Keane.
Deila is a better fit as he matches the profile the club pursues in its recruitment of players. That strategy has worked effectively for Celtic, so there is reason in their consideration of a young manager who has shown the potential to develop.
"He's the right man because he's intelligent, modern, good track record," said Peter Lawwell, the Celtic chief executive, at the media conference to confirm Deila's appointment. "He fits perfectly with where we are. We develop our own. We find uncut diamonds, put them in the Champions League. He's ideal for that."
Deila had a modest playing career that brought two Norway Under-21 caps. A qualified teacher, his development as a head coach has been steady and impressive. Stromsgodset are a small club even in Norwegian terms, with average gates below 6,000.
Based in Drammen, an industrial town, there was a financial crisis at the club in 2005 that required the intervention of four local businessmen. Deila joined first as a player-coach in 2006 then stepped up to the head coach's job two years later.
His task was to replace the older players in the squad with younger ones while reducing the wage bill.
Most coaches rail against restrictions, but Deila welcomed the stringent conditions. His approach is to develop individual talent while fitting it into the overall framework of the team's tactics. He insists that his sides play a high-tempo, industrious, attacking style, and younger players tend to be more open to the demands of an idealist.
"You have two possibilities to get knowledge into the team," Deila said at Celtic Park on Friday. "Buy them or develop them. We need to develop players up to a European standard. I like to get players up to potential, make them world class at a huge club.
"It's about winning trophies, getting into Europe, developing players and creating a culture inside the club. The culture of developing is everything. I have to think about the process and what to do on the pitch. Then results will come.
"Without development, you won't get results. The board will see what I'm doing with the club. If I do well and make people happy, push the right buttons, we'll get results."
In 2009, Stromsgodset's young and inexperienced squad were expected to be drawn into a relegation battle. At the outset of the campaign, Deila insisted that he would rather his team went down playing the kind of progressive football that he believes in than stay up playing unattractively.
Celtic fans will wince at the notion that a philosophy might trump practicalities, since the obvious parallel is Tony Mowbray's brief and tortured spell in charge of the club. The demands of working successfully under the intense pressure and scrutiny of Glasgow can also be distorting.
Deila will have to manage a daunting transition. There is little chance of that inhibiting him. Occasionally he veers into exhibitionism, stripping so that he could throw his clothes into the crowd after guiding Stromsgodset to the title last season.
"I'm not so happy about that," Deila said, laughing. "I hope I'm fitter now than I was then. It was a bet between fans and me. I said that, if we stay up, I would strip. Will I do it here? Maybe if we win the Champions League."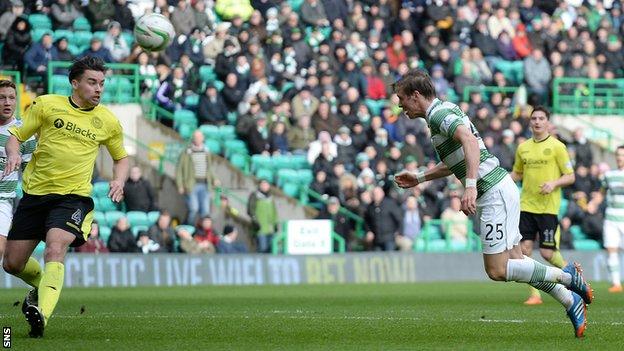 Nonetheless, the behaviour could be excused since Stromsgodset had not won the title for 43 years and it was only the second in their history. There are other measures of progress, such as his decision to recast Stefan Johansen from an inconsistent winger to an impressive playmaker in central midfield.
That move led to Johansen being called up to the national team and it will resonate with Celtic, whose policy is to sign players with potential and develop them so that they can be sold at a profit. They took advantage of Deila's work by signing Johansen in January and the club's scouts were struck by Stromsgodset's style of football.
Further research would have enthused Celtic, since Deila is committed to improving himself. He has observed training at the likes of Ajax, Manchester City and Liverpool, although he has been most consistently compared to Jurgen Klopp, the Borussia Dortmund head coach.
That is based on their respective teams' shared high-intensity approach but also the industrial backgrounds of the communities that their teams share. Deila has also spent time in Dortmund watching Klopp at close quarters.
"I like Jurgen Klopp. But I'm Ronny Deila," he said. "I like how he gets close to players, makes them feel loved. At Celtic Park, we need energy. They need to see a team who wants to attack. Be very hard to beat at home.
"I don't think so much about it. I'm me. I hope somebody will say some day: 'He looks like Ronny Deila'."
Celtic can think strategically, because there is little competitive challenge in domestic terms. Deila likes to build teams that fit his template, and that might take time, but there is also the demand to be immediately effective because the club have Champions League qualifiers to negotiate. So do Stromsgodset and the two clubs could draw each other.
Supporters will also make immediate judgements. Some might have preferred an established name, but Scottish football is a restrictive environment when Celtic are trying to maximise their own potential.
"He's the right man because he's intelligent, modern, with a good track record," said Lawwell. "He fits perfectly with where we are. We have a decent track record, know what we're doing in financial and football sense. We'll continue that.
"We are dominant in Scotland - we want to continue that and progress in the Champions League. And play attractive football. There is money available to strengthen."
Deila fits the bill in the sense that he will work readily in a set-up that relies on shrewd scouting and sensible transfer-market policies. All the same, he is a manager who will have to adapt and grow into the job, which carries with it the risk of failing to live up to the demands of the role.
Other candidates might have been safer options, but if they were out of reach or economically unviable then there was worth in pursuing the potential of a head coach who has shown that he may have the characteristics to succeed at a higher level.