Football match fixing: 13 British games fixed - claims
Last updated on .From the section Football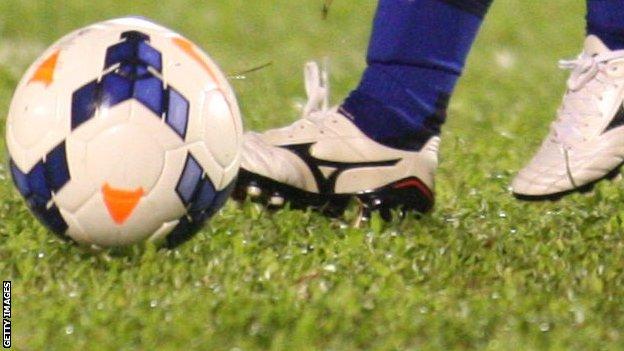 A Women's Super League game is one of 13 British football matches that have been identified as having been fixed - claims a new report.
Both clubs say they have "spoken to the Football Association" about the report, which went before the European Parliament on Tuesday.
Ten Conference games were implicated.
Two of those were in the Conference Premier, with the other eight in the tier below it. Two League of Wales games were also named.
The report by the Brussels-based gaming anti-corruption organisation suggests more match-fixing took place in England than anywhere else.
According to its general secretary Francesco Baranca, the Women's Super League fixture came to Federbet's attention after a large movement of money on Notts County to either draw or win the match. County eventually won the game 2-0.
A County statement said: "We have spoken to the FA and will be working closely with them as they investigate this allegation. At this point, we will be making no further comment."
Everton Ladies also issued a statement. It read: "The club is aware of the report and has spoken to the Football Association. We are awaiting more information."
Federbet, which is based in Brussels, has also accused football's authorities of failing to do enough to tackle match-fixing.
A total of 110 matches, including Champions League and Europa League ties, were identified as allegedly being fixed, with suspicions over a further 350. The total of 460 was up 20% from the previous year, Federbet said.
However, the Football Conference was sceptical of the claims.
"At this time, there is no evidence that any of the fixtures specifically listed by Federbet, relating to our competition, have been the subject of report or investigation," a statement read.
"Therefore, we are at a loss to understand what evidence may exist for Federbet to make such claims."
The two Welsh games raised were Bala Town's 7-0 win over Gap Connah's Quay and Port Talbot Town's 1-1 draw with Carmarthen Town. All four clubs have released statements denying any wrongdoing.