World Cup 2014: Alex Oxlade-Chamberlain positive over injury
Last updated on .From the section 2014 Fifa World Cup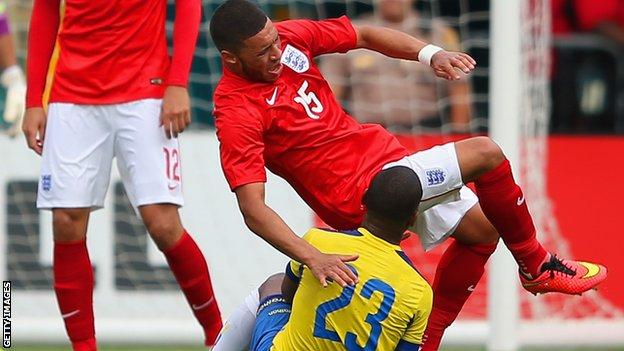 England midfielder Alex Oxlade-Chamberlain says he is staying positive over his chances of playing in the World Cup.
England have put no timescale on his recovery and could name a replacement up until 13 June.
"I'm staying positive and getting to work with the medical team on recovery," the Arsenal player tweeted.
Oxlade-Chamberlain, who added he had his "fingers crossed" over his prospects of being fit for Brazil, will continue to receive treatment and be monitored, the FA added on Twitter.
"It is very disappointing for Alex and the team that he sustained an injury on Wednesday," said England manager Roy Hodgson.
"It's too early to make any decisions about what happens next - it is only 24 hours since the match so we have to wait and see.
"In the meantime, Alex is having regular assessment and treatment.
"The England medical team is in direct dialogue with their Arsenal counterparts and we obviously are all hoping for the best."
England open their World Cup campaign against Italy in Manaus on 14 June and Hodgson told a fans forum on Thursday that Oxlade-Chamberlain would have been a "very serious candidate" to start the opening match.
He said it would be a "major blow" to lose Oxlade-Chamberlain - claiming he was "undoubtedly our best player in the time he played" against Ecuador.
Hodgson told football fans at the event: "We will do everything we can to keep him with us because we would we like to think we might go beyond the group stage - although we can't guarantee it, we are certainly planning for it."
Playing for the first time since 20 April because of a groin injury, Oxlade-Chamberlain produced an energetic display before being substituted after 63 minutes of the game against Ecuador in Miami following a tackle by Carlos Gruezo.
Reports suggest he could be out of action for between 10 days and three weeks following scans on the injury.
Oxlade-Chamberlain took part in some recovery work at England's Barry University training base on Thursday wearing a knee support.
The rest of the squad also attended the session at Barry, with those who did not play on Wednesday undergoing a more intense session than those who did.
The England boss had described the performances of Oxlade-Chamberlain, fellow Arsenal midfielder Jack Wilshere and Manchester United defender Phil Jones as "outstanding", while also praising Rickie Lambert's "magnificent" goal.
He also praised the displays of Wayne Rooney, who played in a wide left role, and Ross Barkley, although he was critical of the Everton midfielder in possession on his first international start.
"There always seems to be an enormous obsession with one player," said Hodgson. "I will be prepared to start any of the players in any game, but I'm not prepared to address your obsession with Ross Barkley.
"If he's going to be the player we want him to be, he has to make better decisions when he turns with the ball. That's not a criticism, but there were other performances out there today."
Enner Valencia gave Ecuador an early lead but Rooney bundled in his 39th goal for his country before half-time.
Lambert put England ahead just after the interval, but the South Americans levelled through substitute Michael Arroyo's stunning strike.
Raheem Sterling, a second-half substitute for England, and Ecuador's Antonio Valencia were dismissed in the second half after the Manchester United winger reacted to a challenge by his Liverpool counterpart.
Hodgson said: "I'm disappointed. I thought it was a fierce challenge from young Raheem, not a foul challenge. He played the ball and accelerated into the ball.
"I'm disappointed with Antonio's reaction, grabbing the player. Had he not jumped up, there wouldn't have been a problem, but, when he does that, the referee had to deal with that and sent Raheem off. I'm pleased Raheem didn't react to a lot of people milling around him."
Hodgson added: "Ecuador tested us but we dealt with them very well for long periods, and caused their defence many problems. We could have been several goals up before they scored their goal."
Go to our World Cup features and video index for our best analysis.