Northern Ireland: Michael O'Neill happy with spirit on tour
Last updated on .From the section Football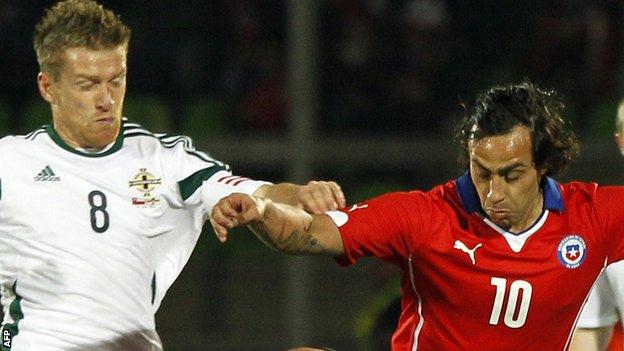 Michael O'Neill has described Northern Ireland's South American tour as his best 10 days as an international boss.
O'Neill, who took the job in December 2011, said: "I have got a huge amount more than I anticipated from the trip.
"It has been the best 10 days I have had in the job. The players have been a joy to work with and it has been a really positive atmosphere."
Northern Ireland have now lost six of their past eight games, but O'Neill said the response of his players showed the tour had been a success.
He said: "Steven Davis and Aaron Hughes have both said it is as good a trip as they have been on and, given they have got 150 caps between them, that is testament to it."
Northern Ireland were without a string of established regulars, including defenders Jonny Evans and Gareth McAuley.
Having kept Uruguay scoreless for 62 minutes, O'Neill's side held Chile at bay until 11 minutes from time, when Eduardo Vargas netted, though he appeared to be marginally offside when the ball was played to him.
Mauricio Pinilla scored three minutes later to seal the victory.
O'Neill said: "In the first half, I thought we were excellent, but in the second half it was a case of fatigue. We were a month out of our season, against a team heading to the World Cup.
"They were also able to bring real quality on in Alexis Sanchez, Eduardo Vargas and Arturo Vidal.
"But it's very difficult when you work as hard as we worked through the game to lose a goal of that nature. It shouldn't have counted and ultimately it was the turning factor in the game."
Echoing O'Neill's comments, veteran defender Hughes said that Northern Ireland would leave South America a "better side than we arrived".
"It's been a really, really good trip and two really good performances," said the 34-year-old.
"When you look at the quality of opposition there's no shame whatsoever in what we have done.
"To come out to South America to play against two teams who are going to the World Cup and to be able to compete with them, show we can play against that standard and not look out of our depth.
"The work we've put in over the past 10 days, the way the squad has gelled and the morale has all been really good."
Although the performances of Hughes and fellow senior men Steven Davis and Roy Carroll were the standouts, the former captain was keen to sing the praises of the less experienced players.
Doncaster's Luke McCullough, 20, shones in both games against the likes of Edinson Cavani and Alexis, 19-year-old Ryan McLaughlin looked a real handful on his first start in Chile and brother Conor McLaughlin made the step up from Fleetwood Town with minimal fuss.
The trip also saw Fulham 18-year-old Liam Donnelly and Dundee United's Paul Paton earning first caps.
"The young lads who have come in have looked comfortable on the whole trip, too, not just in the games," said Hughes.