Wales v Netherlands hampered by injuries - Iwan Roberts

By Iwan Roberts
Former Wales striker
Last updated on .From the section Football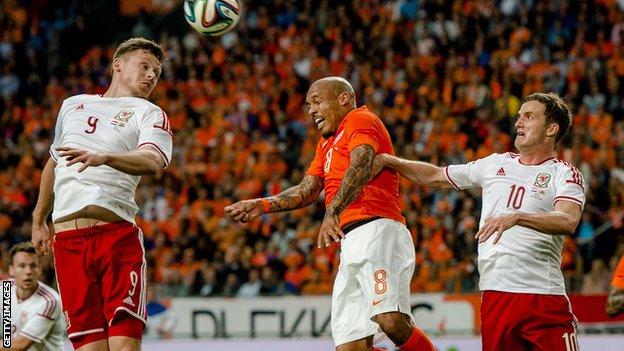 BBC Sport Wales pundit Iwan Roberts watched Wales lose 2-0 in a friendly with World Cup-bound Netherlands on Wednesday, and the morning after the night before, reflects on performances and tactics as well as making his predictions for Brazil.
Holland away is always a tough fixture but when you've got four of your most influential players out, it makes it that much harder.
We were going into the game with momentum having not lost in our last four games, but when the likes of Gareth Bale, Aaron Ramsey, Ashley Williams and Ben Davies were all ruled out through injury that run was never going to get to five games.
There was no lack of effort or hard work from the Welsh boys, but the Dutch lads looked fitter and sharper - especially in the final third - which was understandable considering Chris Coleman's boys hadn't kicked a ball in anger in the last three weeks, whereas this was Holland's last game before they fly out to Brazil for the World Cup.
Chris sent the boys out in a 4-2-3-1 formation, which was no surprise as that's how he's sent his team out since he became the Welsh manager.
James Chester came in at the heart of defence and did OK but did get caught out of position more than once, especially in the first half. He's another option in that position, but if James Collins and Ashley Williams are fit they have to start the next game in my opinion.
We did get bodies behind the ball and at times we were very hard to break down because of our organisation and discipline as a team, but when you're up against the likes of Robin van Persie, Wesley Sneijder and the excellent Arjen Robben, it's always going to be tough to keep them at bay for 90 minutes.
We'd had a couple of warnings before Robben fired the Dutch ahead. Not for first time, Van Persie got the better of Chris Gunter who wasn't at his best defensively in that first half.
He beat the Reading full-back Gunter too easily to fire in a near-post shot which Wayne Hennessey kept out with his knee, only to see the ball rebound off debutant James Chester to Robben. After missing two earlier chances, the Bayern Munich forward wasn't about to make it a hat-trick of misses.
The disappointing thing about the goal is that at the time Robben pulled the trigger Wales had nine players in the box compared to Holland's three.
The second half was a stop-start affair, with no team able to gain any sort of momentum and both managers making plenty of changes. The Dutch seemed to take their feet off the pedal, realising they didn't want any silly injuries nine days before they play Spain in their opening game in the World Cup.
PROBLEMS FOR NETHERLANDS' DEFENCE
Chris made changes and one of those he made really caught my eye. The 18-year-old Fulham midfielder George Williams came on for his first cap for the full squad and made a big impression. He hasn't played for his club and in fact only made two appearances on loan at MK Dons but made a terrific start to his international Welsh career.
He didn't look out of place out there and when he had the opportunity to run at the Dutch defence he certainly caused them problems with his pace and quick feet. Add to this his terrific balance and he does look a promising prospect for the near future.
All-in-all I'm not too disappointed with last night's result or performance as I know had we had the lads who were missing from the squad, it might just have been a different story.
WORLD CUP PREDICTIONS
The World Cup is just over a week away and it promises to be a fantastic tournament. No European nation has ever won a World Cup on South American soil and in my opinion I can't see that changing in Brazil.
For me, the host nation are the favourites as they have one of, if not the strongest, squads in the competition. Also they are used to playing in that humidity and they were outstanding in the 2013 Confederations Cup. That's why for me they are the team to beat.
I think Argentina will be strong and Uruguay will go a long way if Luis Suarez is fully fit after his recent knee injury.
As for the European challenge, Spain will do everything they can to defend their title but I can't see them winning their fourth major title in eight years. The Germans always do well and I expect nothing less this time with the strength in depth they have.
My dark horses are Belgium who we know very well after they dominated Wales' group, winning it comfortably. They have some top-class talented players, many of whom play in the Premier League. On their day they are capable of beating anyone and could go a very long way in the competition.
As for England, they could struggle to get out of the group that contains Uruguay, Italy and Costa Rica. They will try and get two draws in their opening two games against Italy and Uruguay and hope beating Costa Rica in their last group game will be enough to see them through to the knockout stages, but personally I can't see it.