World Cup 2014: Italy's recent results must not fool England
By James Horncastle
European football writer
Last updated on .From the section 2014 Fifa World Cup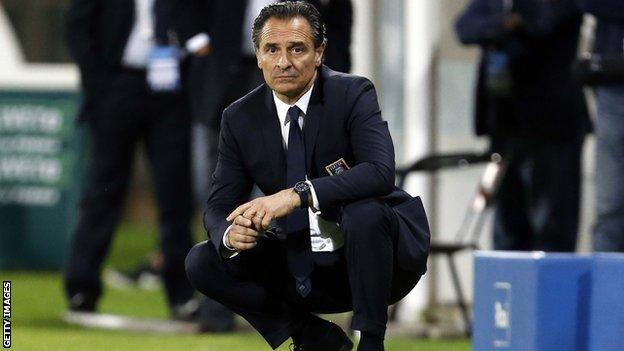 Borrowing a line from the national anthem, La Gazzetta dello Sport asked: "Italy, where is the victory?"
Wednesday's 1-1 draw with Luxembourg, a team ranked 112th in the world, was called an "embarrassment, a mini Korea" inside the newspaper's pink pages, a reference to the humiliating 1-0 defeat they suffered at the 1966 World Cup.
Italy, who face England in their opening World Cup match in Brazil on 14 June, had beaten Luxembourg in all eight of their previous encounters and had not conceded a goal to the minnows since 1976.
Blushes, there were a few.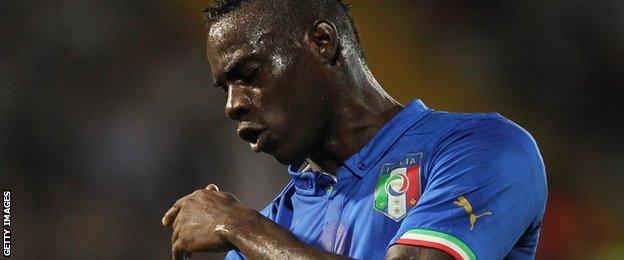 But even if it was Italy's seventh straight game without a win since they secured qualification in record time back in the autumn of last year, not everyone is overly concerned.
"I'm not at all disappointed," insisted coach Cesare Prandelli. "I am not leaving for Brazil with any doubts. Actually we're going there conscious we can have a great World Cup."
While others are panicking, how come Prandelli is so calm?
Well, historically speaking, Italy have a track record of under-performing in pre-tournament warm-up games. They drew 2-2 with Haiti last summer and yet managed to finish third at the Confederations Cup.
They lost 3-0 to Russia before Euro 2012 but still reached the final.
Two decades ago this summer, they were beaten by fourth division side Pontedera. Come the final of USA 1994, however, Italy were in it.
Many more examples exist. These are wake-up calls before the real thing begins.
Besides, Prandelli has never put the result first in friendlies.
They have been explicitly used for testing - and that was the case on Wednesday.
Italy played three different systems and made six substitutions.
After taking the lead early in the first half following Claudio Marchisio's header from an inspired Mario Balotelli cross, the Azzurri had another couple of chances to put the game beyond their opponents before the interval.
Then, in the second half, they hit the bar twice, before Luxembourg equalised late via a set-piece, which was perhaps foreseeable considering Italy's numerous shifts in formations and personnel.
Rather than feel down on their luck, positives were drawn from the performance. Midfielder maestro Andrea Pirlo and his heir apparent, Marco Verratti, appear able to play together.
If one was not free to receive a pass, the other was. England - and other Group D opponents, Uruguay and Costa Rica - should take note. Verratti's emergence means they will not just need to deal with one Pirlo-style player in Manaus but possibly two.
Make no mistake, it will be hard to get the ball off Italy on 14 June.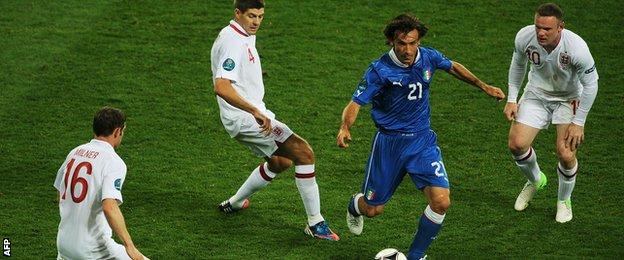 A negative was that much of their play was congested in the middle and at times their full-backs were left exposed.
If Luxembourg could have some joy down Italy's left, imagine what England's wingers could do. But do not read too much into the result.
Remember, in four years under Prandelli, Italy have only lost two games in 90 minutes: the Euro 2012 final and a Confederations Cup group game to hosts Brazil last year.
Underestimating them, even after Wednesday's result, would be an error.
The view from the Italian newspapers
La Gazzetta dello Sport
In a headline on a photo gallery of the match, it says: "Italy, what a poor showing against Luxembourg". In another, it says: "Italy's worried now: only 1-1 against Luxembourg!"
The paper adds: "Drawing at home against a team that is not among the top 100 in Fifa's rankings is not really the most elegant business card with which to present yourself at the World Cup."
"It is a blow to morale," it continues. "Among the things which we will put in our suitcase before taking off for Brazil there is also this 1-1 result, which we hope does not weigh too much."
Corriere dello Sport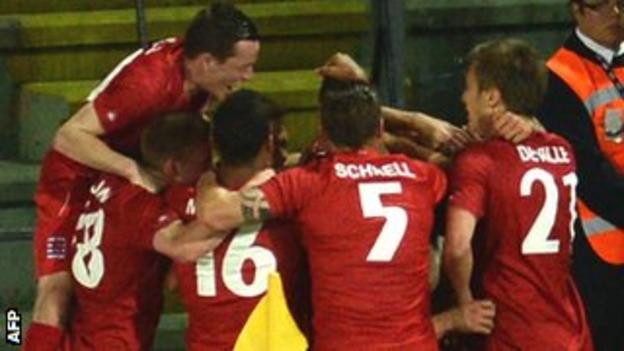 "Italy draws against Luxembourg. Incredible news...most of the Italian fans would have expected something more, "it says.
But the newspaper adds: "Italy has made us accustomed to lacklustre performances before momentous triumphs."
In a separate article, the headline is "Alarm Italy", although it quotes World Cup-winning former coach Marcello Lippi, who insists "these friendlies have no value".
Tuttosport
"The result is certainly not encouraging in view of the World Cup. Italy is not able to win anymore: in the last seven matches there were six draws and one defeat," the paper says.
It adds: "Italy has been decidedly unconvincing so far in the pre-World Cup matches. In Brazil they will need to change gear. Prandelli has 10 days to find some solutions."
La Repubblica
"In keeping with tradition, Italy ends preparation for the World Cup with a bad showing," says La Repubblica.
(Sourced by BBC Monitoring)