Hereford United: Conference board to vote on Bulls fate
Last updated on .From the section Football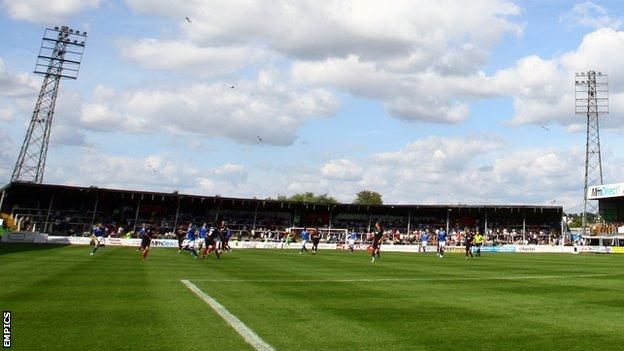 The Football Conference board are to meet on Friday to decide whether to expel Hereford United from the league.
The troubled Conference Premier club had been threatened with expulsion by the league's board if they failed to meet a 17:00 BST deadline on Thursday to pay their football creditors.
It has been confirmed that the deadline has not been met - and the Conference board are now set to meet.
A unanimous vote by board members would see United expelled from the league.
That would mean Hereford would neither compete in the Conference's Premier or regional divisions next season.
If it were a majority vote at the meeting, which is scheduled to start at 14:00 BST, then the Bulls' fate would be decided by a vote of clubs at the Conference Premier's Annual General Meeting on Saturday.
But Conference general manager Dennis Strudwick has made it absolutely clear that there will be no extensions to Thursday's deadline, by which time payments should have been cleared in the bank accounts of football creditors.
Hereford have been under new ownership since announcing on Tuesday that they had been taken over by London businessman Tommy Agombar.
But the Conference are yet to confirm that the new make-up of the club has satisfied its 'owners and directors' credentials.
"I have asked for details of directors and shareholders who are going to be involved," Strudwick told BBC Hereford & Worcester on Tuesday.
"They have to comply with the 'owners and directors' forms to be submitted to the Football Association.
"It used to be called the 'Fit and Proper Persons Test' by the FA, who have now included it as 'owners and directors' to cover shareholders, even if they are not directors.
"They need to be compliant, so we can know who is running the football club."
The last to fail that test was then-Chester owner Stephen Vaughan's regime in November 2009,
"Every club has its circumstances. There have been cases in the past, like a Rushden & Diamonds, or Chester City, or Darlington, of clubs who have failed it.
"Nobody wants to put a club out of business. We are there to help clubs be sustainable. That is what our financial monitoring systems are about, operating on a very simple policy, 'there's nothing wrong with paying your bills'."
Bulls chairman David Keyte, whose own future is not yet clear, was reported to have been in talks with three different rival bidders before Agombar's takeover.
A statement was released last Thursday saying that the consortium of investors involved in trying to take over at Edgar Street had "begun the process of payments" to the Bulls' football creditors.
But the club are also overdue with their latest PAYE tax demand and they remain under a winding-up petition brought by former Hereford manager Martin Foyle, which was adjourned on Monday for 28 days.
The hearing took place at the Royal Courts of Justice, where Chester City were the last English professional football club to be wound up in February 2010.
Chester FC, formed following City's liquidation, had been interested spectators in the outcome. And, having gone down instead of Hereford on a dramatic final day of the Conference Premier season just over a month ago, they now face the possibility of a reprieve.