Hereford United: Conference give temporary reprieve to Bulls
Last updated on .From the section Football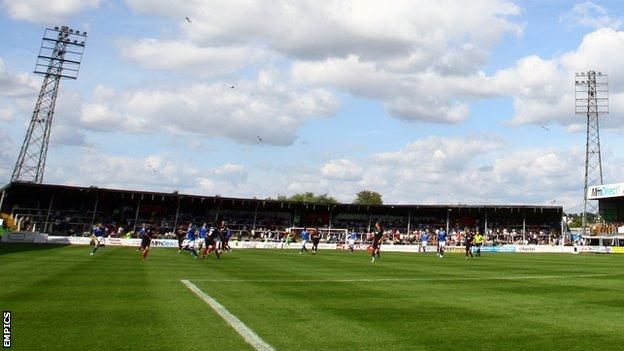 Hereford United have been given a stay of execution by the Football Conference as they wait to see if they will be allowed to remain in the league.
After a four-hour meeting with the Conference board at a hotel in south Wales, Hereford have been told that they must pay all their football creditors by Thursday 12 June.
The Football Conference are due to hold their Annual General Meeting.
And they want proof that the club's £148,000 worth of debts are paid.
The Conference Premier club, who are also overdue with their latest PAYE tax demand, have been told that they can retain membership of the Conference for the 2014-15 season, assuming that they meet all their financial responsibilities to former manager Martin Foyle, their players and clubs to whom outstanding loan payments are due.
The Football Conference made the following statement after emerging from the meeting, at which chairman David Keyte and director Andrew Green represented the Bulls.
"The board unanimously agreed that the club can retain membership of the limited company and their place in the Football Conference Premier Division providing financial payments are secured as directed by the board," it read.
"Failure to meet the financial conditions imposed, the club's membership would be revoked."
Hereford chairman Keyte and Green, the club's accountant, made an hour-and-a-half-long personal appearance in front of the 11-man Conference board at the meeting, held at Celtic Manor, Newport.
They then left the room before being called back in several times as the situation was discussed with representatives of other Conference clubs.
The Conference had convened to decide whether to expel Hereford from the league after the troubled club failed to meet a 17:00 BST deadline on Thursday 5 June to pay their football creditors.
Conference general manager Dennis Strudwick said earlier this week that there would be no extensions to Thursday's deadline.
However, it was extended until Saturday 7 June, and then again to Thursday 12 June.
Hereford have been under new ownership since announcing on Tuesday that they had been taken over by London businessman Tommy Agombar.
Keyte, whose own future is not yet clear, was reported to have been in talks with three different rival bidders before Agombar's takeover.
The Conference are yet to confirm that the new make-up of the club has satisfied the Football Association's 'owners and directors' credentials, formerly known as the 'Fit and Proper Persons Test'.
The last to fail that test was then-Chester City owner Stephen Vaughan's regime in November 2009,
Chester FC, who were formed following City's liquidation, have been interested spectators in the outcome of Hereford's trails and tribulations this week.
Having gone down instead of Hereford on a dramatic final day of the Conference Premier season just over a month ago, they had been given a lifeline - but now look like being disappointed.