Alex Oxlade-Chamberlain: England will wait until last 24 hours
Last updated on .From the section 2014 Fifa World Cup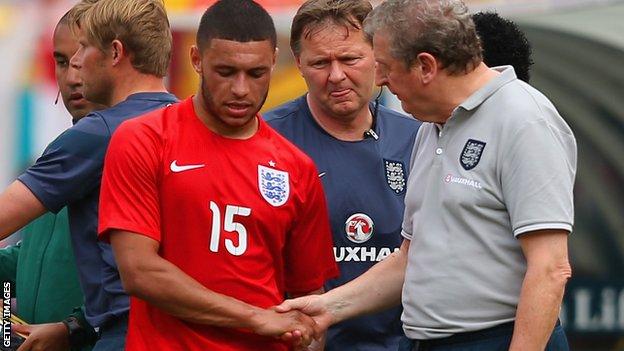 England manager Roy Hodgson will give Alex Oxlade-Chamberlain until 24 hours before their World Cup opener with Italy to prove his fitness.
Everton's John Stones or Liverpool's John Flanagan would take his place.
"We won't make a decision before we get to Brazil. It will be at the very last moment, which is 24 hours before we play our first game," Hodgson said.
"I won't be dashing out to replace him just because I might have to accept he can't play in the first game or something like that.
"We're entitled to think we may go on outside of the group. We may have a longer tournament and we may want him around."
England could name a replacement up until 13 June, and Hodgson says that either Stones, 20, or Flanagan, 21, both defenders, would replace Oxlade-Chamberlain rather than another attacking player.
"I'm not certain that anyone we choose to replace him will give us a similar addition," he said.
"John Stones and Jon Flanagan will both leave the squad, but I will alert them that there is a good chance that if the worst happened and we had to bring someone else back in I would probably turn to one of those two."
Liverpool winger Raheem Sterling was sent off in England's friendly against Ecuador and will be suspended for the final warm-up encounter with Honduras.
But Hodgson says the red card for the 19-year-old has not jeopardised his chances of starting England's opening match against Italy in Manaus on 14 June.
"I am disappointed for him that he got sent off but it does not affect his chances of playing," Hodgson added.
"I don't need a performance from him tomorrow to tell me if he is good enough to play against Italy."