World Cup 2014: Capello did not believe in me - Steven Gerrard

By Phil McNulty
Chief football writer in Miami
Last updated on .From the section 2014 Fifa World Cup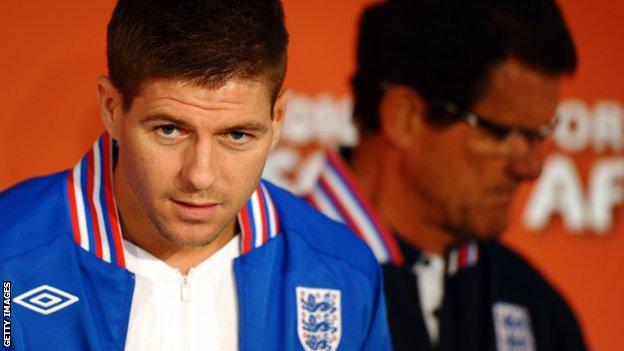 England captain Steven Gerrard claims former manager Fabio Capello never believed in him to lead the side.
But the Liverpool midfielder says that current boss Roy Hodgson has total faith in him.
Gerrard was England captain under Capello during the dismal World Cup campaign in 2010.
"Capello didn't believe in me as his number one captain, but Roy does," he said.
Gerrard took over the armband under Capello almost by default in South Africa but felt the Italian was not convinced by his credentials.
Capello's captain, Rio Ferdinand, was injured in England's first training session and John Terry was overlooked after being stripped of the armband previously, leaving Gerrard to step in.
Speaking about Capello's lack of belief, he said: "I don't know what it was. I think he believed in me as a player and rated me as a player.
"It was totally up to him but for me, now, I know I'm Roy's number one captain and that's a big confidence boost for me."
Gerrard, who is expected to be back to lead the side against Honduras in Miami's Sun Life Stadium on Saturday (2145 BST), added of Capello: "Our relationship was totally fine and I enjoyed working under him but, at the time, we had Rio Ferdinand here and maybe John Terry as well.
"Maybe he thought they were going to offer something different from me or they were his preferred choices."
Gerrard said he would still have acted as a figure of authority even without the captaincy, given his experience and the fact that he has led Liverpool with distinction for so many years.
"I'd have still have put an arm around the shoulder of the young players," said Gerrard.
"Just because I'm the captain with the armband on, I still want the likes of Frank Lampard, Wayne Rooney and Phil Jagielka to still be leaders in there with me and back me up and we all do it together.
"I'd rather be captain than vice-captain that's for sure."