Celtic: Ronny Deila mixes laughter with serious message
By Kristan Heneage
Norwegian football journalist
Last updated on .From the section Football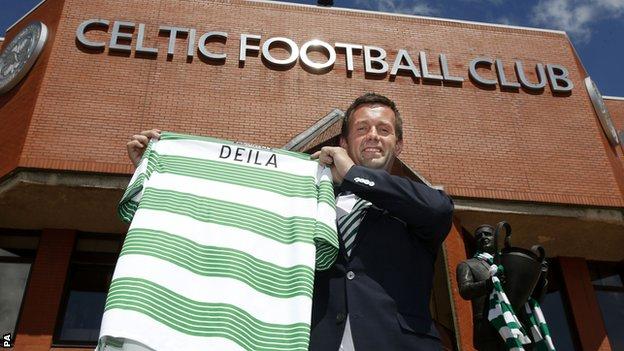 It was a sight that is still remembered fondly in the Norwegian city of Drammen: Stromsgodset manager Ronny Deila jogging round the Marienlyst Stadion, wearing just his underpants.
The manager had promised to strip if his side survived relegation. Achieving that feat with a dramatic win over Viking in their last home game of the season, Deila duly obliged in a public performance that included a set of press-ups.
When asked afterwards why he had refrained from removing his underpants, Deila replied: "I didn't want to shock little children in the crowd."
It was not the last time he would be found wearing very little.
Ahead of the 2010 Norwegian Cup final against Follo, he delivered his pre-match team talk in a thong with an elephant's trunk.
"There were a lot of high shoulders [tension] and a lot of excitement [in the dressing room]," Delia explained. "Laughter and happiness were vital to get the boys to relax and enjoy the match.
"It was a good way to get the boys to forget about the serious event, which is when it is important for the coaches to stand out."
Often unconventional in his approach, Deila allowed new signing Mohammed Abu to live with him rather than stay at hotel, in an effort to make him feel more welcome. It is incidences such as that that have caused him to often be compared to Borussia Dortmund coach Jurgen Klopp.
Blessed with a chronic case of wanderlust, Delia has visited a number of Europe's elite - including Klopp's Dortmund - to learn more about the game and cultivate his own philosophy.
Appointed Stromsgodset manager in 2008, the same year Klopp took the reins at Dortmund, Deila also shares the same boundless positivity and desire to play attacking football.
"I would rather go down than play ugly football," Delia told local newspaper Drammens Tidende when Stromsgodset were tipped for relegation in 2009.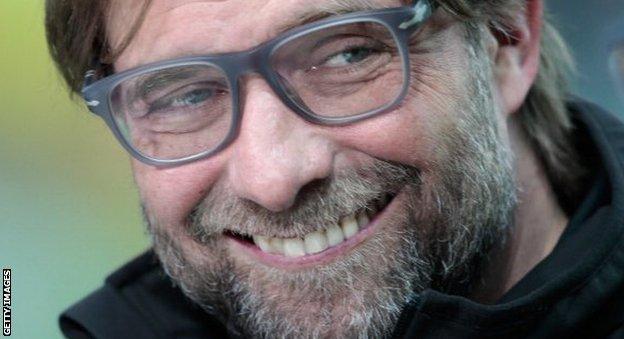 Asked if he was aware that his attitude may cost him his job, he replied: "Players' development is much more important than my own future. My job is to develop the players."
Tactically flexible, his style often meandered between 4-2-3-1 and a more fashionable 4-3-3 formation as he sought to dominate possession.
Molde winger Josh Gatt said: "We like to get it on the floor and play. Stromsgodset have been a very good team at doing exactly what we do."
Their meagre budget of just €8m per year, represented just a third of that available to Rosenborg - the side they surpassed to claim last season's Norwegian title.
Blessed with a fantastic ability to man-manage players, Deila seeks hard work from every member of his squad, as former Celtic man Vidar Riseth knows all too well. Riseth pitched up at Stromsgodset in the twilight of his career. Then five years older than his manager, he was to bring experience to a young squad.
At another club, Riseth's pedigree may have afforded him an easy ride, but Deila made it clear to the former Norway international that he expected him to work even harder than his younger teammates.
For those who buy into his methods, success is often forthcoming, as was the case for Stefan Johansen.
When Delia signed him from Bodo/Glimt, the player who impressed Celtic's midfield this year was a forward who had spent most of his career on the bench. However, after the departure of Manchester City loanee Mohammed Abu, Deila gifted Johansen the opportunity to be Stromsgodset's new deep-lying playmaker.
Flourishing in the role, the youngster eventually earned his senior debut for Norway in 2013.
Johansen was not the only younger to thrive. Between 2001 and 2007, not one Stromsgodset player earned a youth cap for Norway. However, in just five years under Deila, the figure reached 179.
The 38-year-old did not completely shun experience, as his title-winning side was led by Peter Kovacs. Chipping in with a handful of vital goals, the veteran striker had only returned to Norway after a stint in Belgium because his girlfriend's career as a professional footballer had dictated so.
Yet, what remains vital for Deila is the ability to grow something.
A self-confessed fan of Arsene Wenger, he routinely drew comparisons between the way Stromsgodset and the Gunners operated. "I hate to train teams that have no growth potential," he stated in an interview.
Deila takes great delight in working closely with his players, as he alluded to in his unveiling as Celtic boss, with his philosophy a holistic one.
"I coach humans not footballers," he told Dagsavisen in August last year, adding in another interview: "Good players can explain every step they make on the field. It is useless to tell a player to run somewhere if he doesn't understand why that is necessary."
Still to be truly tested in European competition, Celtic have acquired a progressive, modern manager that will seek to bring through the next generation.
And, as the 50-year anniversary of the Lisbon Lions' European Cup win moves into view, what better time to focus on the next generation than now?