Celtic: Ronny Deila will shine at club, says Harold Brattbakk
Last updated on .From the section Football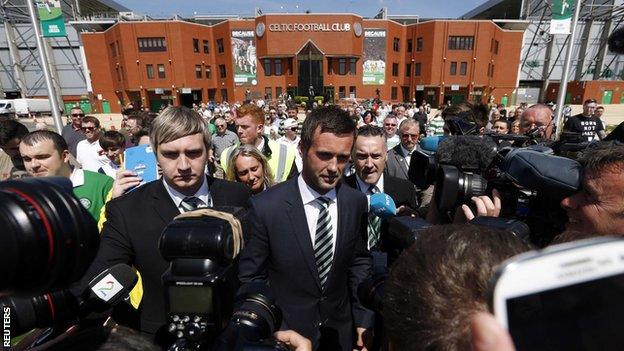 Celtic manager Ronny Deila will be judged on his success in Europe, according to the club's former striker Harald Brattbakk.
And Brattbakk told BBC Sportsound that his fellow Norwegian will relish the chance to prove his worth.
"I know he'll do well domestically but he'll be measured more by how he copes in Europe," said Brattbakk.
Deila was paraded at Celtic Park on Friday after signing a 12-month contract with the Scottish Premiership champions.
Brattbakk expressed pride in his countryman's appointment and predicted he would handle the pressure of managing the Glasgow club.
"First of all, I'm happy that he's finally agreed a deal with Celtic," said the striker who enjoyed a three-year spell at Celtic from 1997 and scored on the final day of the 1997/98 season to win the title for Wim Jansen's side.
"I'm proud of him, as a Norwegian, but most of all he's been chosen because he has managerial potential," Brattbakk added.
"Obviously, a club of Celtic's size need a good manager and I hope he's the one who can take the club further."
"It's a big burden on his shoulders but, with the right team and working pattern, he'll be able to get there.
"It's a difficult job, as I know myself. It's hard to please all the Celtic supporters in Glasgow but I hope he's able to please as many as possible.
"I hope that he can succeed from this and maybe open the door for more good Norwegian managers to bigger clubs in Europe."
Brattbakk acknowledges Deila's first managerial appointment outwith Norway carries a risk, but the former Celtic striker believes he has the experience to handle the expectations.
"I don't think his age is an issue," added Brattbakk. "Obviously, there will be a question mark on what he can do with Celtic.
"I know he'll do well domestically but he'll be measured more by how he copes in Europe. That will be the first exciting step.
"This is his chance to prove to himself and everyone else that he has that little extra; to bring a big club like Celtic further on."