World Cup 2015: Gemma Fay bullish over Scotland's hopes
By Cheri Burns
BBC Scotland
Last updated on .From the section Football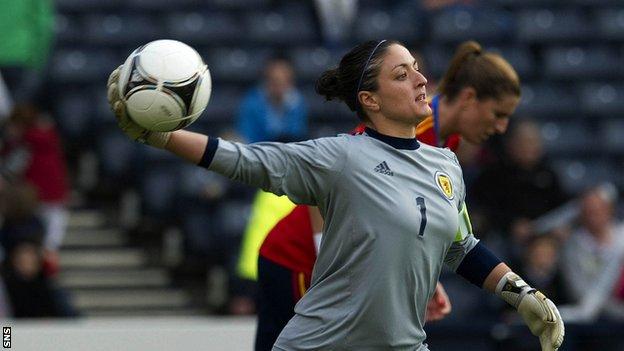 Captain Gemma Fay says Scotland have never been in a better position to qualify for their first major finals.
The national team top Group 4 on 18 points from six matches as they aim to secure a place at the 2015 World Cup finals in Canada.
The goalkeeper, who has led the squad since 2009, insists the wins in April over and prove they have what it takes to qualify.
"Reaching the World Cup is absolutely an attainable goal - I truly believe that," said the 32-year-old.
"I look at the squad and we've got players like Kim Little, who is setting the US on fire (with Seattle Reign) - she is the star in a team full of Olympic medal winners and World Cup finalists.
"We also have the likes of Rachel Corsie, who Notts County say is one of the greatest signings they have ever made.
"What we have now is depth within the talent pool, and the amount that we train, as pretty much full-time athletes, means we can match the fitness levels of the top nations in the world.
"If you combine the skill and fitness of our individuals then this is one of the best teams we have had," she added.
Fay was speaking to BBC Scotland as Anna Signeul's charges prepare for two pivotal matches, against Group 4 favourites Sweden on Saturday at Fir Park and away to Northern Ireland on Thursday 19 June, which will be key to deciding their fate in the quest to make it to Canada.
And the Scots, three points ahead of Sweden who have a game in hand, look to the fixtures high in confidence.
Fay, who has notched up more than 170 appearances for her country, said: "We go into these games with the target of winning them and securing that automatic qualification place. For me, and for us as a team, that is perfectly within our grasp.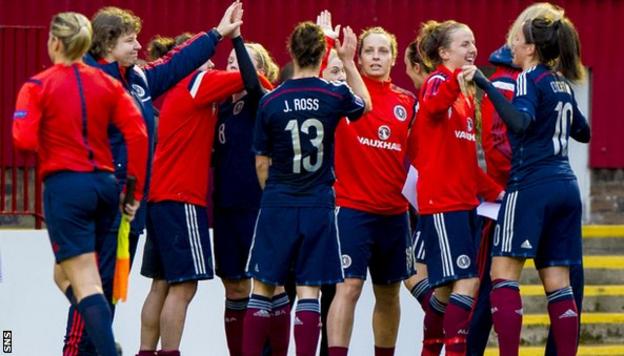 "We have had a great campaign so far, and are feeling very confident and focused."
Although the Swedes have been touted as the outfit to beat, Fay is quick to dispel any suggestion of that fazing her or her team-mates.
"We can only influence what we do," she said. "There is no getting away from it, Sweden are one of the top five teams in the world and we expected them to play the way they have.
"We always knew this first game against them was going to be a crunch match - that is not discounting the other teams in the group, but it is crucial.
"When we have dealt with that, next is Northern Ireland, and if things go to plan there then that should guarantee a play-off minimum, so we are not concerned about what Sweden are doing; we are focused on ourselves, but aware of what their strengths are."
As well as being on the cusp of guiding her country to their debut finals, Fay's domestic career is also going from strength to strength.
An established member and skipper of Celtic Ladies, who currently sit fifth in the Scottish Women's Premier League, she is optimistic about their progress but acknowledges the mammoth task to topple Glasgow City, league winners for the past seven seasons.
"It is always challenging when you have got a team like Glasgow City," she said.
"We've got a lot of young players at Celtic, and also some more experienced names coming back, so it requires the right mix. We still have a lot to play for this season, and are hopefully we can turn it around.
2015 World Cup qualifying - Group 4 standings

P

W

D

L

F

A

Pts

Scotland

6

6

0

0

25

3

18

Sweden

5

5

0

0

15

0

15

Poland

6

3

0

3

12

8

9

Bosnia and Herzegovina

5

0

2

3

2

12

2

Northern Ireland

6

0

2

4

0

12

2

Faroe Islands

6

0

2

4

3

22

2
"City have been in the ascendency, and probably rightly so, but my mindset, particularly when squaring up against them, is they are 11 players.
"I have played in the same teams as a lot of them; I captain a number at national level. What they have in the spine of their team are players who have been together for a long time, and quality like that is really hard to compete against.
"But, our clashes in the last couple of years have been quite tight, so they are like any other side."
Looking to the future, the national team stalwart argues that there must be increased backing for the sport if the Scottish league is to be up there with the best.
"We need to address the marketing of the league and make it a viable product," said Fay.
"We played against Hamilton last month at New Douglas Park and had a crowd of nearly 500 - that is fantastic.
"If it becomes consistent then we can get a good product and start to look at the structure of the league, the strength and depth. It is a question of whether we have the right set-up or if we need to look elsewhere to see what a strong competition looks like.
"Clubs like Glasgow City are the frontrunners, with how they have professionalised themselves, so it can be done, with more support."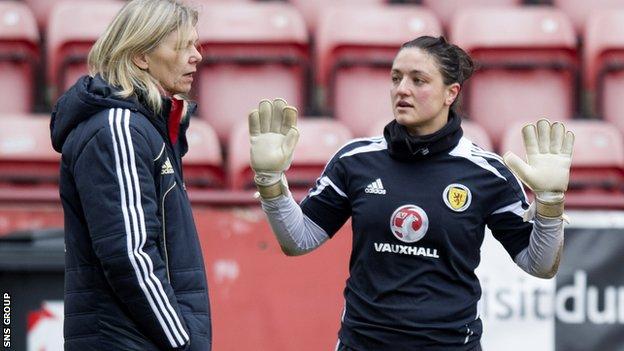 And Fay, who has competed in the FA Women's Super League for Leeds United, thinks, to take the Scottish domestic game to the next level, there are lessons that can be learnt from how her English counterparts operate.
She said: "They want to be one of the strongest leagues in the world. You are required to bid to be in it and you have to put together a business plan, which means it is very product based.
"There are England internationals in their teams, as well as foreign players coming over, so they have struck that balance.
"Having said that, it is heavily funded by the FA, so if we wanted to follow suit there would have to be increased financial backing from somewhere.
"To produce future talent for Scotland we must structure and set up rules to promote youths. Or, is it more important to have the most entertaining league, attracting players from further afield?
"It comes back to what we want the vision for women's football in Scotland to be."