World Cup 2014: Hodgson upbeat on Oxlade-Chamberlain fitness
Last updated on .From the section 2014 Fifa World Cup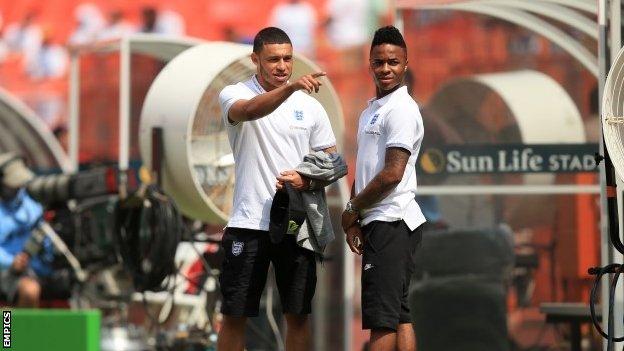 England manager Roy Hodgson says midfielder Alex Oxlade-Chamberlain will be fit for the World Cup finals.
Speaking after Saturday's 0-0 draw against Honduras - their final warm-up game - Hodgson confirmed the 20-year-old would remain part of his plans.
"I think he will make the tournament without a shadow of a doubt. That's good news," said Hodgson.
England ended their preparations with a stalemate against Honduras, who were reduced to 10 men in the second half following the dismissal of defender Brayan Beckeles for two yellow cards.
They had to deal with a physical approach from the opposition and a 40-minute stoppage early in the game because of lightning.
But England had chances to win, notably through Daniel Sturridge, and Hodgson is happy at how his squad is shaping up going into the opening Group D game against Italy next Saturday.
He added: "Honduras were quite physical and it was one of the most frustrating games I have been involved in for a long time.
"I thought the tempo of our play and effort to score in the second half was commendable. I will take the draw and take the fact we got away without any injuries. We go to Brazil in the right frame of mind.
"It's time for the real thing now."
Captain Steven Gerrard said he was relieved England had avoided injuries so close to the tournament.
"There were some horrific tackles a week before the World Cup," he said.
"But we have got another 90 minutes under our belts in hot conditions.
"We could have done better but there's a week to go and we will be ready."