England v Honduras: Relief as Roy Hodgson's side emerge unscathed

By Phil McNulty
Chief football writer
Last updated on .From the section 2014 Fifa World Cup1174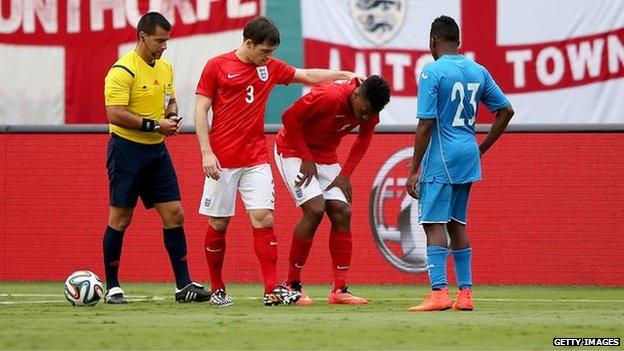 As England flew out of Miami en route to Rio and the World Cup in Brazil late on Saturday, manager Roy Hodgson was left grateful for the simple fact that his squad could make it up the stairs of the aircraft in one piece.
England's final preparation period before travelling to South America has been nothing if not eventful - from a portion of their first training session at Barry University being washed out by a torrent, to their 0-0 draw with Honduras suffering a 43-minute interruption from dangerous lightning and a storm.
And this was even before they had to survive a physical assault from a Honduras side who appeared to use the storm delay to whip themselves up into a frenzy designed to rob Hodgson of several members of his World Cup side.
In the end, emphasis switched from this being a useful tactical workout for Hodgson as he finalises his plans for England's opening game into an exercise in survival. In that context it was a success.
It was also an exercise in self-control that will also prove useful in the coming weeks. Steven Gerrard was infuriated by a tackle from Luis Garrido while Daniel Sturridge was not only hacked by Emilio Izaguirre, he was then the recipient of another painful blow as the Honduran blasted the ball into a tender area. Cynical, nasty and unnecessary.
And Everton defender Leighton Baines - hardly a sinister figure who had it coming, you might say - was subjected to a severe battering from the first to last whistles and seemed glad to just get away from the Honduras players with all moving parts in working order.
This was not before Brayan Beckeles was finally sent off for clattering Baines in a high challenge, which the England left-back once again survived without injury.
This contributed to a mood of relief and well-being as England's squad flew to their base on Sao Conrado beach in Rio to start the final countdown to the World Cup.
With a tropical climate awaiting in the Amazon rainforest for next Saturday's first group game at Manaus, Hodgson wanted testing conditions and he certainly got it here. With temperatures in the 80s and humidity at 30%, pleasant weather soon turned nasty as lightning that could be seen in the distance from the Sun Life Stadium arrived midway through the first half.
Not uncommon in the Miami area, the forced delay broke the rhythm of the game and took the edge off the usefulness of this exercise for Hodgson and his England players, at least in a footballing sense.
There was still plenty to glean, however, as Hodgson looks ahead to Manaus and another meeting with Italy.
Danny Welbeck and Jordan Henderson performed well enough to have played themselves into the starting line-up against Italy while Hodgson seemed happy that Wayne Rooney's 45 minutes fine-tuned his fitness.
Questions about team selection? Not too many.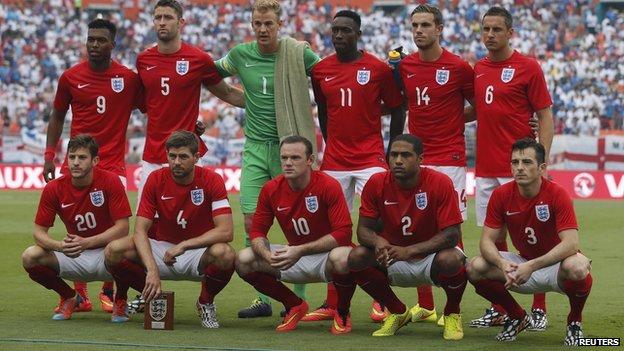 Jack Wilshere is improving but it would be a surprise if Henderson has not locked down the place alongside Gerrard in central midfield, while Welbeck showed exactly why he is so trusted by Hodgson.
One player preying on Hodgson's mind does appear to be Liverpool's Raheem Sterling and it was a major frustration for England that he was unavailable here after being sent off against Ecuador.
And yet Hodgson's glowing references suggest Sterling may be the one player he is considering injecting into this settled team.
If he is intent on playing Rooney - which he surely is - then this leaves a question over Welbeck and Adam Lallana. Will Hodgson see enough in the final days of training at the Urca military base to make that change?
England's defence is settled, although Glen Johnson's current form does not inspire confidence and it is clear Hodgson has plans for Alex Oxlade-Chamberlain, hence his insistence he will give him every chance to recover from his knee injury.
Everton's Ross Barkley once again showed wonderful touches when he came on at half-time but all the signals suggest he will be used, initially at least, as an impact substitute.
So England head to Brazil in good physical shape and Hodgson must now crystallise his thoughts on selection.
This has not been a trip that has gone completely smoothly - Hodgson may not have bargained for a couple of severe and disruptive bouts of weather - but there is a mood of quiet optimism around the camp.
The discontent that lurked at "Camp Capello" in South Africa four years ago cannot be detected, and now the show moves to Brazil and the serious business.
England, for once, are not burdened down by huge weight of expectation but the prospect of playing a World Cup in the game's spiritual home is engendering great excitement.
Now Hodgson must decide who will be the men to take the first steps in Manaus.
For the best of BBC Sport's in-depth content and analysis, go to our features and video page.