David Beckham: England 'kids' do not worry ex-midfielder & captain
Last updated on .From the section 2014 Fifa World Cup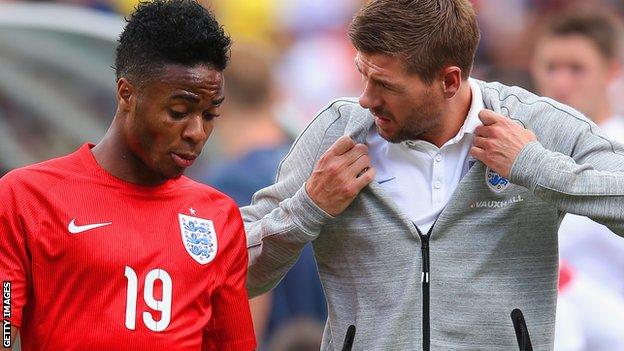 David Beckham has tried to ease fears about the youngsters in England manager Roy Hodgson's squad for the World Cup.
Hodgson has picked Raheem Sterling, 19, and 20-year-olds Ross Barkley and Alex Oxlade Chamberlain as well as Jack Wilshere, 22, for the competition.
"People have said they're worried about young kids going into a massive tournament but there's no reason to be worried," said former captain Beckham.
"They're all playing in the best league in the world - the toughest league."
Speaking on the Football Association's official England team Twitter feed, the ex-England, Manchester United, Real Madrid and Los Angeles Galaxy midfielder added: "They're all playing against top quality players week in, week out."
Sterling is going into Brazil 2014 following an impressive season for Liverpool but the forward was sent off in England's warm-up game against Ecuador.
Everton midfielder Barkley started that game along with Arsenal midfielder Wilshere and winger Oxlade-Chamberlain.
Barkley and Oxlade-Chamberlain delivered eye-catching performances, although the latter suffered a knee injury from which Hodgson is hopeful he can recover in time for some of his side's group stage campaign.
"They're young kids and young kids are always nerve-free when they go into these competitions," said Beckham.
"But you need a bit of experience and we've got it in this squad.
"Steven Gerrard is in great form and the young lads are going to need people like him and Frank [Lampard] who have that experience.
"But the youngsters will be so excited about this World Cup."
England start their World Cup campaign against Italy on 14 June and play Uruguay on 19 June before facing Costa Rica on 24 June.
For the best of BBC Sport's in-depth content and analysis, go to our features and video page.