Gibraltar 'can give Scotland a fright', says coach Allen Bula
Last updated on .From the section Football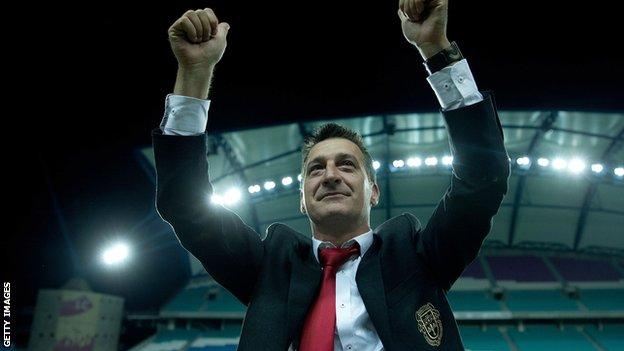 Gibraltar coach Allen Bula believes his side's midweek win over Malta shows they can give the likes of Scotland a fright in their Euro qualifying debut.
"I said it before the draw was made - my target is the play-offs - and I'm still sticking to that," he said.
"I think we'll give a good run to every single nation we play and I think they are starting to look at us now."
Gibraltar are bottom seeds in Group D and will face Germany, Georgia, Poland, Scotland and Republic of Ireland in the 2016 qualifiers.
And the 1-0 defeat of Malta in Faro was the debutants' first victory in an official international match since becoming Europe football's newest member country.
"It was a very good result and I was delighted as it was the last game before the qualifiers, so we are going into the right note towards the match against Poland," Bula told BBC Scotland.
"It was very important for them to realise what they are capable of doing.
"Since we tried to get into Uefa and then joined Uefa, the critics have always been there for us as the smallest nation, saying we'd become a team that loses 10-0 or 15-0 all the time.
"So it was important to get them in the right frame of mind and the players realising that nothing is impossible."
With a population of only 30,001, Gibraltar have to rely on mainly part-time players and have to play their home matches in Portugal because of the lack of a suitable stadium on the "Rock" south of Spain.
However, Kyle Casciaro's 66th-minute winner against Malta meant they made the breakthrough after draws with Slovakia and Estonia and defeats by the Faroe Islands and Estonia.
"On the pitch, there were tears all over the place," said Bula. "It really touched me. The players were crying, the technical team was crying.
"It meant a lot and obviously it has been a historic situation and, for them, it was very emotional."
Two teams qualify this time round from each group for the Euro finals in France, while the third-place team will have another chance via the play-offs.
"We know that the Germans are the favourites," added Bula, who is also "wary" of Gordon Strachan's revitalised Scots.
"But, after the Germans, every other team is going to start nicking points off one another.
"So, if we can get a good run in the first half of the qualifiers, I genuinely think we can make it to the play-offs.
"You can see it by the games we've had so far. I said it from the beginning - I'm not going in there just for the sake of playing."