Rangers 'in a good place', says Graham Wallace
Last updated on .From the section Football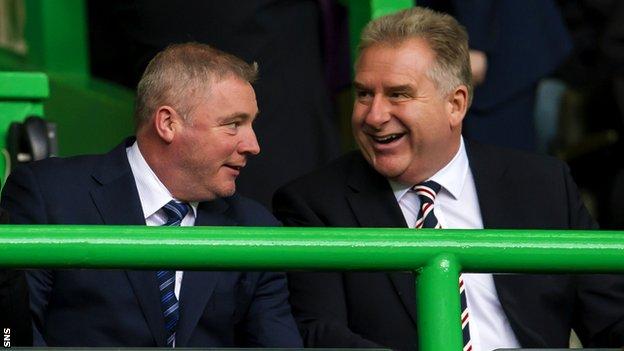 Rangers are "in a good place", chief executive Graham Wallace has insisted despite continuing concerns over the League One champions' finances.
It led to question marks over the ability of the club to meet the sales figures required for next season.
But Wallace said: "Fans should be confident and comfortable with the club's long-term stability."
Speaking to more than 1,000 fans at the North American Rangers Supporters Association in Toronto, the chief executive also revealed that the club was moving closer to creating its first "fan board", which will act as the body to represent the fans with the club.
The Sons of Struth fans group said on Twitter that "Mr Wallace received a hostile reception".
Wallace insisted that the club's finances had improved since taking out an emergency £1.5m loan from two shareholders last season.
"Almost since the day I came to Rangers, we've been operating in an environment where there have been consistent questions about the financial stability of the club," he told the convention, according to the club website.
"I've repeatedly come out and said there's no threat of administration and we've built a very solid base now which we're moving forward from.
"The fans should take reassurance and comfort from that. We are moving in a way that allows us to grow and develop the business.
"The long-term financial stability of the business is well in hand and we are in a good place now."
After taking charge in November, Wallace carried out a review of the Glasgow club's finances, reporting in April.
He has admitted that mistakes were made under his predecessors following administration in 2012, but his report was not enough to head off fan protests.
The Union of Fans has been advising supporters to pay their renewal money into the Season Ticket Fund, an initiative backed by former Rangers captain Richard Gough and former Ibrox director Dave King.
Rangers have yet to respond to a demand from the coalition of fans groups to reveal the sales figures.
However, despite manager Ally McCoist having admitted to concerns about his playing budget for next season, former Scotland striker Kenny Miller has already secured his return to Ibrox.
"I've been in position now for a little over six months and, in that time, it has been extremely challenging," added Wallace.
"There have been so many legacy issues we have had to deal with and we spent a considerable period of time looking at the condition and the state of the business.
"We have done a tremendous amount of groundwork and we've addressed a significant number of issues.
"In the vast majority of areas, I think we are moving in the right direction and it is business as usual at the football club.
"We are now in our best position financially in my time at the club, so that's positive and we are placed very well for the start of the forthcoming Championship campaign."
Wallace added that the fan board was the result of Rangers' "Ready To Listen" fan engagement survey and a set of detailed focus groups.