Gullit hopes for African surprise at World Cup in Brazil
Last updated on .From the section Football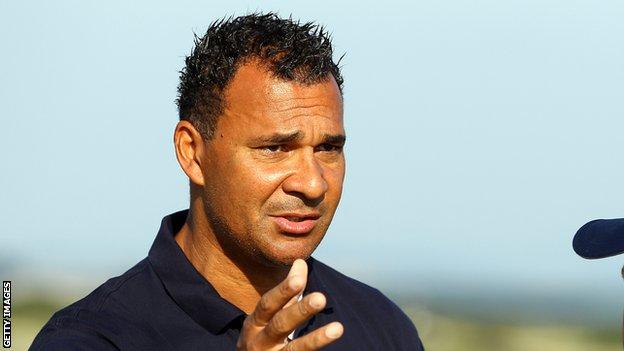 The former Dutch footballer, Ruud Gullit, hopes a team from Africa will perform well and prove to be the surprise package at the World Cup in Brazil.
Four years ago in South Africa, Ghana were the only one of the continent's six representatives to reach the knockout stage, where they beat the United States but lost to Uruguay on penalties in the quarter-final.
Gullit played at the 1990 World Cup, but missed USA 1994 after walking out of the pre-tournament training camp.
Looking at Brazil 2014, Gullit told Reuters he hopes for African success in Brazil:
"I hope that an African country will do well. A lot of African countries have players that play in the Champions League, play in good teams in Europe.
"So maybe Ghana or Cameroon."
Ghana are in a tough group with Germany, Portugal and the United States while Cameroon play hosts Brazil, Croatia and Mexico in Group A.
Algeria, Ivory Coast and Nigeria are the other sides from the continent to have qualified for the showpiece event.
As for the eventual winners, Gullit has picked hosts Brazil as the ones to beat.
"Well I think Brazil of course is favourite. They're playing at home. It's a lot of pressure on them winning it," the 51-year-old said.
"I hope that Holland will do well, they have a less experienced team. They have a lot of youngsters in the team, especially defensively.
Having accompanied the Dutch national team to Beijing for the past two years, meeting Chinese football managers and coaches, Gullit believes that the country has a bright future in the game.
"I'm thinking all the time, 1.7 billion Chinese must make a team, must make 11 players who can qualify for the World Cup.
"I hope that one day it will happen. It would also be great if China could organise a World Cup.
"We want them to also be part of international football. So that would be all a great package."