World Cup 2014: Roy Hodgson praises 'positive' England

By Phil McNulty
Chief football writer
Last updated on .From the section 2014 Fifa World Cup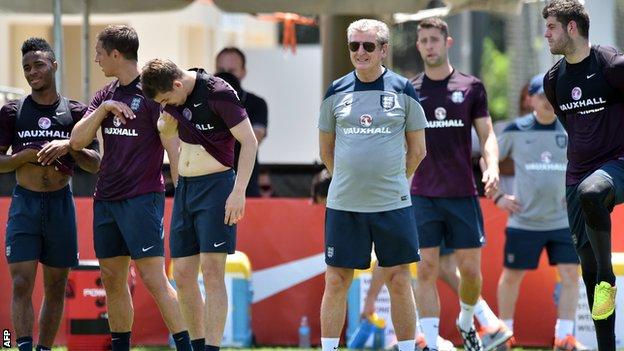 Roy Hodgson praised England for their positive outlook in their friendlies as they arrived in Brazil to start their World Cup campaign.
England failed to score in a draw with Honduras at the weekend and face Italy in Manaus next Saturday in their first game of the tournament.
"We have been on the front foot in all of the games so far," said Hodgson.
"Maybe Italy will make it harder for us but we don't know what a back foot looks like."
After naming his squad last month, Hodgson led his team to a comfortable 3-0 win against Peru at Wembley on 30 May before a more experimental side drew 2-2 with Ecuador in Miami on 4 June.
Saturday's draw with Honduras contained the added complication of a lengthy adjournment for a thunderstorm, but overall Hodgson was content with what he had learned before flying to Rio on Sunday.
He said: "It is always a balance. I think these three warm-up games have at least shown us different types of pitches, maybe slower style pitches, where we had to choose the right moments to pressurise and when maybe to back off a bit. I thought we did that very well.
"I thought there were moments in the Honduras game when we got a lot of players around the ball, won it back and immediately launched a counter attack but we didn't score."
England face 2006 champions Italy in the heat and humidity of Manaus, more than 2,500 miles north west of their Rio base.
Italy knocked Hodgson's side out of the Euro 2012 quarter-finals on penalties but goalkeeper Joe Hart is confident that England have improved in the two years since.
He said: "A lot of the team has changed since then, definitely, with a lot of young lads coming in.

"As a squad and a nation, we are just as strong as we always are - an organised team playing hard for our manager and our coaching staff and fans back home.
"We are working on our build-up play every single day.
"We understand the conditions out here, that it's going to be easier with the ball at our feet rather than chasing around. We feel we've got the players to move the ball and are looking forward to starting it."
Hart is likely to come up against his former Manchester City team-mate Mario Balotelli in Manaus but does not feel the AC Milan forward needs any special attention.
"I enjoyed working with Mario. He's a great guy. He's obviously a big personality and a talented player but Italy are full of talented players," Hart said.
"We've got a lot of work to do on them this week. We've had to keep an eye on Peru, Ecuador and Honduras and now we move on to Italy."
For the best of BBC Sport's in-depth content and analysis, go to our features and video page.