Hereford United: Chairman Keyte backs Agombar's Bulls takeover
Last updated on .From the section Hereford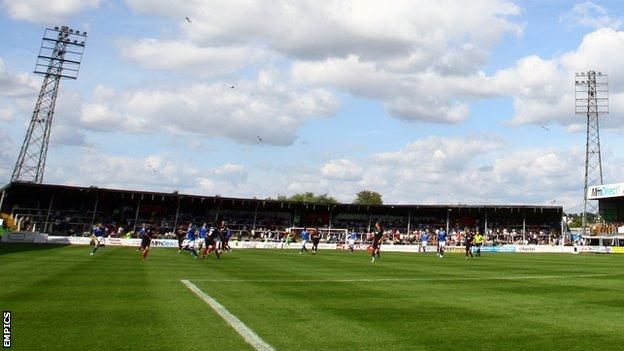 Hereford United chairman David Keyte has backed the threatened Conference Premier club's decision to sell to new owner Tommy Agombar.
The London businessman has a criminal record, having been jailed for seven years in 1987, for being part of a gang which stole hundreds of thousands of pounds worth of goods from lorries.
But Keyte insists that everybody deserves a second chance in life.
"Yes. absolutely. It was 27 years ago." he told BBC Hereford & Worcester.
"It's not the vicar coming along to buy the football club, is it?
"He was 27 years of age, with a group of other lads who came up with an idea that they didn't get away with."
The Football Conference are yet to confirm that Agombar, who took over at Edgar Street last week, has satisfied the Football Association's 'owners and directors' credentials' - formerly known as the 'fit and proper persons' test.
But they have, so far, appeared supportive of the Bulls' bid to secure new ownership, having extended the deadline that had been set three times, by which time the club's football creditors should have been paid.
Having produced proof of funds before Saturday morning's Football Conference Annual General Meeting in South Wales, Hereford now have until Thursday to ensure that the £148,000 owed is deposited in their various football creditors' accounts.
The Conference Premier club, who are also overdue with their latest PAYE tax demand, have been told they can retain membership of the Conference, without any points penalty, for the 2014-15 season.
However, that is dependent on the Bulls meeting all their financial responsibilities to former manager Martin Foyle, their players, club staff and other clubs to whom outstanding loan payments are due.
If Hereford fail to make the deadline they will be expelled from the league, meaning Chester will earn a reprieve with their relegation overturned.
Tommy Agombar has so far failed to respond to BBC Hereford & Worcester's request for an interview or statement.