John Hartson reflects on his life and career in new documentary
Last updated on .From the section Football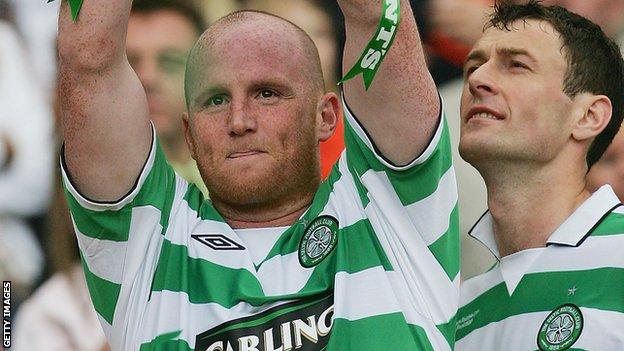 Former Wales international John Hartson will feature in a new documentary reflecting upon his career and life outside of football.
Hartson had a 14-year career, including spells at Arsenal and Celtic, and he was a mainstay in the Wales national team for over seven years.
Outside of football, he faced a battle with testicular cancer in 2009.
His former team-mates and managers, including Martin O'Neill and Robbie Savage, will share their memories.
"I loved playing for Wales, I really enjoyed representing my country," Hartson recalls.
"I'm a very proud Welshman. I speak the language and I think when you play for the senior national side, that is the pinnacle of a player's career.
"When I wore that number nine shirt for Wales, [which was worn by] Trevor Ford, John Charles, Ian Rush, Mark Hughes, Dean Saunders, heroes of mine growing up as a child.
"To have taken that shirt off these great players and to have held on to it for the best part of eight or nine seasons, untouched if you like, was a really massive moment for me.
"We had a very good side - you had Hartson, Ryan Giggs, Craig Bellamy as a front three, which weren't a bad three."
Martin O'Neill, the manager that brought Hartson to Celtic, said of the forward: "Am I delighted I signed him? Absolutely.
"There were matches that he won for us. When things weren't going so well, suddenly it's played into him.
"He would back into the centre-half, he would roll him, turn round and then smash something into the net, and turn the game for us.
"I think there were times when he was a bit lazy on the field. I remember saying to him once, 'John, get warmed up - you're coming off'.
"He was great for me and he was great for the football club."
A famous result in Wales' history came during this period, when Italy were beaten 2-1 in Cardiff.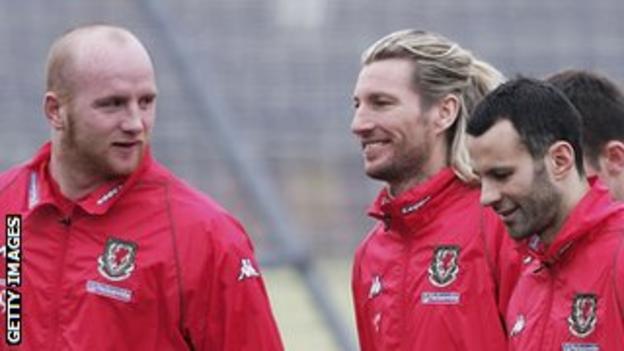 And Robbie Savage recalls just how influential Hartson was on the result.
"The way he held the ball up that night, the way he brought people into play, the way he was unselfish - all night he was a legend.
"I had the privilege of rooming with him for seven years. Some great stories, like the times he'd tuck into a tray of sandwiches at half three in the morning with four cans of coke and say 'I always have a snack this time of the morning'."
Hartson also reflects upon his life outside of football, where he admits his life-long addiction to gambling, which at its worst saw him losing thousands of pounds a month.
He also discusses his battle with testicular cancer at the age of 34, recounting the day he found out, emergency operations and the night he almost died.
"The doctor put some gloves on, he got this fob and scanned around my testicles," Hartson recalls.
"He basically said, 'John, you have a tumour underneath your scrotum - this is testicular cancer'.
"I'd never been told anything on the scale of something like that.
"When you say 'cancer', your initial thoughts are 'oh my God, I'm going to die'.
"I went out to the car park having been given the news.
"I started to cry.
"It hit me, the full scale of what I'd just been told."
"The John Hartson Story", 21:00 BST, BBC One Wales, Wednesday, 11 June