World Cup 2014: GLT, vanishing spray, Caxirola & Brazucas
Last updated on .From the section 2014 Fifa World Cup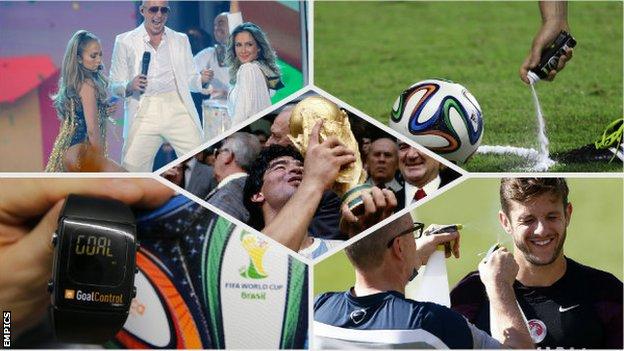 Why will referees have spray cans in a holster? How bad can a team be and still reach the knockout stages? Why might there be adverts in each half? Why has the official 'noise-making' instrument for fans been banned? And what is England's official anthem?
As the global spotlight falls on the beautiful game once again, BBC Sport identifies eight things you really ought to know about the 2014 World Cup.
No more 'no goal' heartache
"Thanks very much Sepp Blatter," said BBC Sport analyst Mark Lawrenson, seconds after England midfielder Frank Lampard crashed an effort in off the underside of the crossbar in the last World Cup against Germany, only for the 'goal' not to be given.
"I hope he's here and he's squirming in his seat," Lawrenson added in reference to the Fifa president, who decreed in March 2010 that goalline technology (GLT) had no place in football - a "game for human beings, with errors on the field of play".

Blatter changed his mind, conceding a few months later that Lampard's "ghost goal" had paved the way for a "historic" decision to introduce GLT for international football.
England will not win a World Cup with the help of a contentious goal - a la 1966 - but neither they nor any other side should leave Brazil bearing a similar sense of injustice.
A year after Hawkeye - a British system - made its debut in the Premier League, German-manufactured GoalControl will become the first system to assist referees at a World Cup.
Not all of the 32 referees at the tournament have used the goal decision system before, but English whistler Howard Webb says using it at the Confederations Cup in 2013 was a "good experience" and a "welcome addition".
While that tournament threw up no goalline incidents for GoalControl to ponder, the system - which like Hawkeye uses 14 cameras placed high in the stands to track the co-ordinates of the ball - has been rigorously tested.
Barring a major mishap, each time a ball crosses the line in Brazil, the referee's watch will vibrate and signal a goal.
The ball will not be 'too round'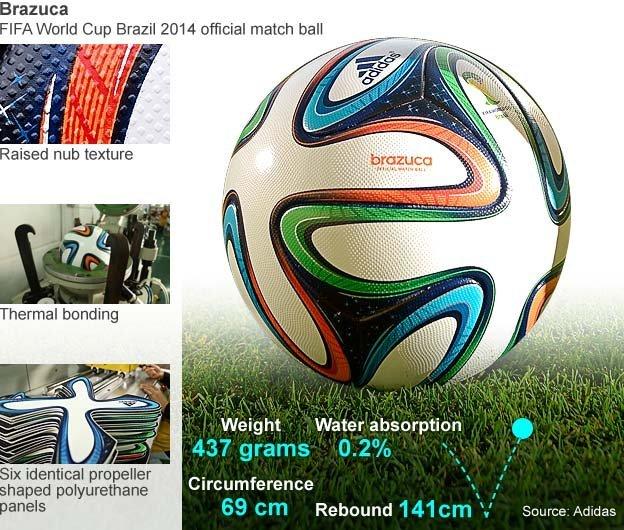 If you ever experienced the joy of kicking one of those 99p footballs from your local petrol station as a child, and watched it defy logic to curl and take on a life of its own, parts of the 2010 World Cup may have looked familiar.
The Jabulani ball - designed by Adidas - was described as "rotten" by Spain goalkeeper Iker Casillas.
Experts said the smooth finish made the ball too round. Yes, a ball can apparently be too round. With cross-field passes troubling the cheap seats, and free-kicks flying into orbit, South Africa saw the lowest goal return since the tournament moved to a 64-game format.
"There would be times when the ball was coming into the box for a header, you'd jump to try and time it and it would just swerve off," said England striker Wayne Rooney. "This one [for 2014], I haven't seen any of that happening."
Adidas have taken note. The Brazuca - a term which translates to 'Brazilian' or 'Brazilian way of life' - is the 12th World Cup ball designed by Adidas and sports a dimpled skin, providing a roughness that aero-dynamics experts say will offer a truer flight.
Will the Brazuca bring back World Cup goals?

Tournament

Goals

South Africa 2010

145

Germany 2006

147

Japan/ South Korea 2002

161

France 1998

171
It is also built from the same bladder and carcass as the ball used in the Champions League, meaning many players will be familiar with its feel.
The tournament final on 13 July will see the ball's colour change to mirror the green and gold of the World Cup trophy, but until then, fans will hope the latest innovation to football geometry will provide minimal headlines.
Make some noise - but only outside the stadium
Who could forget the vuvuzela? That incessant horn-like drone akin to the noise of some obscure species of animal yet to be discovered by David Attenborough would belt out daily in South Africa.
Loved or loathed, they are gone, but so is Fifa's "official noisemaker" for the 2014 World Cup.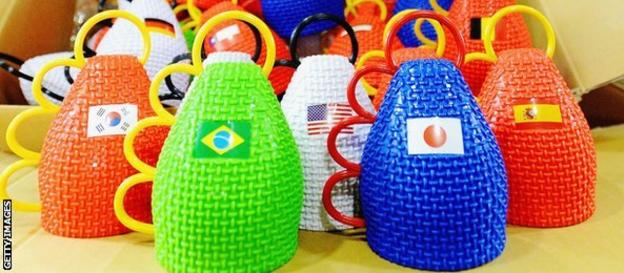 The Caxirola - which looks like a mix between an avocado and a knuckle duster - is available for purchase on the governing body's website. The only snag? It's been banned from all 12 stadiums being used in Brazil.
Essentially a rattle, complete with finger grips, it may look a bundle of fun, but when Brazilian fans threw the objects on to the pitch at a league fixture last year, the instrument had played its final tune inside a stadium.
Brazil's ministry of justice banned it from grounds, so look out for them in fan zones and on street corners. But rejoice in the sound of real football chants as you watch the action unfold.
Two goalless draws could get you out of the group
Football cliché dictates you can't afford to lose your first game at the World Cup.
That was until Spain lost to Switzerland in their opener four years ago, and went on to win the trophy for the first time.
Mathematically at least, you can reach the knockout stages with just two points. If a team were to win all their group games to reach nine points, draws in every other fixture would see three sides finish with two apiece, with the one with a superior goal difference, or goals scored if level, progressing.
A last-16 appearance with two points has not been achieved since the World Cup moved to three points for a win for group matches in 1994, with Chile's haul of three points in 1998 the lowest figure to secure progress.
With three points for a win and one for a draw, a seven-point haul definitely sees a team through, while five will almost certainly get the job done (in 98% of scenarios).
Featuring Uruguay and Italy, England's group in Brazil is the only containing three sides from the top 10 in Fifa's rankings.
If all three were to beat Costa Rica and draw with one another, they would each have five points, the only scenario in which the mark will not guarantee qualification.
Spray paint to control a wall?
Whistle? Check. Watch? Check. Ear piece? Check. Yellow card, red card, notebook, pencil? Check. Spray can? Holster?
Referees have enough to cope with as it is, but unruly behaviour in the wall as teams defend free-kicks shouldn't be an issue in Brazil, provided they summon their inner street artist.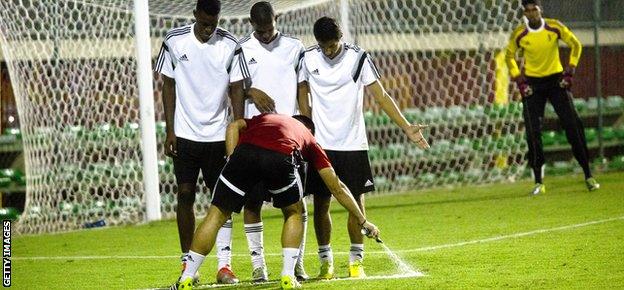 Armed with a can of 'vanishing spray' in a holster attached to their shorts, referees will spray a spot around where the ball should be placed at free-kicks near the penalty area, and a line for the defensive wall to stand behind after pacing out 10 yards.
The water-based substance disappears from the turf after a minute, so there is no danger of the Maracana pitch looking like a toddler's nursery creation.
"It will assist us in getting the players back at a free-kick and, in turn, that gives the attacking team a better opportunity of creating something from that set-piece," says referee Webb.
Bayern Munich goalkeeper Manuel Neuer said the spray process slowed the play during his side's World Club Cup final last year, but the system has been in operation in Brazilian and Argentine football for a number of seasons, and was also trialled at last year's Fifa Under-20 World Cup.
It will also make its debut in the Champions League next season.
Time for a drink... and an ad break
England's players have been training in tracksuits, coats, sweat vests and even bobble hats in an attempt to replicate the conditions in Brazil, where they could encounter 30C (86F) heat and 70% humidity in Manaus, venue for their opening game against Italy on Saturday, 14 June.
Recent weather at England's venues

Opponent

Kick-off time - local and (UK)

Venue

Kick-off temperature

Kick-off humidity

Italy

18:00 (23:00 BST)

Manaus

29C

72%

Uruguay

16:00 (20:00 BST)

Sao Paulo

21C

73%

Costa Rica

13:00 (17:00 BST)

Belo Horizonte

22C

45%

* Readings taken at kick-off time on 9 June
It is reminiscent of conditions at the 1994 World Cup in the United States.
"We played in Orlando, a 12 o'clock [midday] kick-off and you couldn't sunbathe, let alone play football," recalls former Republic of Ireland striker John Aldridge. "I remember being a little dizzy at times and throwing water on for the lads - something we got in trouble for."
Fifa has taken action and outlined criteria in which cooling breaks will afford players three minutes in each half to take on fluids - stoppages that could see some broadcasters run 30 seconds of commercials.
Whether a game qualifies for a cooling break will be decided an hour before kick-off when Fifa's venue medical officer will consult the Wet Bulb Globe Temperature, a composite measure used to estimate the effects of such conditions on humans.
If it reads over 32C (89.6F), it is likely players will be allowed to take on fluids after both 30 and 75 minutes, but the match clock will not stop. Cue lots of sweaty managers pointing at watches to make sure the time is added on after 90 minutes.
One country, three time zones
At first glance, it is safe to say that World Cup wall-chart in the kitchen will be getting frequently visited as Brazil's three time zones offer free jet-lag in your armchair.
Only two of the country's time zones are applicable given the locations of matches, with fixtures in Manaus, in the north of the country, and Cuiaba, in the western region of Mato Grosso, kicking off five hours behind UK time, and the other 10 venues on a four-hour lag.
Japan versus Ivory Coast on Sunday, 15 June, will kick off at 02:00 BST, the latest kick-off in Brazil - at 22:00 local time.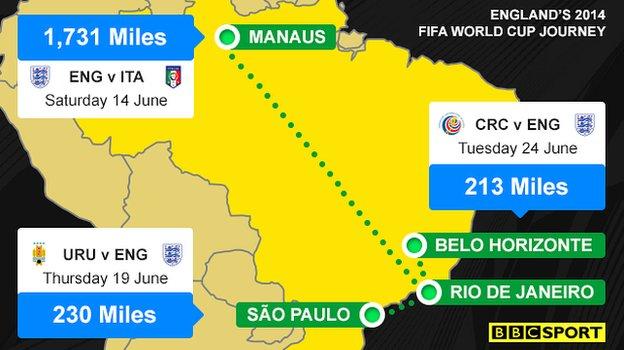 Aside from the Group C fixture, the earliest daily action to tune into in the UK will be at 17:00 BST - the time of England's final Group D test against Costa Rica.
Roy Hodgson's side will play their second match at 20:00 BST against Uruguay with their opener against Italy in Manaus on Saturday, 14 June, a 23:00 BST kick-off to account for a five-hour time difference.
Fear not though. As England's players clamour for drinks, you can stay refreshed in your local pub with opening hours extended until 01:00 BST whenever England kick off after 20:00 BST.
The final, should your chosen team make it to 13 July, is a 20:00 BST start.
Why no England sing along?
"Hey, forza, forza come and sing with me," chimes Jennifer Lopez on the World Cup's official song 'We are one'.
You may well need to, as the usual deluge of World Cup anthems are missing this time around. While 'J.Lo' may not be John Barnes when it comes to dropping a World Cup beat, her collaboration is one of very few anthems for 2014.
Lopez will be joined by rapper Pitbull (probably not his birth name) and Brazilian singer Claudia Leitte to perform the track to an expected worldwide audience of a billion.
The tune - a colourful and fairly straight-forward one - may not have taken over the airwaves in the UK, but neither have any British artists in a bid to unite the nation behind England's cause.
Not since Barnes rapped the immortal "you've got to hold and give, but do it at the right time" on World in Motion in 1990, has an England player sung on the team's official anthem.
And this year, as in 2010, there will be no official England song. The Football Association initially backed Gary Barlow's 'Greatest Day', but Sport Relief - for which it was launched - has decided not to release the track for purchase.
Fear not Roy. As Bobby Moore and the team that travelled to Mexico 44 years ago sang - back home we'll be thinking about you.