World Cup 2014: Raheem Sterling in frame for England against Italy

By Phil McNulty
Chief football writer
Last updated on .From the section 2014 Fifa World Cup718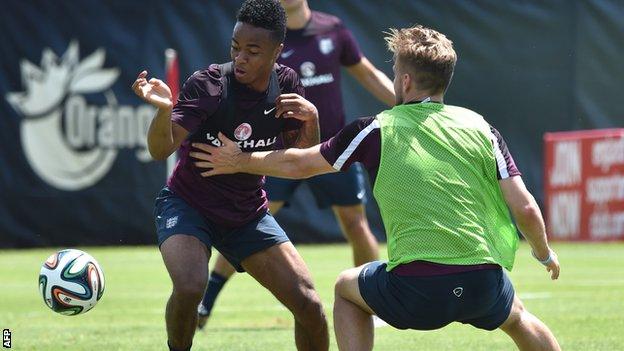 From Rio de Janeiro
As England's first training session at Rio's Urca military base in the shadow of Sugarloaf Mountain moved towards its conclusion, manager Roy Hodgson called out to Raheem Sterling to make an animated point.
It was at the end of a stint, conducted against a magnificent backdrop, in which Liverpool's 19-year-old had once again demonstrated the precocious talent that makes him a serious contender to start England's first World Cup game against Italy in Manaus on Saturday.
Hodgson has been fighting shy of giving hints about who will start when England journey up the Amazon - but his constant enthusing over Sterling suggests the teenager's pace, dynamism and element of surprise have put him right in the frame.

All this despite being limited to just 15 minutes of action against Ecuador during England's Miami warm-up before he was sent off for a wild challenge on Antonio Valencia.
Before training began on Monday, a now customary goodwill gesture saw England's squad and Hodgson standing behind a banner reading "Obrigado Brasil pela recepcao calorosa" - which translates as "Thank you Brazil for your warm welcome".
This was accompanied by a version of "We Are The Champions" and traditional music from a samba band from the Bola Pra Frente favela.
Once the action did start, Sterling showed the sharpness that has caught Hodgson's eye to such an extent that, while he makes a point of avoiding too much high praise for young players like Ross Barkley, he has been waxing lyrical about Sterling without prompting.
Sterling joined Barkley and Southampton's Luke Shaw in a sharp passing drill and later showed deft, as well as powerfully accurate, finishing before he was summoned for some final advice from Hodgson.
It was another impressive statement of intent.
As always in the build-up to an opening World Cup game, every piece of body language and change in training is open to interpretation.
Sterling stayed out in the heat and worked longer than many who would be regarded as certainties for Hodgson's first XI - but this may have simply been because he took no part in the bruising goalless draw against Honduras through suspension.
On the other hand, Wayne Rooney was another who stayed out longer in sweltering conditions while others who played alongside him in his 45-minute outing at the Sun Life Stadium retreated into shelter.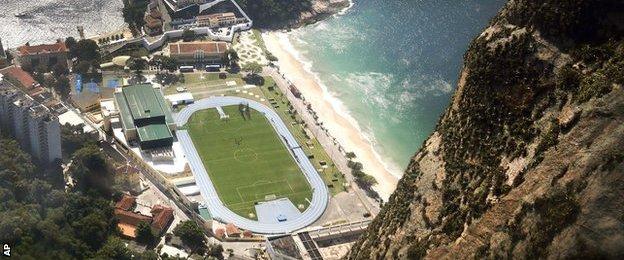 The shadow cast by the emergence of Sterling, described by Hodgson as "breathtaking" and "unstoppable" after England's last training session in Miami, has delivered a delightful complication to the manager's selection plans.
After the draw against Honduras, Hodgson said: "My frustration, apart from the frustration of having to watch that game, was the frustration that Raheem Sterling couldn't take any part in it, because he's been excellent in training.
"It would have been nice to have given him a game beforehand, but now he'll have to compete for a place not having had these warm-up games."
And compete he will.
Hodgson's admiration for Danny Welbeck, as well as the Manchester United man's fine performance against Honduras, has probably cemented his place against Italy, leaving Southampton's Adam Lallana vulnerable.
But what about Rooney? His place may not be under threat, despite that extended session on Monday when most of his team-mates against Honduras were resting, but there is a case to suggest he may be shifted left to accommodate Sterling, with Hodgson acknowledging Rooney is one of a number of players who could play that role.
Sterling's adaptability also marks him out as someone who can terrorise out wide - or deliver impact from the bench. A man for all reasons.
The name-checks for Sterling have not been all from his manager either.
As well as Hodgson, Liverpool team-mates Jordan Henderson and Glen Johnson - not that surprisingly, it should be said - have added their messages of praise.
Henderson said: "Raheem is a fantastic player. You've seen that in the Premier League and even when he's played for England. He's outstanding. He has no fear. He can be a big plus for us in the World Cup."
Johnson hopes his clubmate's lack of recent action might make him a mystery to Italy, saying: "It would be ideal if people don't really know what Raheem is capable of and underestimate him. That would definitely work in our favour."
The debate will continue as the week progresses but one thing is certain - England's players can have no excuses about the location of their training facilities.
Sugarloaf delivers a spectacular setting. Additional extras in the surrounding waters were a submarine and a yacht, while a helicopter swooped overhead.
The only thing that did not run like clockwork was Barkley, who pitched up late for the team coach, much to the amusement of his England team-mates.
Sterling, in contrast, might be a young man who is timing his World Cup run perfectly.