Scottish FA still to explore move away from Hampden Park
By Alasdair Lamont and Martin Conaghan
BBC Scotland
Last updated on .From the section Football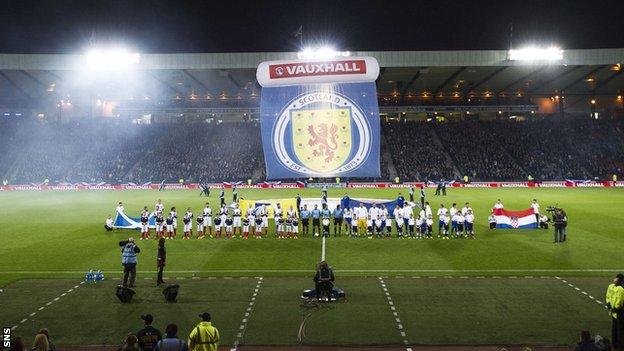 The Scottish Football Association say an option to move away from Hampden Park has not yet been considered.
The SFA's lease on the national stadium ends in 2020 and one of a number of proposals put forward by a consultancy firm is to not renew.
It would mean taking internationals and cup finals to other venues.
"It is our duty as a governing body to proactively explore all of the options available," said SFA chief executive Stewart Regan.
"It is widely known that the SFA's lease on Hampden Park expires in 2020.
"Indeed, this matter was discussed publicly when we launched our Uefa Euro 2020 host bid earlier this year.
"A consultancy firm has been engaged to thoroughly investigate the pros and cons of a number of options and a briefing note was circulated to the SFA and Hampden Park Limited boards ahead of Uefa's Euro 2020 bid decision.
"I must stress this process is at a very early stage - no proposals have been put forward or considered - and it is hugely misleading to suggest that the SFA is focusing on whether to move away from Hampden Park.
"Given its historical importance worldwide and its place in Scottish football, Hampden Park remains a key pillar of the national game."
Hampden, the home of Scottish football for the last 111 years, is owned by League Two outfit Queen's Park.
BBC Scotland has seen documents sent to key SFA figures last week.

Celtic Park, Pittodrie Stadium, Ibrox Stadium, Easter Road and Murrayfield Stadium are all under consideration as venues for Scotland's home matches and Scottish Cup games.
Severing ties would also mean the SFA finding offices elsewhere as well as moving sports medicine facilities and the Scottish Football Museum.
The SFA has lodged a bid with Uefa to host group matches for Euro 2020, which will be staged across a number of European cities, and recently extended the lease on Hampden to incorporate its bid.
The stadium was last redeveloped in 1999 at a cost of £59m.
The proposal document assumes there is no desire in the SFA to build an entirely new stadium or refurbish an existing ground.
James Watson Consultancy has been engaged to assess various options ahead of any announcement regarding Euro 2020.
Hampden, which also houses the headquarters of the Scottish Professional Football League, has been temporarily converted to an athletics stadium for the 2014 Commonwealth Games.
Queen's Park have been playing their home games at Excelsior Stadium in Airdrie during conversion work and will remain there until Hampden reverts to a football venue after the Games.