2014 World Cup: Gary Lineker's guide to Brazil groups
Last updated on .From the section 2014 Fifa World Cup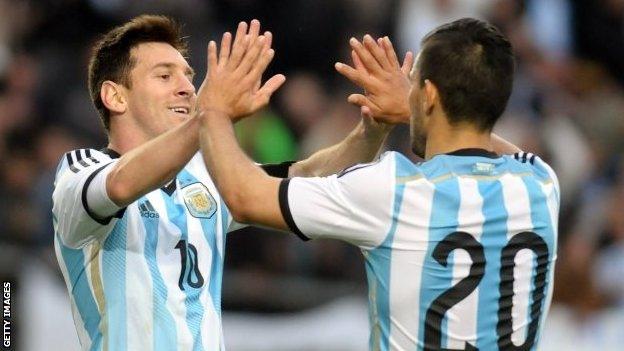 Thirty-two teams, 64 games, 31 days and one prize - the World Cup is here.
The tournament gets under way in Sao Paulo on Thursday with hosts Brazil facing Croatia, while England get their campaign up and running against Italy on Saturday.
Only one side can lift the trophy in Rio on Sunday 13 July, but who are the teams to watch?
Match of the Day presenter and former England captain Gary Lineker - who will be doing a video blog during the tournament for the BBC Sport website - guides you through the eight groups.
Group A
Brazil, Croatia, Mexico, Cameroon
Lineker's verdict:
"Brazil have been given a group that is tricky but not terrifying.
"This is not the best Mexican team we've seen - they only just qualified through the play-offs and they normally cruise through. Cameroon don't seem confident that they can do much and Croatia are a decent European side. We know all about Real Madrid midfielder Luka Modric and they will be hard to beat.
"Brazil will dominate, but who will go through with them? It will go down to the last match between Croatia and Mexico, but I'm backing Croatia."
Fixtures (all times BST): Thursday 12 June: Brazil v Croatia 21:00, Friday 13 June: Mexico v Cameroon 17:00, Tuesday 17 June: Brazil v Mexico 20:00, Wednesday 18 June: Cameroon v Croatia 23:00, Monday 23 June: Cameroon v Brazil, Croatia v Mexico both 21:00
Group B
Spain, Netherlands, Chile, Australia
Lineker's verdict:
"Group B is fascinating - a very strong group indeed - with the opening fixture a repeat of the 2010 final between Spain and the Netherlands.
"Four years ago the Dutch went against their instincts and tried to kick Spain off the park, but under Louis van Gaal they will surely go back to their normal style.
"Chile play some beautiful possession football but Spain are arguably even stronger than in their last three major tournaments - which they won - as they have a striker now in Diego Costa who has been a revelation for Atletico Madrid.
"Spain will win the group and I'll back Van Gaal to get the Netherlands through."
Fixtures: Friday 13 June: Spain v Netherlands 20:00, Chile v Australia 23:00, Wednesday 18 June: Australia v Netherlands 17:00, Spain v Chile 20:00, Monday 23 June: Australia v Spain, Netherlands v Chile both 17:00.
Group C
Colombia, Greece, Ivory Coast, Japan
Lineker's verdict:
"A tight group and difficult to predict.
"Colombia are very technical and keep the ball while the Ivory Coast have produced some of the world's finest players. Yaya Toure and Didier Drogba are world class but the team lack depth. They can cause problems though.
"Japan are growing in stature all the time - they've come a long way since I played there in the early 1990s - and they will be able to cause a few upsets. I don't fancy Greece at all.
"Yaya Toure might pull it out of the bag for the Ivory Coast and they will join Colombia in the second round."
Fixtures: Saturday 14 June: Colombia v Greece 17:00, Sunday 15 June: Ivory Coast v Japan 02:00, Thursday 19 June: Colombia v Ivory Coast 17:00, Japan v Greece 23:00, Tuesday 24 June: Japan v Colombia, Greece v Ivory Coast both 21:00.
Group D
Uruguay, England, Italy, Costa Rica
Lineker's verdict:
"I don't share the nation's fear of this group - it could have been so much worse. England are up against a slightly ageing Italian side and a Uruguayan side who are very dependent on a front three of Luis Suarez, Diego Forlan and Edinson Cavani.
"If you can contain them, the rest of that team are pretty weak. Costa Rica aren't too bad and could take a few points off the other teams.
"England and Italy are both notorious for starting major tournaments slowly and I wouldn't be surprised if the opener in Manaus was a draw.
"I'm confident that England will go through and I'll go with Italy to join them."
Fixtures: Saturday 14 June: Uruguay v Costa Rica 20:00, England v Italy 23:00, Thursday 19 June: Uruguay v England 20:00, Friday 20 June: Italy v Costa Rica 17:00, Tuesday 24 June: Italy v Uruguay, Costa Rica v England both 17:00.
Group E
Switzerland, France, Honduras, Ecuador
Lineker's verdict:
"The French have been given a really good draw. If you can afford to leave players out like Manchester City midfielder Samir Nasri, then you must be in pretty good shape. But it's about whether they can score enough goals.
"They've got Real Madrid striker Karim Benzema - he's clearly a lovely, gifted footballer who scores brilliant goals, but for a centre-forward I'd like to see him get into the box a bit more. I'm not sure if he's absolutely top drawer. You have to expect the French to go through as group winners.
"You can't fancy Honduras as the other qualifier, while Ecuador do well when they play at altitude at home, but they won't have that advantage in Brazil. So I'm going to go for Switzerland, who are organised and have one or two good players coming through."
Fixtures: Sunday 15 June: Switzerland v Ecuador 17:00, France v Honduras 20:00, Friday 20 June: Switzerland v France 20:00, Honduras v Ecuador 23:00, Wednesday 25 June: Honduras v Switzerland, Ecuador v France 21:00.
Group F
Argentina, Bosnia, Nigeria, Iran
Lineker's verdict:
"This group features one of the favourites - Argentina, who will take some stopping. History tells us that South American teams win the World Cup when it's staged on their continent. Argentina have the greatest player I think we've seen in many a year - Barcelona's Lionel Messi.
"He'll be massively keen to win a World Cup. Former player Diego Maradona did it at a similar age and I think Messi's been saving himself during the Spanish season.
"Bosnia-Hercegovina qualified well. Their Manchester City striker Edin Dzeko might be an outside bet for the Golden Boot. Then there's Nigeria, who won the Africa Cup of Nations - they probably have to be favourites with regards to the African team that will go the furthest. You can't give much hope for Iran. I think it'll be Argentina to win the group and Nigeria to go through too."
Fixtures: Sunday 15 June: Argentina v Iran 2300, Monday 16 June: Iran v Nigeria 20:00, Saturday 21 June: Argentina v Iran 17:00, Nigeria v Bosnia 23:00, Wednesday 25 June: Nigeria v Argentina, Bosnia v Iran both 17:00.
Group G
Germany, Portugal, Ghana, USA
Lineker's verdict:
"This is probably the most open group in the tournament - because you can make a case for all four teams. Germany have some fresh produce coming through - I expect them to be strong. Ghana don't have too many household names, but they have very good players and are well organised.
"Portugal have Real Madrid forward Cristiano Ronaldo, of course - he's been brilliant this season and won the World Player of the Year award. He has a phenomenal goalscoring record and almost single-handedly took Portugal to the World Cup when his hat-trick helped see off Sweden in the play-offs. Teams will gang up on Ronaldo though.
"You can make a case for the USA - Jurgen Klinsmann is a wily coach and they've recently had some good results in internationals. But I'm going to go for Germany to win the group and for Portugal to finish second."
Fixtures: Monday 16 June: Germany v Portugal 17:00, Ghana v USA 23:00, Saturday 21 June: Germany v Ghana 20:00, Sunday 22 June: USA v Portugal 23:00, Thursday 26 June: USA v Germany, Portugal v Ghana both 17:00.
Group H
Belgium, Algeria, Russia, South Korea
Lineker's verdict:
"It's not the most exhilarating-looking group, unless you look a little deeper. Belgium are the obvious favourites. To a man, people are saying they are dark horses, but if everyone is saying it how can they be a dark horse?
"They have three world-class players in Atletico Madrid's on-loan keeper Thibaut Courtois, Manchester City defender Vincent Kompany and Chelsea midfielder Eden Hazard. They are very strong defensively and have firepower. To go through with them? It's a tough call.
"Russia have Fabio Capello in charge - he frankly messed up four years ago in South Africa while coaching England. There's also Algeria and South Korea in the group. Here's something... Algeria are priced about 12-1 to be the African team to go the furthest - it could be worth a punt at those sort of odds. Having said all that, I'm saying Belgium to win the group, with Russia second."
Fixtures: Tuesday 17 June: Belgium v Algeria 17:00, Russia v South Korea 23:00, Sunday 22 June: Belgium v Russia 17:00, South Korea v Algeria 20:00, Thursday 26 June: South Korea v Belgium, Algeria v Russia both 21:00.