World Cup 2014: Vanishing spray 'could see more free-kick goals'
By Steve Crossman
BBC World Service Sport
Last updated on .From the section 2014 Fifa World Cup
Howard Webb has accidentally set off a can of the new vanishing spray, designed to stop defenders at the World Cup encroaching at free-kicks, much to the amusement of his fellow referees.
"You should be good with that," Australian whistler Ben Williams jokes with his English colleague, a former policeman. "It's just like pulling a can of Mace".
"It's the first time I've used it," chuckles Webb as Fifa's team of referees for Brazil 2014 stop their exercise to mockingly applaud him.
The Premier League referee, who issued 14 yellow cards, and one red, in the 2010 World Cup final between Spain and the Netherlands, quickly gets to grip with a new device that is likely to attract just as much attention as goal-line technology in Brazil.
Used for several years in Brazil and Argentina for domestic football, it was trialled at international level during last summer's Under-20 World Cup, and also featured at the Club World Cup last December.
"You spray a circle around the ball and a line 10 yards [9.15m] away for the defenders," explains Webb as he demonstrates how it is supposed to be done moments later.
"It will assist us in getting the players back at a free-kick and, in turn, that gives the attacking team a better opportunity of creating something from that set-piece."
Webb believes that with defenders no longer able to creep closer to free-kick takers, the spray "could lead to more goals from free-kicks" at this World Cup.
That point is underlined as the referees begin their session and the first free-kick taken with the defenders standing behind the spray curls into the top corner. "Just like Pirlo," Webb smiles, in reference to Italian midfielder Andrea.
World Cup

Direct FK goals

Total goals

% Total goals

2010

5

145

3.4%

2006

9

147

6.1%

2002

9

161

5.6%

1998

6

171

3.5%

1994

7

141

5.0%

1990

6

115

5.2%

Stats courtesy of Opta
The 42-year-old official is making his debut with the new spray can, which referees will hook into a holster on their shorts, but some of his colleagues have used it before, and believe it will prove popular.
"I tried it at the Fifa Under-20 World Cup [last summer, in Turkey] and to my surprise I appreciated it," says Jonas Eriksson, the Swedish referee whom Manchester City manager Manuel Pellegrini verbally attacked last season following their Champions League elimination at the hands of Barcelona.
No spray would have helped him see that Martin Demichelis's foul on Lionel Messi was outside the box, but while human error is impossible to eradicate, it can certainly be minimised.
"I think these toys we have at our disposal are important and I also think the preparation leading up to the World Cup has been really thoroughly done by Fifa," Eriksson says.
"We started this project in September 2012, two years before the tournament, the same time as the teams started their qualifying. I think this will be the best World Cup for the referees."
Australian Williams, an international referee since 2005, was another to try out the spray at the Under-20 World Cup.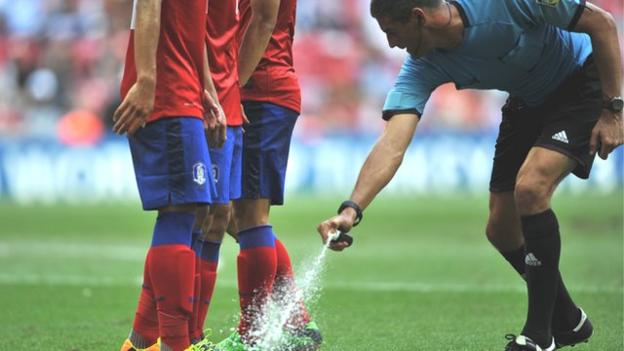 "Players respect it," he says. "It's a great innovation and I'm looking forward to using it."
Williams and Webb are two of only six officials from the last World Cup in South Africa to feature among the 33 referees - and 57 assistant referees - heading to Brazil.
Webb, who accepts he is unlikely to be awarded a second World Cup final, has taken on something of a mentoring role to a large number of colleagues who will be making their World Cup debuts.
"There is a responsibility on the older guys who've experienced tournaments before," says the Yorkshireman.
"It's different to ordinary football in terms of not driving or flying back the day after a game. You're in a World Cup environment for six weeks, living, breathing, eating and drinking football. You can't get too excited about what's happening in other games.
"I know from experience that if you don't do well in the game you're appointed to, then maybe that can be your only game. You need to pace yourself in the same way that teams do."
At least referees at this World Cup will not be put under extra pressure to clamp down on a particular aspect of the game, such as the tackle from behind, which has produced a flurry of yellow and red cards early on in previous tournaments.
Fifa's head of refereeing Massimo Busacca insists that will not be the case this time.
"Sometimes we arrive at the World Cup and we say, 'Oh no, we have to change this message'. No, come on. How it was interpreted before has to be how it is interpreted at the World Cup," he says.
World Cup final referees since 1990

2010 (Johannesburg)

Howard Webb (England)

2006 (Berlin)

Horacio Elizondo (Argentina)

2002 (Yokohama)

Pierluigi Collina (Italy)

1998 (Paris)

Said Belqola (Morocco)

1994 (Pasadena, California)

Sandor Puhl (Hungary)

1990 (Rome)

Edgardo Codesal (Mexico)
"We need the help of the players; we need fair play. We need them to understand that we're in the country of football and we want to see football."
No referee from the Asian Football Confederation has ever taken charge of the World Cup final, but despite a perception that the best officials come from the major European leagues and are more likely to be awarded the biggest games, Busacca is adamant nationality is not an issue.
"I've seen big improvements all around the world," says the Swiss official. "I've seen referees making sacrifices to better understand football and we have to respect all referees if they are good.
"The role of the referee is to be calm, and say to the players: 'Hey my friend, do you want to play today or do you want to go take a shower?'"
It is often said of referees that a good official is like a good defensive midfielder: you don't notice those who are performing well.
Perhaps in Brazil the best officials will be more like their vanishing spray, in the spotlight for a minute, then forgotten.