Hurdles remain for Hibernian after Terry Butcher exit

By Richard Wilson
BBC Scotland
Last updated on .From the section Hibernian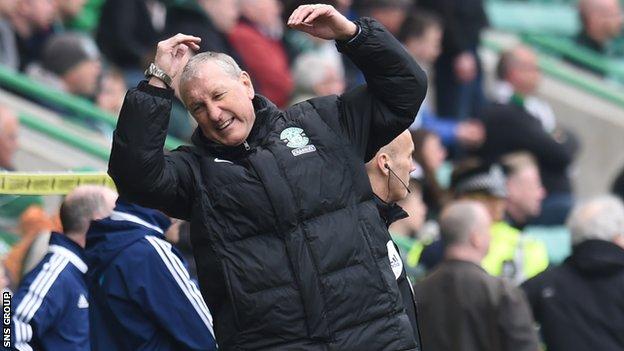 Terry Butcher cannot claim to be taken aback by his departure from Hibernian.
A club that has churned through 10 managers in 16 years is no place to seek job security, but Butcher could not even seek protection in results.
Relegation to the Championship seemed inevitable as Hibs were suffering through the final 13 games of the Premiership season without a win. Defeating Hamilton Academical in the first leg of the play-off ought to have restored the team's sense of belief, but it turned out to be a brief aberration.
The mood of pessimism and the lack of character were still firmly in place as Hamilton won the second leg, at Easter Road, then secured their promotion in a penalty shoot-out.
The Hibs fans had long railed against the chairmanship of Rod Petrie, but when they gathered outside the ground after relegation was confirmed, they also chanted for Butcher's removal.
He had already appeared a doomed figure. Following a 2-0 defeat away to 10-man St Mirren in April, Butcher clutched a DVD of the match footage while admitting he did not know why the team was performing so poorly.
The former England captain was appointed to resurrect the Edinburgh club, but instead he managed only to further diminish it. His predecessor Pat Fenlon had struggled to deliver consistency or bond with the Easter Road fans, and Butcher turned out to be incapable of turning the team's fortunes around.
That was not wholly unexpected because there was little meaningful activity in the January transfer window, but even so it was reasonable to assume that Butcher could guide a squad of decent - if disaffected - players out of trouble.
There had been an attempt to instil a revolution, since Butcher informed a number of players that they could find new clubs, but it was a measure of his misjudgements that he later turned to some of those men to try to halt the team's slide.
His own regrets might dwell on the decision to leave Inverness Caledonian Thistle, a stable club where Butcher had steadily built an impressive side while living in a community he found pleasant and welcoming. Turmoil has seldom left Easter Road in peace for long in recent years, but every manager believes that they can turn round a hopeless cause.
Hibs fans will find solace in the decision to relieve Butcher of his duties, because it suggests a level of dynamism and calculated decision-making within a club that has often seemed moribund. Nonetheless, that action alone will not placate the group of fans who are campaigning for Petrie's removal.
The chairman insists that he has handed over his executive duties to new chief executive, Leeann Dempster, and this will be the first test of that assertion. Petrie has a reputation for micro-managing all aspects of Hibs' business - which is partly at the root of the fans' bid to oust him - and Dempster will want the autonomy she has been promised.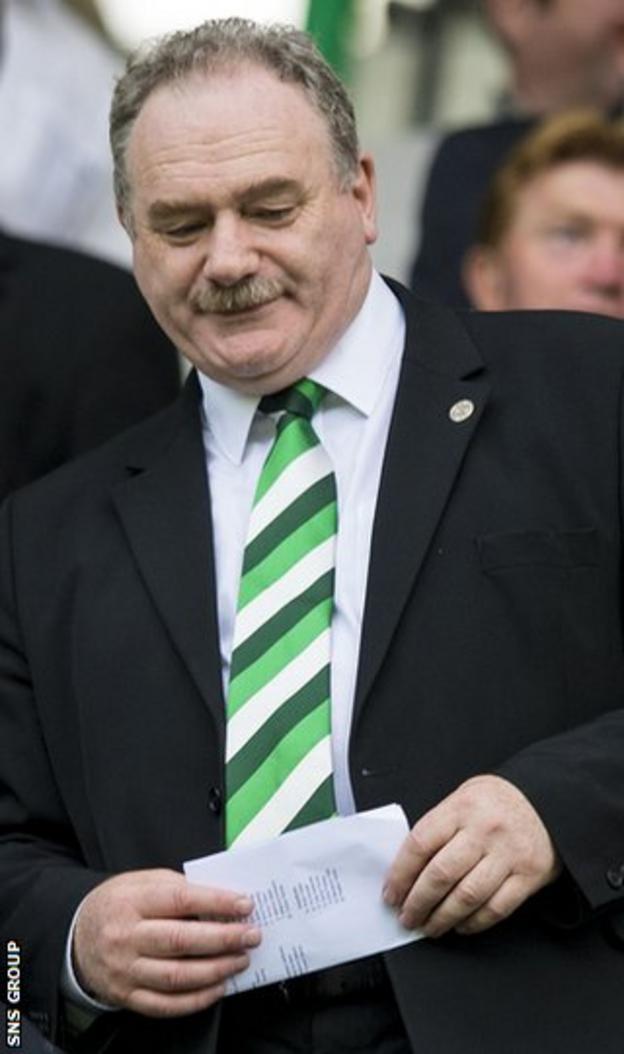 Stuart McCall worked effectively with Dempster at Motherwell but, while Hibs can claim to be a bigger club in terms of budget and fan base, that advantage is diminished significantly while the team is in the Championship.
The club once flourished in that division as Alex McLeish led them back up to the top flight with a side that contained Russell Latapy and Franck Sauzee, but these are different circumstances.
McCall might feel that he has taken Motherwell as far as he can, particularly when his budget is decreased each year and the board has given the local community an ultimatum about needing to increase financial backing if they intend to support a fan ownership model.
Even so, it would be a drastic turn of events if McCall was to leave a club that finished second in the Premiership and has European fixtures to look forward to for a club that faces a challenging task to escape the second tier when Rangers and Hearts will also be vying for promotion.
Ian Murray already has experience of that division, having impressed with his marshalling of Dumbarton's meagre resources. If Hibs intend to establish new foundations to serve its rebuilding process, then a young manager with potential, and an emotional connection to the club given his background, then the former captain would be a contender.
The selection process will occur against a backdrop of agitation but a campaign against Petrie will hardly be enough to dissuade potential candidates - Hibs are relatively stable financially.
However, there remains the feeling of a club that is still reeling from its circumstances. There may have been little resistance to the decision to dispense with Butcher, but also no sense that all of the concerns have now been dealt with.
Hibs need a fresh vision, a well-thought out and sustainably resourced strategy, and a hierarchy that the majority of the supporters are prepared to back. Butcher's results were the strongest condemnation of the decisions that he made at Easter Road, but the club's failure to fulfil its potential is a reflection of other decision-makers.
If Hibs are to recover, Dempster needs to grasp, and be allowed to use, the authority that this moment has provided.