Hereford United: Bulls could not pay bond, says Tommy Agombar
Last updated on .From the section Football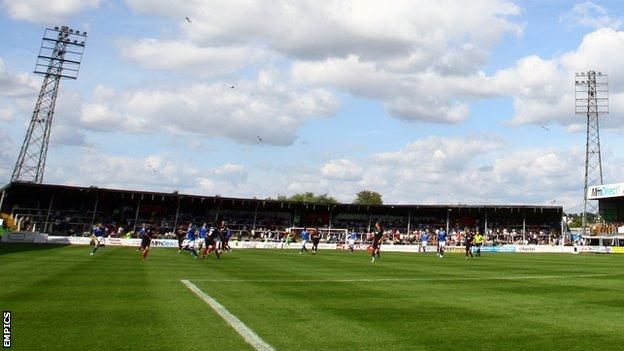 Hereford United owner Tommy Agombar says they were expelled from the Football Conference because they were unable to pay a £350,000 bond.
Agombar says the tipping point was the Conference's bond, a guaranteed sum of money to see them through next season.
"The club was not in a position to pay the £350,000," he said in a statement.
"A bond that we could not touch during the season."
Agombar has compared the Bulls' situation to Conference Premier clubs Macclesfield and Salisbury, who both face uncertain futures as they try to clear debts.
"Neither Macclesfield Town or Salisbury City were put in the same position as we were regarding this," added the London businessman, on the club website.
"I am truly gutted that this situation has arisen. I bought the club in the knowledge that I was buying a Conference Premier side.
"But the amount of debt that we have discovered, and have to now deal with, has brought about unwanted changes to our initial plans."
The club owe £148,000 to their football creditors - including former boss Martin Foyle, players and other staff, and clubs from whom the Bulls loaned players during the 2013-14 season.
They also still owe more than £70,000 to clear the latest PAYE tax demand from Revenue and Customs (HMRC).
But Agombar, who took control of Hereford on 3 June, says he remains committed to the club and intends to clear their debts and take them back to the Football League.
"I have made sure that payments are being made to both staff and creditors, and we will also be sorting out payments to Martin Foyle and HMRC this month," he stated.
"I am fully behind the club and will be making every effort possible to get it back to where it belongs, the Football League.
"When I came into the club, I had a three-year plan to take the club forward and back into the league.
"The recent happenings have turned that into a four or five-year plan, but I'm still determined to turn it around for Hereford United."
Having been expelled from the Conference, the Bulls are now expected to drop into the Southern League, who have issued a statement.
It read: "The Southern Football League is in discussions with Hereford United to determine if there is a way forward for the club's participation in its competition and will make a further statement in due course."
The downward spiral of Hereford's financial situation since being relegated from the Football League for the second time in 15 years in May 2012 has been exacerbated by falling gates.
The average attendance for the 2013-14 season at Edgar Street was 1,758, little more than half the average gate of 3,270 they attracted of in League Two five years ago.
Hereford can look at the example of Chester, who reformed after being wound up following expulsion from the Conference four seasons ago and won three successive promotions under their new guise, attracting bigger gates than they had in their latter days in the Football League.
But there are still concerns among Bulls fans about the club's future at their Herefordshire Council-owned Edgar Street home.
"Everyone fears for the future of the club," Hereford United Independent Supporters' Association chairman Keith Dodd told BBC Hereford & Worcester.
"It's just unbelievable. We have to find someone who can come and rescue it."
Hereford MP Jesse Norman added: "We need to reconstruct the club as a supporter-led institution."
In a statement released on Wednesday morning, Herefordshire Council leader Tony Johnson said: "We are committed to ensuring that Edgar Street continues to be available as a home for football.
"We have recently renegotiated all of the leases, which continue to be held by the club, to ensure that money generated from redevelopment opportunities at the ground will be invested back into the facilities.
"We remain open to discussions with any potential investors who, like us, wish to see football remain at Edgar Street."
BBC Hereford & Worcester has requested interviews with owner Tommy Agombar and chairman David Keyte.