Paul Kane - Butcher sacking boosts "Petrie Out" campaign
Last updated on .From the section Football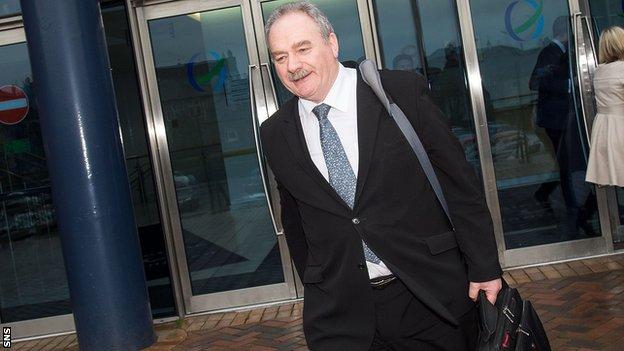 The campaign to oust Hibs chairman Rod Petrie has been strengthened by the sacking of Terry Butcher, according to former player Paul Kane.
"It reaffirms our campaign that Petrie has to go," said Kane, who is at the forefront of the "Petrie Out" group.
"There's another manager away, seven months he's been given, and it can't carry on like that."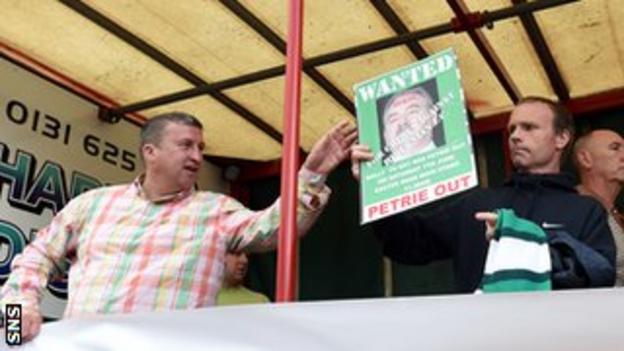 Hibs, who appointed Butcher on a two-and-a-half-year deal in November, have now gone through 10 managers in the past 16 years.
And with many supporters frustrated by a perceived lack of spending on players, Kane says the spotlight falls on Petrie's decisions during his tenure.
Petrie has said new chief executive Leeann Dempster will now be in charge of football matters, but Kane remains unconvinced.
"Why did they wait two weeks to get rid of Terry Butcher, if it wasn't already in their minds?" he added.
"Is it because they thought the supporters wouldn't understand the situation that they've put it on to Leeann Dempster's watch, when we know it's been under Rod Petrie's watch?
"The question the fans should be asking is where has most of the money gone in the time Rod Petrie's been there? It probably could've been done on pay-offs, because how much have all these pay-offs cost the club?
"And, as a consequence of that, you have new managers coming in and players having to be paid off."
Dempster said she was "genuinely saddened" to have taken the "tough" decision on Butcher's future.