World Cup 2014: Neymar carries Brazil's hopes on slim shoulders
Last updated on .From the section 2014 Fifa World Cup479
On the other side of the road from my flat in Rio, there is a supermarket in which the checkout staff have been kitted out in yellow shirts, imitating those of the national team.
Nothing unusual there - this is normal practice in Brazil come World Cup time. But this supermarket has gone further. The back of the shirts have a number - 10 - and a name - Neymar Jr.
It is an illustration of the star player's importance to his country's campaign - and of the responsibilities being heaped on his slender shoulders.
In a few weeks those shirts might well be placed in a frame for safekeeping, or burned in disgust.
For the past four and half years, Neymar has been the boy prince of the Brazilian game. Lead the team to World Cup victory and he becomes the new king. Disappoint, and many will relish the chance to knock him off his throne.
His father, who handles his business affairs, saw the dangers a year ago. Neymar was under contract with Santos until 2014 but moved to Barcelona a year ahead of schedule.
It was, his father said, important for the move to be done before the Confederations Cup. He did not want him exposed to the wrath of Brazilian terraces if he flopped in the tournament.
Neymar, of course, did not flop. He scored a cracking goal in the opening minutes of the first game against Japan, and never looked back.
The Confederations Cup, though, is one thing. The World Cup is on a different scale altogether.
And, at just 22, Neymar is cast in a vital role at a young age.
Perhaps with the optimism of youth, he made a strong declaration he is up to the challenge - not with words, but numbers.
He had always worn the number 11 shirt for his country. Just over a year ago, for the friendly against England that reopened the Maracana, he grabbed number 10.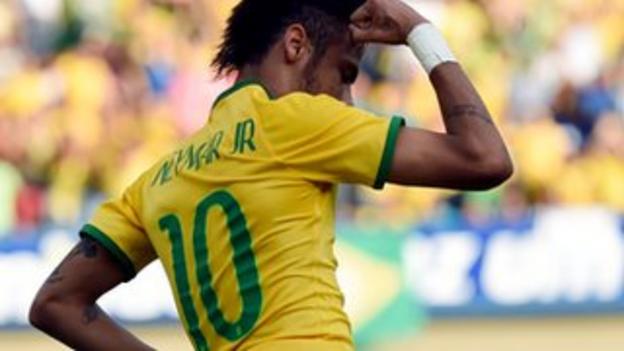 In doing so he was consciously putting himself in the tradition of Pele and Zico, telling himself and his team-mates he was the player who could be relied upon to tip the balance in the game.
Some, based on his debut season with Barcelona, doubt his capacity to do so, and Pele himself is concerned there is too much pressure on the youngster's shoulders.
Brazil coach Luiz Felipe Scolari has little time for such thinking - and it is not difficult to see why.
When Neymar plays for Brazil, the collective context is totally different - and not just because he is the star rather than part of Lionel Messi's supporting cast.
Scolari is a staunch defender of playing with a target man as his centre-forward. Barcelona, of course, do not use one.
The evidence seems to indicate Neymar is much happier operating behind that type of player.
A centre-forward such as Fred ties up the opposing centre-backs, creating space for Neymar to cut in on the diagonal. And Fred also has the back-to-goal ability to bring Neymar into the game with a neat return pass.
At his best, Neymar can be irresistible. He has that gift of the truly great sportsman, where things seem to happen at a different speed to those around him.
For his marker, everything can be a blur of movement, as he runs with pace, balance and two-footed skill.
But for Neymar it can be almost as if the action is in slow motion, and tiny opportunities to push the ball around a defender - or through his legs - appear to him in complete clarity.
There is, though, a fascinating case of failure in his short career.
Towards the end of 2009, already making his mark in the Brazilian first division, he was the big-name star in the Brazil side at the World Under-17 Cup in Nigeria.

Expectations were high of a squad also including Liverpool's Philippe Coutinho, but Brazil were one of only eight teams knocked out in the group phase.
Neymar did not have a happy time. Twice, with Brazil desperate for a goal, he was substituted after making little impression.
It is possible that failing in that tournament left a scar. It is arguable it made him wary of international football, and more reluctant to leave his comfort zone at Santos.
Many, including former Brazil striker Ronaldo and ex-national coach Mano Menezes, feel his development stalled for a while as a consequence of staying too long in Brazil.
Was he ducking the challenge? Or did he need that extra time to ensure he was mentally ready?
The Brazil camp believes Neymar is now a more complete and mature player as a result of his experience at Barcelona.
But, as with all Europe-based players, he is coming into the World Cup at the end of the season. In the Confederations Cup last year, he was in mid-season and thus in no danger of being short of gas.
But Paulo Paixao, Brazil's highly-rated physical preparation specialist, is in no doubt Brazil's number 10 is in good condition.
"I'm confident he can be the player who is going to shine in the World Cup," said Paixao.
In a controlled process, Neymar has bulked up a bit. The teenager who broke into the Santos first team five years ago weighed 60kg. The 2014 model is about 67kg.
"He's got stronger physically," says Paixao.
It is the mental side, though, that could be most important, as Neymar attempts to play Hercules and carry his team to World Cup glory.
For the best of BBC Sport's in-depth content and analysis, go to our features and video page.