World Cup 2014: England third most valuable team at finals
Last updated on .From the section 2014 Fifa World Cup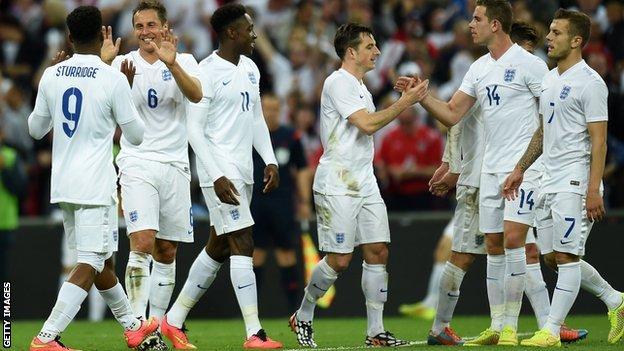 England have the third most valuable squad at the World Cup behind Germany and Spain, according to a report.
With an estimated insurable value of £550m, England are almost three-times more valuable than group rivals Italy.
The study by Lloyd's and the Centre for Economics and Business Research lists the average value of one England player as more than the whole Costa Rica team.
The insurance-related figures are based on club earnings and endorsement incomes of the 23-man World Cup squads.
The 32 teams at the finals have a collective estimated value of £6.2bn.
Germany, boasting Toni Kroos, Philipp Lahm and Mesut Ozil, top the list at £642m, with hosts Brazil, who can call on Neymar, Hulk, Oscar and Dani Alves, fourth at £448m.
Defending world champions Spain, with the likes of Xavi, Andres Iniesta and Diego Costa in their squad, are second at £591m - double the estimated value of their closest Group B rivals Netherlands, who they beat 1-0 in the 2010 World Cup final in South Africa.

Marco Castro from Lloyd's Brazil said: "It is incredible to see how much some of the teams playing in Rio are worth.
"The top three - Germany, Spain and England - are worth more than £1.7bn collectively. This is more than the bottom 20 teams combined."
Four-time World Cup winners Italy, with Andrea Pirlo and Mario Balotelli in their squad, fall behind England as they have a relatively older squad with reduced future income prospects and lower earnings in Serie A, where the majority of the players are based.
Group G has the most valuable talent on show, featuring Germany, Cristiano Ronaldo's Portugal, Ghana and the United States, ahead of Group B, which is made up of Spain, the Netherlands, Australia and Chile.
Only one member of the England squad - Cetic goalkeeper Fraser Forster - plays outside the highly paid Premier League.
Manchester United striker Wayne Rooney, who signed a £300,000-a-week deal in February, is England's highest paid player.
England's 2014 Fifa World Cup opponents Costa Rica are the least valuable team in the tournament at £18.5m, with fellow Group D rivals Uruguay, who boast Luis Suarez and Edinson Cavani, at £144m.
Full list of team values: Germany £641.2m, Spain £590.1m, England 550.1m, Brazil £448.3m, France £394.8m, Belgium £360.4m, Argentina £355.3m, Netherlands £279.4m, Portugal £279.3m, Italy £196.8m, Cameroon £195.8m, Croatia £185.6m, Russia £165.8m, Ghana £158.5m, Uruguay £144.1m, Nigeria £143.1m, Switzerland £138.5m, Ivory Coast £132m, USA £110.7m, Japan £92.8m, Bosnia-Hercegovina £84.3m, Mexico £72.5m, Chile £72m, Australia £66.6m, South Korea £65.2m, Colombia £59.5m, Greece £53.2m, Algeria £49.4m, Ecuador £48.9m, Honduras £34.2m, Iran £24.4m, Costa Rica £18.3m.
Valuations are based on Fifa's finalised squad data on 5 June 2014.