Chester FC chairman Tony Durkin feels 'very sorry for Hereford fans'
Last updated on .From the section Football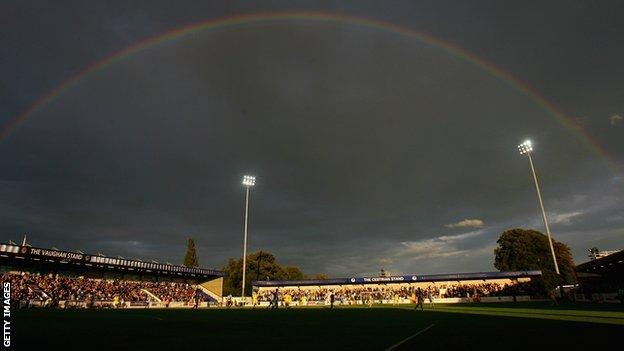 Chester chairman Tony Durkin says he feels very sorry for Hereford United fans after his club were reinstated in the Conference Premier.
Durkin told BBC Radio Merseyside: "It's a dreadful time. We've been there and we know what it's like. It's not nice.
"We wish them all the best in the future but for us it's wonderful news."
Chester City were expelled from the Conference in 2010 and were wound up by the High Court soon afterwards, but subsequently re-formed as Chester FC.
Now the club, who achieved three successive promotions prior to last season, will remain in the top tier of non-league football.
"We're really pleased," Durkin continued. "We have been waiting for quite a few weeks now to hear the outcome, one way or another.
"We're just very pleased that it's gone in our favour. We've got clear water in front of us now, which is great.
"It's such a relief, to put this behind us. We've virtually been on hold since the end of the season, we couldn't even set season ticket prices."
Hereford, who lost their place in the Conference for failing to pay debts, may now have to play in the Southern League next season.
"Obviously I feel very sorry for Hereford fans," Durkin added.
"Any help we can give to Hereford in supporting rebuilding them, we will be quite happy to help them along."